WBUR's CitySpace: a Community Events Site Unlike Any Other in Boston
New venue reimagines radio in the 21st century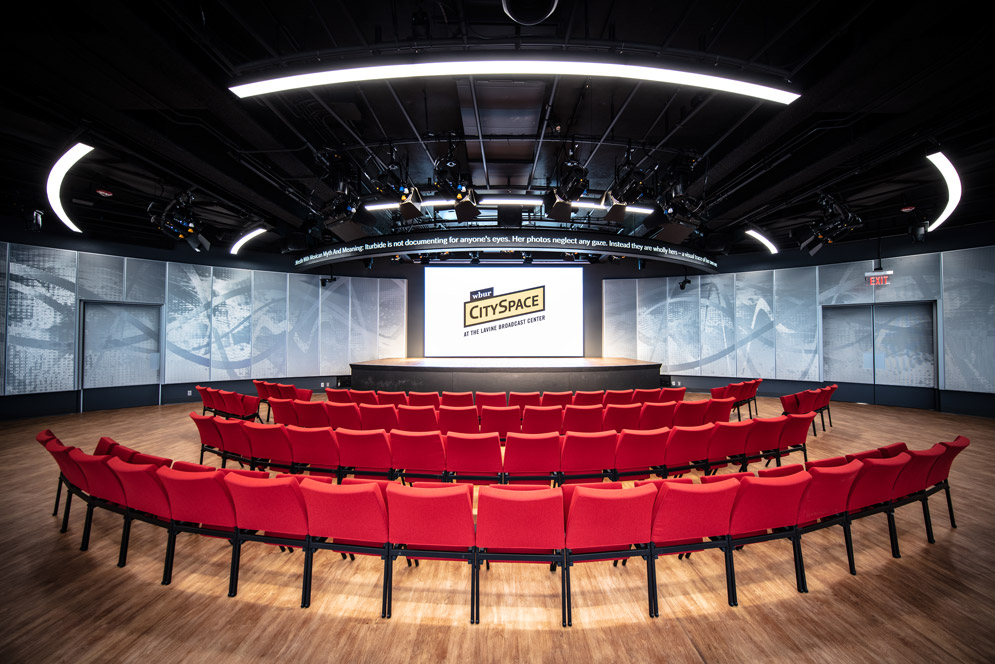 This is how you "listen" to the radio in 2019: not just with your ears, but by watching events on a pneumatic stage—illuminated by robotically controlled lighting, recorded by robotic, high-definition cameras, and ringed by a high-tech wall for video presentations.
WBUR, BU's National Public Radio station, inaugurated CitySpace at the Lavine Broadcast Center January 31 with an invitation-only dinner and panel discussion for the station's board members, donors, and their guests. The panelists—Robert A. Brown, BU president, Lawrence Bacow, Harvard president, and Lee Bollinger, Columbia president—discussed the vital role of universities in American civic life.
Brown said that when Charlie Kravetz, WBUR general manager, first broached the idea of transforming what had been a bicycle shop (and before that, an auto dealership) into a high-tech temple of modern radio, it seemed "on the edge between a vision and a hallucination."
Now that vision is a reality: enveloped by a wraparound video wall in a room that seats up to 275 people for art performances, debates, interviews, and readings, Brown told Jonathan and Jeannie Lavine, whose $5 million gift for the eponymous center is the largest in WBUR's 68-year history: "What you've done will resonate through this city for decades and decades."
CitySpace will hold its first public events during a free community day on February 28 that will include a live broadcast of Radio Boston, interactive demos, live panel discussions, and the installation of bespoke art in CitySpace by Boston's Masary Studios.
At an as-yet-undisclosed date, Boston Lyric Opera will perform its version of A Handmaid's Tale, adapted from Margaret Atwood's 1985 dystopian novel, accompanied by a discussion with the author. Other upcoming guests include Pulitzer-winning composer Philip Glass, Michael Schur, creator of the NBC hit comedy The Good Place, and actor Janeane Garofalo.
The facility's purpose, says Kravetz, is "to be doing in person what we do on the radio all the time, which is wrestle with the big issues. We want to do journalism on stage."
CitySpace has transformed its Commonwealth Avenue block, its floor-to-ceiling glass windows a can't-miss display of WBUR's presence to passersby. (The station previously had used a discreet entryway off adjacent St. Paul Street.) The glass windows allow pedestrians to watch events inside, which will be audible via outdoor speakers.
The main inspiration, according to Kravetz, was Manhattan's 92nd Street Y, a community and cultural center for public events. "There is no place like the 92nd Street Y here in Boston, and we think of ourselves like that," he says. "There is a yearning for public experiences" in an age when people are glued to digital devices.
WBUR also has announced the public phase of its first-ever capital campaign, a six-year, $40 million effort that will help with CitySpace's building and programming costs, as well as with the station's burgeoning journalism and innovation endeavors. More than $28 million, which includes the Lavines' gift, of that goal already is in hand.
In a city with a history of public demonstrations both sedate (last year's March for Science) and less so (remember the Boston Tea Party?), Jonathan Lavine, a co–managing partner at Bain Capital, hopes CitySpace will enhance WBUR's "very special place in the Boston media landscape" as a gathering spot for "unbiased, not glitzy access to information and information providers."
The station's podcasts already draw eight million downloads monthly, Lavine says, and its connection with a major university—which educated many of his family members—resonates with his belief "in the importance of universities in fostering independent and thought-provoking conversation."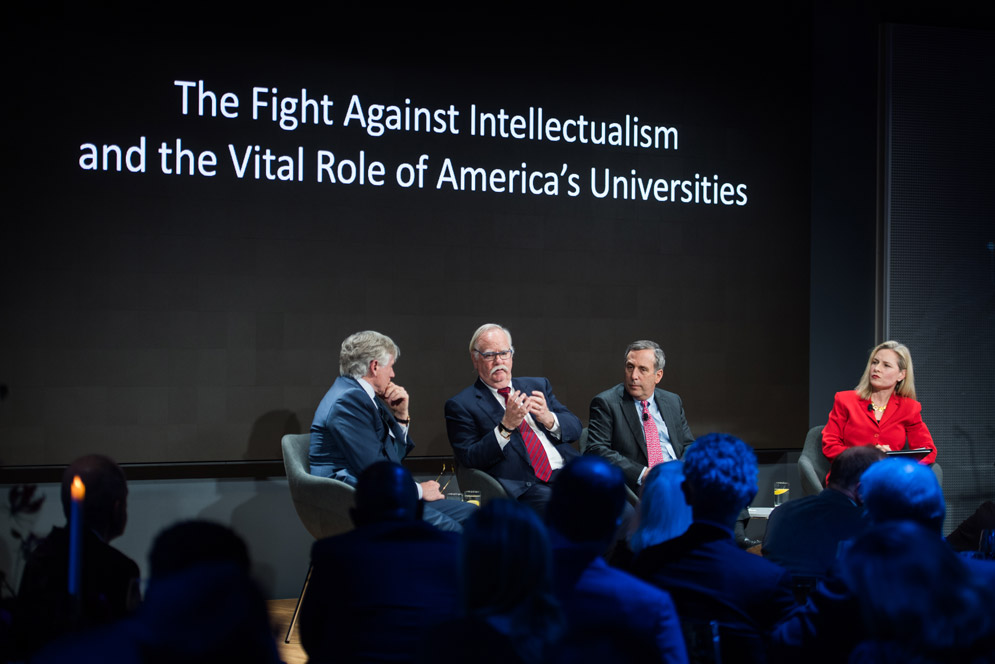 Besides supporting CitySpace, the capital campaign will pay for expanded reporting teams and contributors to cover the environment, investigations, arts and culture, education, and the innovation economy. It also will subsidize innovation efforts, including in fundraising and in staff for producing podcasts.
The panel discussion on January 31 was moderated by Mary Louise Kelly, a host of NPR's All Things Considered. She guided the panelists through a defense of universities against what they called popular misconceptions: too expensive (Bacow said that with financial aid, the private schools represented on stage were less costly than the public University of Massachusetts) and not worth the money.
With Kelly saying the Trump administration "derides and ignores scientific findings," Brown said that universities vitally teach students to sort through the vast body of knowledge "to find what they believe is the truth…to be critical about that and synthesize that in a broader world."
The grand opening of WBUR's Lavine Broadcast Center is February 28, with a free community day. Find details here.