Using Puppets to Communicate the Complex, the Abstract, and the Technical
New Hub course's culminating performance tonight at Puppet Showplace Theatre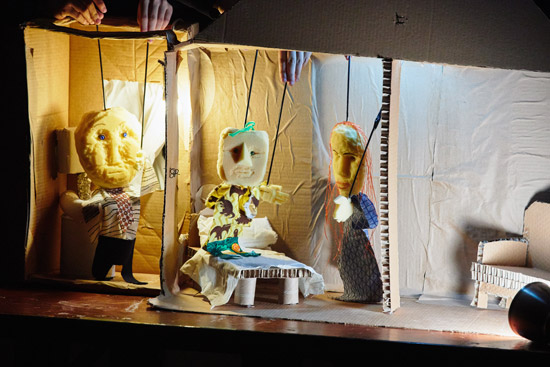 Last fall, Vinamre Kasanaa was walking past Warren Towers when he saw a poster advertising a new Hub course being offered in the spring. The COM senior immediately ran home, dropped the digital cinema class he had signed up for, and registered instead for Thinking through Puppets and Performing Objects: Using Theatrical Tools to Communicate the Complex, the Abstract, and the Technical.
"I was like, this is my last semester of BU. I'm a senior. I've taken pretty interesting classes. But then…puppetry?" says Kasanaa, explaining his delight at seeing such a unique class being offered at BU. "I'm always sort of skeptical of non-COM, non-CAS classes, just because that's the traditional track I've taken so far. But this seemed so fascinating. I thought it would be a fun course. I had zero expectations, but the name alone fascinated me."
Thinking through Puppets is the brainchild of Felice Amato, a College of Fine Arts assistant professor of art education and a Pardee Center for the Study of the Longer-Range Future faculty associate, and Anna Panszczyk (CAS'97), a College of Arts & Sciences Writing Program senior lecturer.
The course is part of the BU Cross-College Challenge (XCC), the Hub's signature project-based, one-semester four-credit elective course open to juniors and seniors from all 10 undergraduate schools and colleges. It fulfills four Hub units: Creativity/Innovation, Oral Communication, Research and Information Literacy, and Teamwork/Collaboration.
Amato previously taught K-12 art in public schools and focused her doctoral work on puppetry. Panszczyk focuses on children's literature and culture in her writing, and says she was interested in working with Amato to see how a puppet project could help students develop the aforementioned four Hub skills.
The course attracted six undergraduates, from CFA, CAS, the Questrom School of Business, the College of Engineering, the College of Communication, and the Pardee School of Global Studies. Aside from a CFA set design major, none had any significant prior experience making art. Suddenly, they were thrust into a world of cutting, crafting, sewing, gluing, shaping, and molding. They worked with fabric, wood, paper, everyday trash, and more—even M&Ms.
"It was definitely challenging," Kasanaa acknowledges. "Taking the leap from our passive classes, which are information-intensive—you get the information, you regurgitate it out on paper, you write, you debate—it's all abstract.…Tapping your fingers on the screen is not a replacement for craftsmanship, where you're using your hands. So that's the one thing that we all were able to learn, because most of us made our own puppets and made these things by ourselves."
An important aspect of the XCC courses is working on real-world projects with a variety of on-campus and community clients. As the culmination of Thinking through Puppets, Amato, Panszczyk, and their students produced puppet slams for two clients: one last week for Daniel Kleinman, associate provost for graduate affairs, and another, tonight, Thursday, April 25, for the renowned Puppet Showplace Theater in Brookline.
What exactly is a puppet slam? Amato defines it as "a series of short experimental pieces," each typically about three minutes long. Puppet slams got their launch at Puppet Showplace Theater, but have become so popular that they now are held all over the world. Heather Henson, daughter of Jim Henson, the Emmy-winning creator of the Muppets, supports a national Puppet Slam Network.
The students in the class wanted to help the nonprofit Puppet Showplace Theater's efforts to develop programming that would go beyond its usual kids' programming, so they produced a night of puppetry based on their original research. Each worked closely with BU librarians to develop and explore a specific research question, then transformed the work into a puppetry performance. They also wrote annotated bibliographies and artist's statements, translating their visual work into written words.
A few brave doctoral students with a sense of the absurd
Tonight, the six will perform their pieces in a free puppet slam called "Thinking Through Puppets" at the Puppet Showplace Theater. Each piece is 8 to 10 minutes long and they explore an array of topics: emotions and anxiety, the hero's journey, the story of the Kurds, music and social change, a history of cats, and a study of humor in puppets. The students use all sorts of puppetry and object performance techniques, including shadow puppets, dioramas, rod puppets, marionettes, and moving panoramas called "crankies." The pieces also incorporate music, narration, improv, and human actors.
"I think one of the things that was really cool about this class was this idea that you just have to explore," says Amato. "And sometimes the right answer is a very simple thing, but it's found through a process of exploration."
As the students were doing the research for the puppet slam, they were also working with their other client, the Graduate Affairs office. Amato had approached Kleinman with the idea of a collaboration. "He was very enthusiastic and encouraging," she says, "because of how well it fit with their efforts to create innovative professional development workshops for graduate students to communicate their research." Amato and Panszczyk put out a call for "a few brave doctoral students with a sense of the absurd" who would be willing to work with the class to develop an aspect of their graduate research into visual stories to be told through puppets. The goal was to help the grad students learn how to think about their work in new and creative ways.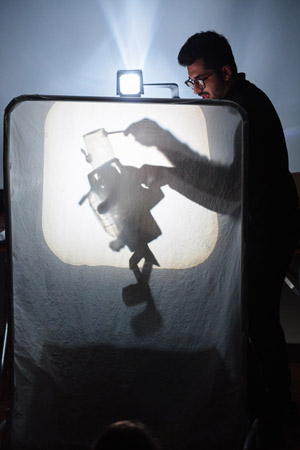 Seven graduate students gamely volunteered, and each worked with two or three members of the class to create puppets and develop performances about their research. The resulting "Doctoral Puppet Slam" was performed April 19 in a CGS classroom filled with about 40 family members, friends, research advisors, and Graduate Affairs staff. Topics ranged from a defense of comfort food and an exploration of homelessness to dark matter and soft robotics.
Kleinman pronounced the collaboration a big success. "From the perspective of graduate education, it seems clear that the initiative led the participating grad students to think differently about their research and to consider how to represent their work in ways they'd not previously contemplated," he says. "Their performances also suggest they learned about blurring the boundaries between art and written or oral scholarship and about art and aesthetics."
Amato and Panszczyk say they're thrilled with the response to the class from both students and audience and they hope it becomes a Hub curriculum stalwart.
Kasanaa says his friends initially teased him for taking a puppetry class, but he hasn't minded the ribbing. "There's just something special" about puppetry, he says. "Once you get inside this world, there's no turning back. You see things differently."
"It's play," says Amato. "And I think this is something we sort of know as a society—that we need to play more and that adults desperately need to play."
The undergraduate student Puppet Slam will be performed at the Puppet Showplace Theater, 32 Station St., Brookline, tonight, Thursday, April 25, at 7 pm. The event is free and open to the public. Take an MBTA Green Line D trolley to Brookline Village.
Graduate student Madeleine O'Keefe (CAS'18, COM'19) can be reached at mokeefe@bu.edu; follow her on Twitter @OKeefeMadeleine.