Uptick in Alcohol Transports Last Semester
Numbers could reflect Good Samaritans getting help for peers
Last semester saw 80 students taken to the hospital after dangerous drinking, 10 more than the previous fall. The uptick might reflect a good development: the University's campaign to publicize BU's Good Samaritan policy, which states that there will be no substance abuse penalties for a student who helps a peer in distress or for the peer (if they commit other violations, those may bring penalties). Several BU organizations "collaborated to communicate the policy to 13,000 students," says Katharine Mooney (SPH'12) director of Student Health Services Wellness & Prevention office. "More students have sought help under this policy than in previous years."
Lieutenant Dan Healy of the Boston University Police Department notes that while transports were up last semester, they were below the average of the last three years. One thing about the numbers mirrored past experience, however: the first month of the fall semester saw a noticeable amount of transports, a function of freshmen in particular adjusting to the freedoms of college life and learning the limits of their drinking capacity. The years that Halloween falls on a weekend also have seen transport spikes, but in 2018, when trick-or-treating came on a Wednesday, that didn't happen.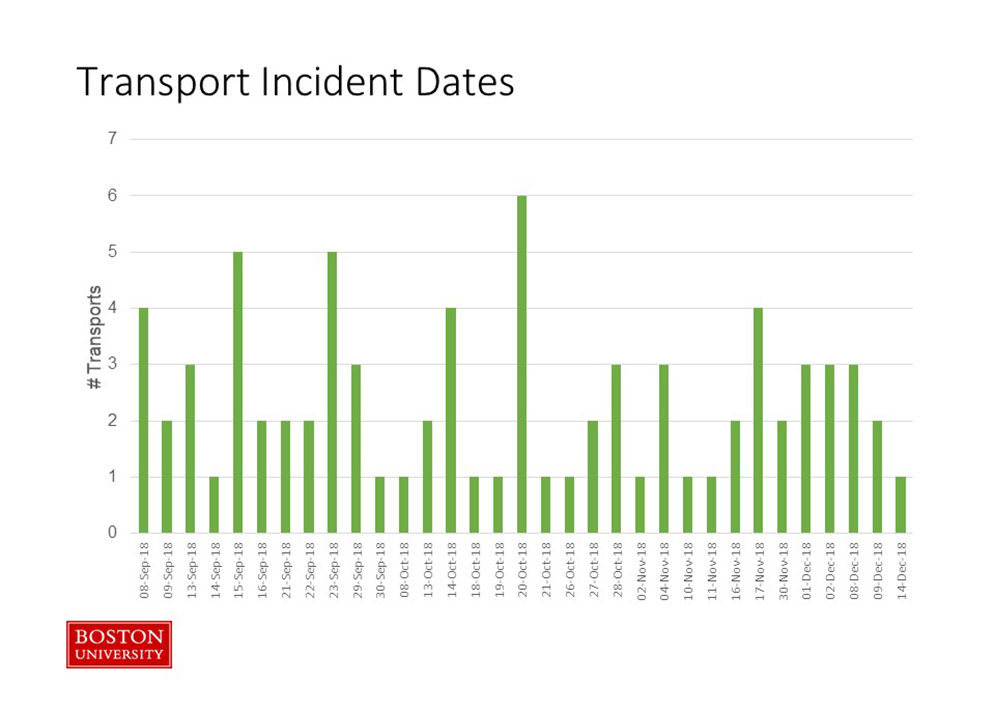 Freshmen accounted for more than half of last semester's transports, another typical feature of fall, as first year students are younger and more inexperienced drinkers. With 21 transports, sophomores were the next biggest cohort, making up almost one quarter of the students taken to the hospital for extreme inebriation.
Another commonality between last fall and previous autumns: almost two thirds of alcohol-related transports were women, the result of two facts. One, women make up a greater percentage of the student body. The second fact is biology. Women typically have less water in their bodies, which results in their metabolizing alcohol differently than men. The same amount of alcohol becomes more concentrated in the female body.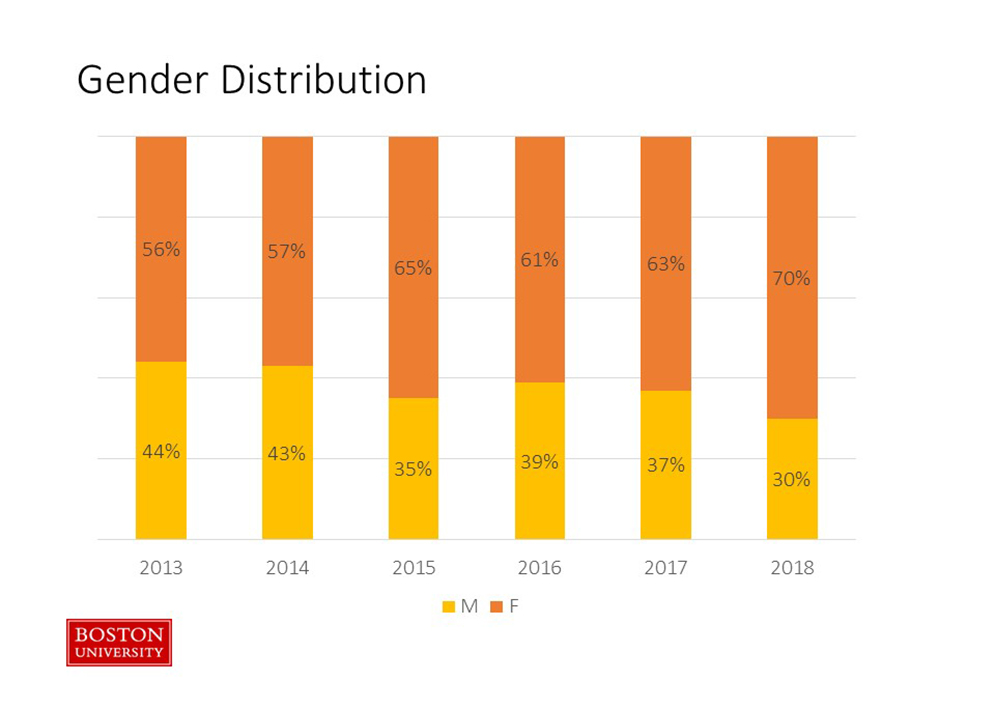 The University is able to measure the blood alcohol content (BAC) of many transported students and calculate an average. (Massachusetts law decrees a BAC of .08 as too impaired to drive for most people.) Last fall, with data from two thirds of the transported students, Wellness & Prevention found an average BAC of .16, a level where "students are likely to experience vomiting, blackouts, and severe disorientation," Mooney says.