Two BU Faculty Members to Be Honored Today
Gitner Family Award goes to Rosina Georgiadis of CAS, Provost's Scholar-Teacher Award to Khiara Bridges of LAW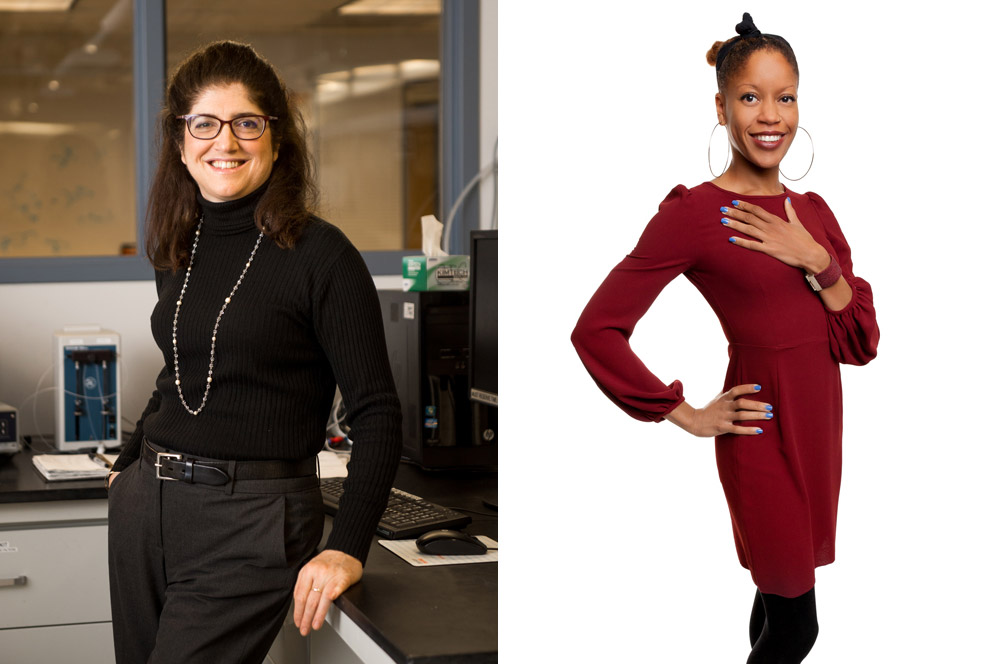 It's an "age-old problem" in science instruction, Rosina Georgiadis says: the number of students often outstrips the availability of lab equipment for a given week's topic. Georgiadis, a College of Arts & Sciences associate professor of chemistry, licked that problem—and in the process, might have upended the way science is taught.
Professors typically address this supply-and-demand conundrum with a round-robin tactic, giving some students a week on the equipment related to that week's topic, while their peers busy themselves on other instruments, rotating use the next week. Not having to share instruments gives students more time in any given week on that week's relevant tool. But "it also means that for most students, the lab activities are out of sync with the lectures," as an article in the chemistry journal C&EN explains.
In 2016, Georgiadis came up with the idea of supplementing lectures and labs with virtual instruments, enabling all students to use the relevant instruments at the same time. Two years later, the virtual equipment allowed her students to collaborate with international scientists who were testing the quality of medicines in countries wrestling with substandard or counterfeit pharmaceuticals.
For her innovation, Georgiadis will receive this year's Gerald and Deanne Gitner Family Award for Innovation in Teaching with Technology. The award, which comes with a $10,000 stipend, is given annually to a faculty member who "best exemplifies innovation in teaching by use, development, or adaptation of technology."
At the same event, Khiara Bridges, a School of Law professor of law and a CAS professor of anthropology, will receive the 2019 Provost's Scholar-Teacher of the Year Award, which recognizes "outstanding scholars who excel as teachers inside and outside the classroom and who contribute to the art and science of teaching and learning." That honor confers a $5,000 stipend.
The constitutional law scholar researches how race and privilege affect due process and equal protection rights for people of color, especially in healthcare.
The awards will be presented at an invitation-only event at the Rajen Kilachand Center for Integrated Life Sciences & Engineering today, Thursday, April 25.
"Professor Georgiadis' innovation has drawn international attention," her Gitner citation notes, while also spurring fellow BU chemists to explore virtual machines for their own classes. The citation says one of those colleagues predicts that the technology "has the potential to literally revolutionize the manner in which all science departments approach undergraduate training in their laboratory courses."
Georgiadis says she is elated that she's won this year's Gitner Award. "Trying a new way of teaching labs—and having it succeed—is incredibly gratifying," she says. The CAS associate professor earned a bachelor's degree at Indiana University in Bloomington and a PhD at the University of California, Berkeley. She came to BU in 1996 from George Washington University.
Bridges' research prowess is matched by her classroom teaching, according to student evaluations. "Prof. Bridges is the kind of teacher and human I aspire to be one day," wrote one, quoted in her award citation. "She is extremely capable and approachable…and sets a high bar for us to meet."
Other students' adjectives range from "engaging" and "amazing" to "awesome," according to the citation.
"I'm quite proud of them," the Spelman College- and Columbia University–educated Bridges says of those laudatory evaluations. As for the award, she says, "I felt that all of the hard work that I have put into my scholarship and teaching over the years had been seen." Bridges joined the BU faculty in 2010 and holds both a JD and a PhD in anthropology.