This BU Librarian Turned Her Backyard into an Urban Eden, One Plant at a Time
Neighborhood
This BU Librarian Turned Her Backyard into an Urban Eden, One Plant at a Time
It began with a packet of seeds. Growing up in Dhaka, Bangladesh, Nasim Parveen was mesmerized by the lush flowers she saw growing in neighbors' gardens. As a second grader, she begged her father for a garden of their own, but he rebuffed her, saying, "No, this is dirty stuff." After many entreaties on her part, he finally relented and bought her a packet of seeds. When she returned from school one day to see that those seeds had produced plants with purple blossoms, she was smitten.
"I said, 'Oh, this is something," Parveen recalls. Thus began her lifelong passion for plants and gardening. A librarian at BU's Stone Science Library, Parveen (Wheelock'83,'86) has plied her green thumb from one continent to another. And for the past 17 years, her passion project has been her quarter-acre backyard garden at her West Roxbury home. When she bought the house, it was still under construction. The lot had previously been used by the city of Boston to store salt and sand in winter and when she bought it, there wasn't a tree or shrub anywhere in sight. But, she says, she instantly knew "this is the place I have to have." At the time, she was going through a divorce and both of her children were attending Boston Latin School. To keep them enrolled there, she had to live in the city limits. But she immediately saw the numerous possibilities the blank canvas of the empty backyard provided.
Parveen began adding top soil and compost, bag after bag, to enrich the depleted soil. Next came a gazebo. "I always dreamed of a gazebo—I'm a very romantic person," she says with a laugh.
Now, nearly two decades later, that once empty lot is an urban Eden, home to more than 250 varieties of perennials that bloom from early spring to late fall, augmented by hundreds of annuals. Paths wind past large stands of phlox, iris, peonies, wisteria, roses, dahlias, hydrangeas, zinnias, and more. Two towering dappled willows, with their billows of white blossoms, have a place of prominence near the patio. Over the years, Parveen has added a fountain, statuary, a garden shed, and a pergola. Every aspect of the design, from the placement of the patio to the curves in the garden paths and the location of each plant, is the result of meticulous planning. "I love color. A garden must have color: if you don't have it, it's not a garden," says Parveen.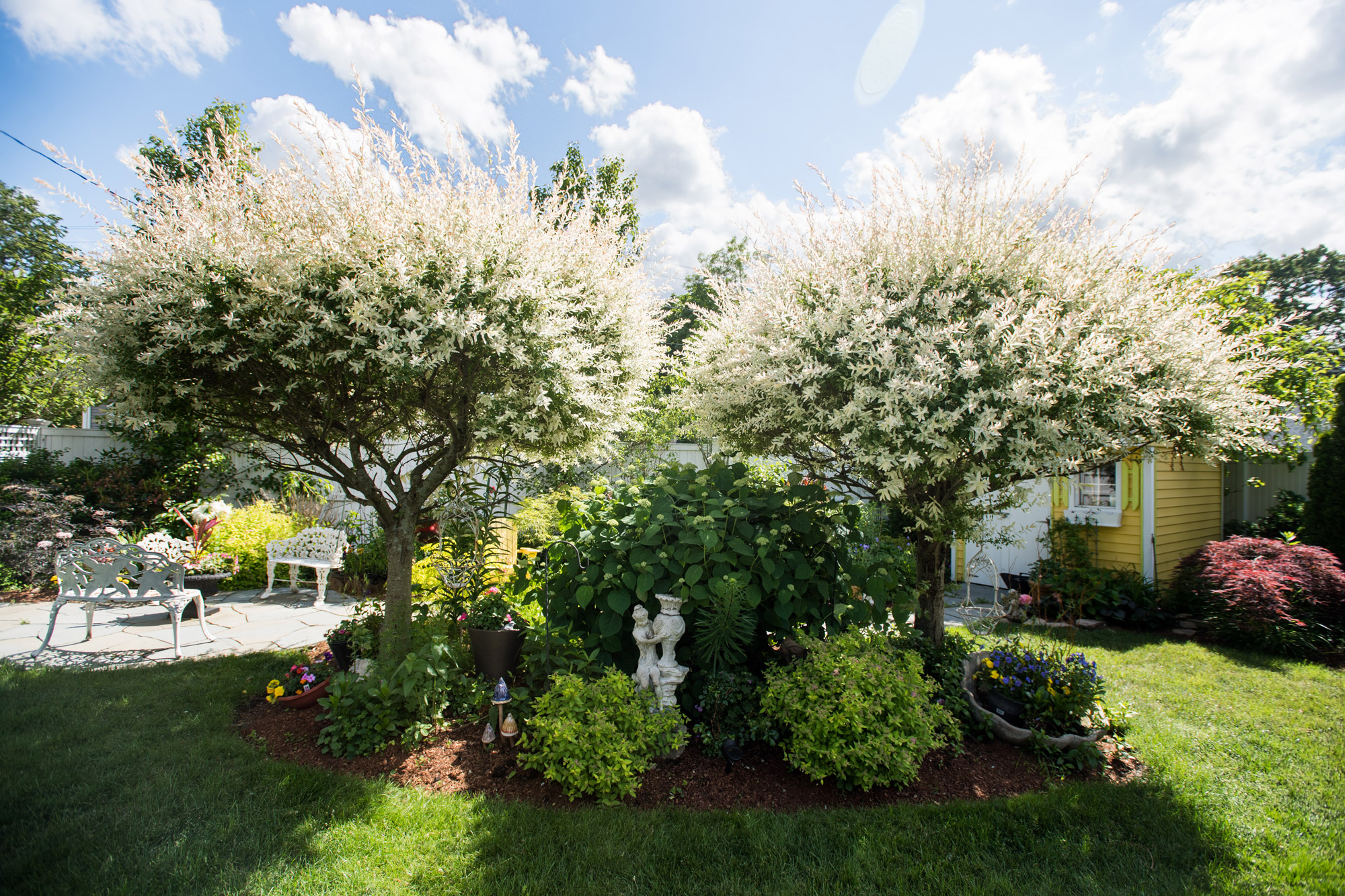 The veteran gardener makes it all look easy, but when pushed, she acknowledges that it takes a lot of hard work. Each day through the growing season, she is in the garden from the moment she returns home from work until dark, planting, feeding, weeding, deadheading, and watering. Winter months are reserved for designing new beds and redesigning existing ones. In her spare time, Parveen pours over mail-order seed and plant catalogues, propagates plants through cuttings, and visits local garden centers.
While Parveen's garden is a vehicle for her to hone and shape her landscape design skills, what's more important is that it's become a refuge from the pressures of daily life, a place to meditate (a stone Buddha has pride of place) and pray. "When I look at all of this, I see there is a God, absolutely. Because a human could not do this," Parveen says, looking at her flowers. She frequently invites friends and acquaintances who are ill or experiencing problems in their lives to sit in her garden.
---

Books, like plants…make me happy…. Both are creative, full of dreams, and require hard work, education, and imagination. Stone Library is my garden, too.

---
Four years ago, when a drunk driver in an SUV plowed through a wall along one side of her garden, taking out the wall, a couple of small trees, and dozens of other plants, Parveen says she was initially devastated. It was the height of summer and the crash left a gaping hole in her flawless landscape. But almost immediately, she saw it as an opportunity to create something different, and she began sketching out designs for a new garden. Today the replaced wall, enclosing a space lush with trees, shrubs, and flowering plants, obscures the busy street corner.
Parveen's green thumb and her unerring sense of design have attracted notice. She is a three-time winner of the mayor's annual Garden Contest, a citywide celebration of urban gardening, and she proudly shows off photos of her posing with the late Thomas Menino (Hon.'01), longtime Boston mayor, and Marty Walsh, current mayor. And last year, she was inducted into the garden contest's Hall of Fame, an honor reserved for a select group of gardeners who have won the contest at least three times. The award, she says, came as a welcome surprise.
"It felt so nice to be recognized for my labor of love. I felt really proud of myself," Parveen says.
Her deep-seated belief in gardening's ability to enrich people's lives has gained her wider attention, as well. A chance encounter with a woman at a garden center led to an invitation to attend, and later to present at, the United Nations annual International Day of Women and Girls in Science in 2016. She spoke about the ability of plants to heal and empower women.
When she's not nurturing her garden, Parveen is tending to the collections she oversees at the Stone Science Library, noted for its books, journals, atlases, and photographs related to archaeology, earth science, and geology. When she arrived at the newly opened BU library in 1989, it had just 250 books. Today, it has over 14,000. She says there are strong parallels between her professional and personal interests.
"Books, like plants, help me forget my worries and tensions. They simply make me happy. They're a coping mechanism, just like a garden full of flowers. Both are creative, full of dreams, and require hard work, education, and imagination. Stone Library is my garden, too. It's my child, because, like my garden, I helped make it from scratch."