Using Our Junk, Sculptor Wins 2019 Kahn Award and $20,000 Prize
Six finalists receive grants to pursue artistic projects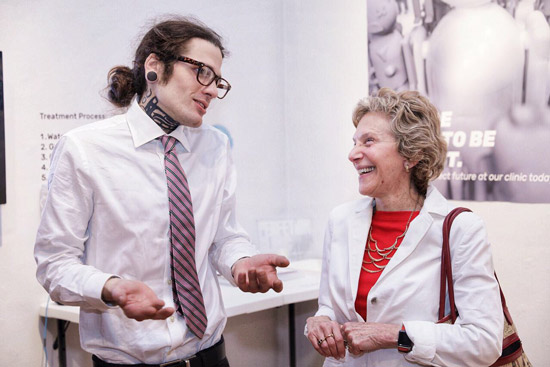 College of Fine Arts graduate student Max Bard finds beauty in the oddest things: other people's trash, litter, and discarded items.
The 29-year-old former park ranger collects the junk tossed into wildlife reserves on Plum Island, Boston's city streets, and points in between, piling the waste into his 2011 Ford pickup so he can transform it into art. As this year's winner of a $20,000 Kahn award for young artists, soon he will travel from New York City to Austin, Texas, gathering rubbish and working with youth who will help him turn it into public art.
What will they create? Bard's inspired sculptures feature all sorts of debris, from used mousetraps to dented hula hoops and rusted barrels, that take on new life as towering and unexpected formations, including jagged archways and a giant bird's head.
"It's my release," Bard says of his artwork. "It's my processing of the world and how I experience it."
The Esther B. and Albert S. Kahn Career Entry Fund for the Arts sponsors an annual contest that offers cash awards to up-and-coming BU artists as they launch their professional careers. Established in 1985 and funded through a $1 million endowment from the late Esther Kahn (Wheelock'55, Hon.'86), judges typically select three winners annually, but this year the award format changed. Judges selected one grand winner (Bard) for a $20,000 prize and offered five other finalists $2,500 each. They are:
Paul Dufresne, a School of Theatre graduate student studying scene design
Seychelle Dunn-Corbin, a School of Music graduate student studying saxophone performance
Matthew Hufford, a School of Visual Arts graduate student studying painting
Choah Kim, a School of Music graduate student in piano performance
Sarah Shin, a senior in the School of Theatre
Each artist is pursuing a different creative vision. Hufford proposed a project on ecological vulnerability through plein air painting, while Shin wants to amplify the presence of local Asian and Asian American playwrights. Dufresne sought funding to open a stage design studio, while musicians Kim and Dunn-Corbin each proposed a concert series; one pitched a modern-classical music festival and the other suggested a performance series highlighting the extreme pay gap for black women.
Bard's winning pitch focused on environmentalism and how inspiration can emerge from unexpected places. "Public art heals abused landscapes," he says.
Harvey Young, dean of the College of Fine Arts, said all six finalists offered smart, impressively designed and artistically excellent proposals.
"Everyone was a Kahn Award winner," he says, noting his gratitude to the Kahn family, especially Esther Kahn's daughters Deborah Kahn (Wheelock'67) and Linda Green, for continuing their mother's passion to assist talented emerging artists.
Past recipients of the award include opera stars Stephen Salters (CFA'91,'94) and Dominique Labelle (CFA'89), TV and theater scene designer Antje Ellermann (CFA'94), and actor Russell Hornsby (CFA'96).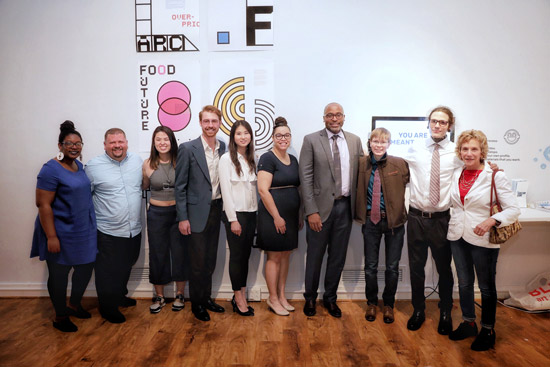 Young described Bard's sculpture as "virtuosic."
"Just a few minutes in [his sculptures'] presence will have you rethinking your relationship to the land, our environment, the horror and potential beauty of waste, and the power of art to spark meaningful dialogue toward positive social change," Young says.
Bard recently exhibited one of his works at the Anna Zorina Gallery in New York and was one of six standout young artists recently featured in the Boston Globe.
"He is delighted to highlight trash," the Globe said, "and insists he's not being a scold about it but putting it to good use."
Bard says his creations are about more than repurposing trash. As a former park ranger for the US Fish & Wildlife Service, he was fascinated with the way the ocean could give an orange jug of Tide laundry detergent a different, weathered patina. Colors and compositions animate and uplift his work, he says, noting that the world's trash problem is "already heavy enough in itself."
"My work is a unique, visual language that speaks directly to the complexities of the American landscape," he says. "Like the reflection of treetops on the surface of still water, my work captures a variation of reality, altered by perception."
One of his works, titled Coast Cancer, is a 10-foot arch of jagged birch and red pine, interspersed with buoys, a frying pan, and an old sneaker, and fringed with rusted mousetraps and no-smoking signs that dangle from strings. Another work, Perception Machine, looks like an 11-foot rocket made from painted steel, shells, crabs, a guitar, skis, and lobster traps. A smaller work, Losing Focus, is a 3D still life of crab shells, a dead bird head, a bicycle part, and a soda can.
Bard, who grew up in Rowley, Mass., says he decided to become an artist in high school, and even remembers the precise moment. It was when he saw an untitled Jean-Michel Basquiat self-portrait in a book at school. Unable to shake the image, he took up painting, he says, and art quickly became his life's focus, leading him to MassArt for his undergraduate degree and BU's MFA program for painters in the College of Fine Arts.
Josephine Halvorson, a CFA professor of art and chair of the graduate studies in painting, says one of the aspects of Bard's work that stands out is his devotion to making art for a broad audience.
"He's unusual in his commitment to this way of work," Halvorson says. "Not just the physical dimension of it, but the social dimension. He wants it to be seen off the wall in public spaces."
Bard says this is because he hopes his traveling sculpture program will offer young people the same sense of purpose and excitement that he found in creating it. He also hopes it will encourage new ways to think about the environment, conservation, and waste.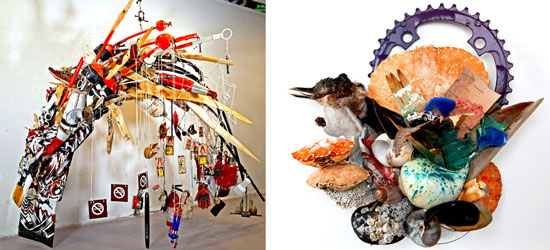 "I will host local events that promote art-making as a form of positive self-expression and inspire empathy and interest in protecting the environment," he says in his grant application, noting that he will build a website and use social media to help him get the word out about the projects as they are created.
For the Kahn Award, Bard submitted a highly detailed budget for the project, which would include purchasing a $1,450 welder, about $500 for gas to get to Austin and points in between, and $2,206.80 for trash bags, safety gloves, and paint for 12 events. He will kick off his trip on July 25 in New York City, with plans for a sculpture to be installed at the Lt. Joseph P. Kennedy Community Center in Harlem, followed by an August 12 session at the Boys and Girls Club in Salisbury, Mass., and several more events to be determined.
He's already been in contact with people from the Choctaw Nation of Oklahoma and the Wimberley Montessori School in Texas about the project.
If everything goes as planned, he will end his six-month trip in Austin by January 1. While many of the details still need to be worked out, Bard says the finale may involve creating a sculpture along the US/Mexico border in Texas with trash he may find along the Rio Grande River. It's a place with special meaning, he says, because of President Donald Trump's efforts to build a wall there to keep immigrants out of the United States.
"That's his monument," Bard says of Trump. "But I'm going to go make art with the other people there. How fantastic is that?"
Megan Woolhouse can be reached at megwj@bu.edu.