POV: Rollback of Federal Rules to Limit Methane Emissions Poses Serious Threat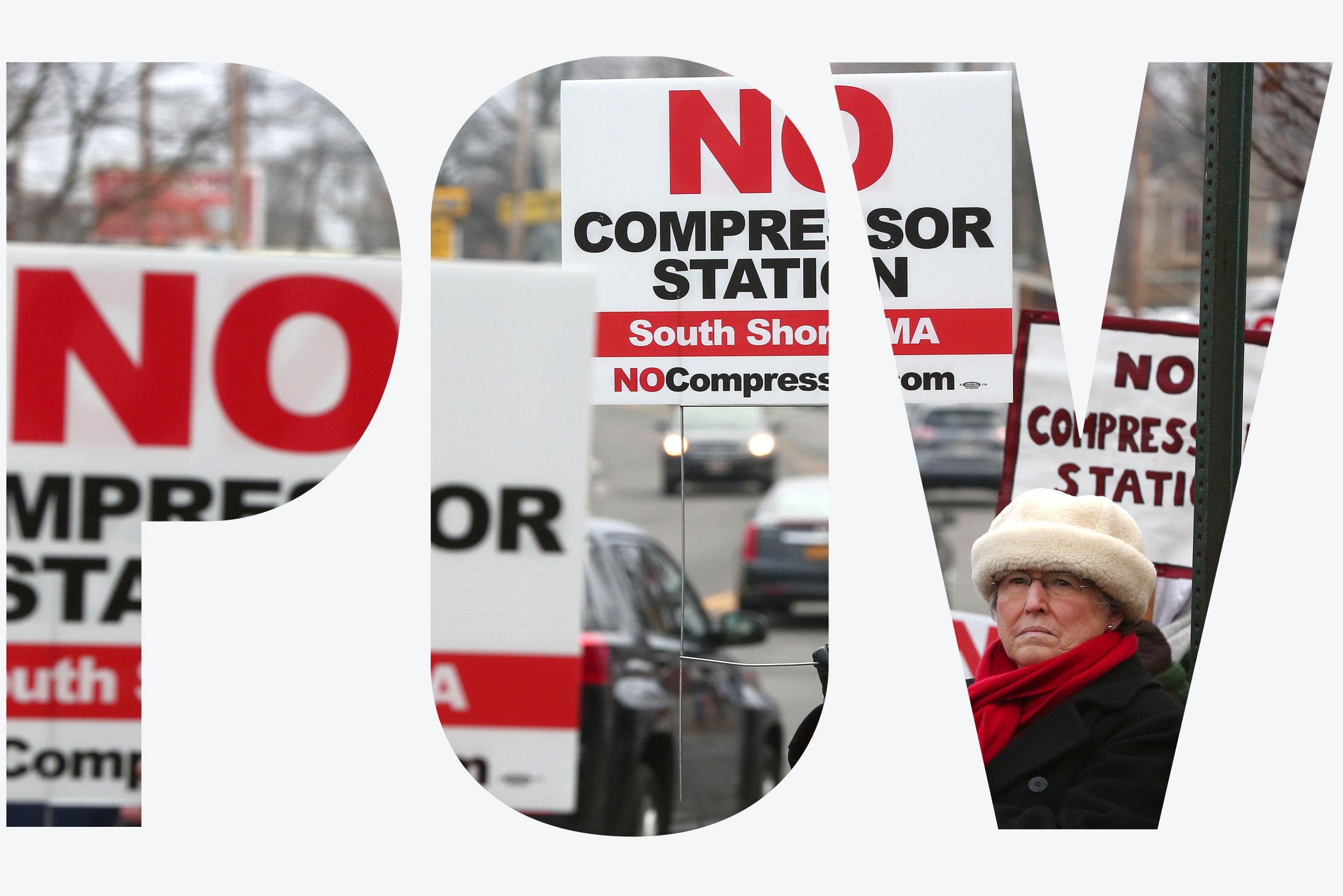 Voices & Opinion
POV: Rollback of Federal Rules to Limit Methane Emissions Poses Serious Threat
We need to use science to "push back on Trump's retrograde promotion of pollution and climate breakdown"
This past August, the Trump administration announced a rollback of federal rules established under President Obama to limit methane emissions from the natural gas industry. Based on our decade-long BU research on natural gas, I recognized right away how seriously this would contribute to furthering climate breakdown. This research, combined with learning of health impacts of natural gas from colleagues in the BU School of Public Health, has allowed me to see the danger this presents for the health and safety of residents right here in Greater Boston. As serious as these global and local threats are, the bottom line is, our science can help protect health, safety, and climate.
The consequence of the EPA methane rollback is serious damage to global climate, because methane currently contributes about 17 percent of all greenhouse gases to climate heating and is rising at a faster rate than carbon dioxide.

Natural gas is further damaging to human health, because natural gas is more than just methane. Leaks of natural gas emit dozens of volatile organic compounds, including carcinogenic and neurotoxic compounds, into the air we breathe. Some of these compounds, like benzene, have no lowest limit determined to be safe for human health. These leaks occur where people live and work across the gas-production chain, from the wellheads in Pennsylvania and Texas to the streets and sidewalks and the stove burners in our homes in Massachusetts. I know this from research and from personal experience. After I began studying natural gas leaks, I discovered I had a low-level gas leak in our own basement. There is a leak on the street in front of our house right now. And I walked my kids to school over a gas leak noticeable by odor, for years.

(The federal rules don't apply to these leaks we have on the low-pressure gas distribution systems under the streets of BU and across 21,000 miles of Massachusetts, but momentum is building to address these. BU research has been instrumental in passing a first-of-its-kind Boston ordinance and two state laws on reporting and accelerating the repair of gas leaks.)

While the Trump rollback doesn't affect how we address the leaks in our homes or on many of our streets, the federal rollback does apply to three federally regulated high-pressure "trunk" or transmission lines that run for hundreds of miles through Massachusetts, including directly into Boston, and associated infrastructure that intentionally vents uncombusted gas directly into neighborhoods. Two places in Greater Boston exemplify the threat and the opportunity science has to push back.

A proposed natural gas compressor station in Weymouth would, if built, intentionally periodically vent high-pressure gas directly into dense working-class and designated environmental justice communities in Weymouth, Quincy, and Braintree, which are already overburdened with air pollution from fossil fuel facilities. Moreover, the compressor, if built, would enable the carbon emissions equivalent to 1.1 million motor vehicles, almost half of the 2.3 million registered vehicles in Massachusetts. Trump's rollback would allow Enbridge, the company intending to build this compressor, to vent gas without disclosure and without limit. Ferocious community opposition to the proposed compressor is based on the science described above, and the science has so far delayed this project more than two years beyond its initially proposed in-service date. Scientists, and our data, are still in a position to arm the community with the evidence it needs to stop the compressor.
In mid-August 2019, I learned from a fleeting Twitter post that the same company (Enbridge) that proposes the Weymouth compressor, and which owns one of the three high-pressure transmission pipelines feeding Greater Boston, planned to vent a three-mile-long section of pipe directly into the air from a location on the Newton-Wellesley border. In addition to air quality concerns, I calculated that the amount of greenhouse impact would be equivalent to driving an average gasoline car for up to 459 years.

Because the pipeline is federally regulated, Massachusetts state agencies were uninformed: in fact, I notified the Department of Environmental Protection in a phone call, which advised me to contact my local fire department. The affected municipalities were also ill-equipped to respond or react to notice given to them by Enbridge, which assured them only of the safety of the operation and not the climate and air quality impacts.

With three days' notice, we sprang into action to map, measure, and publicize this otherwise invisible and unpublicized climate and air quality insult. We found gas at levels over 25 times normal background levels in residential neighborhoods of Newton and Wellesley, and nearly 10 times normal background levels throughout the grounds of Newton-Wellesley Hospital. The ability for science and data to expose the invisible and to drive change is real. Community stakeholders are now engaging with local and state officials and legislators to create policy to better publicize such events, which the Trump rollback would further enable.

In the retreat of federal environmental protection, and in the absence of state agency leadership on health and climate impacts of natural gas, concerned residents are increasingly turning toward scientists for data for the tools to assert their own agency to protect their health and environment. The Trump proposal is not a done deal yet, and even if enacted after public comment early next year, is sure to be challenged in federal court. Science will be instrumental in these proceedings.

BU's mission includes educating students to lead in an interconnected society, and to generate new knowledge to benefit society. BU students are not only increasingly asking me about the places I've mentioned here, but are proposing responses to empower science—like the students who recently proposed to create a podcast on the Weymouth compressor issue. Nothing makes me feel like I'm contributing more to our mission than working with students and using science to push back on Trump's retrograde promotion of pollution and climate breakdown.
Editor's Note: Phillips was arrested on October 2, 2019, while participating in a nonviolent protest outside of the Massachusetts Department of Environmental Protection against construction of the Enbridge natural gas compressor station in Weymouth. The trespass charge against Phillips was dropped and he was released later that day. Read more here.
"POV" is an opinion page that provides timely commentaries from students, faculty, and staff on a variety of issues: on-campus, local, state, national, or international. Anyone interested in submitting a piece, which should be about 700 words long, should contact John O'Rourke at orourkej@bu.edu. BU Today reserves the right to reject or edit submissions. The views expressed are solely those of the author and are not intended to represent the views of Boston University.