BU's Rabin Lecture Outlines Split among American Jews
Journalist Peter Beinart says consensus on Israel is gone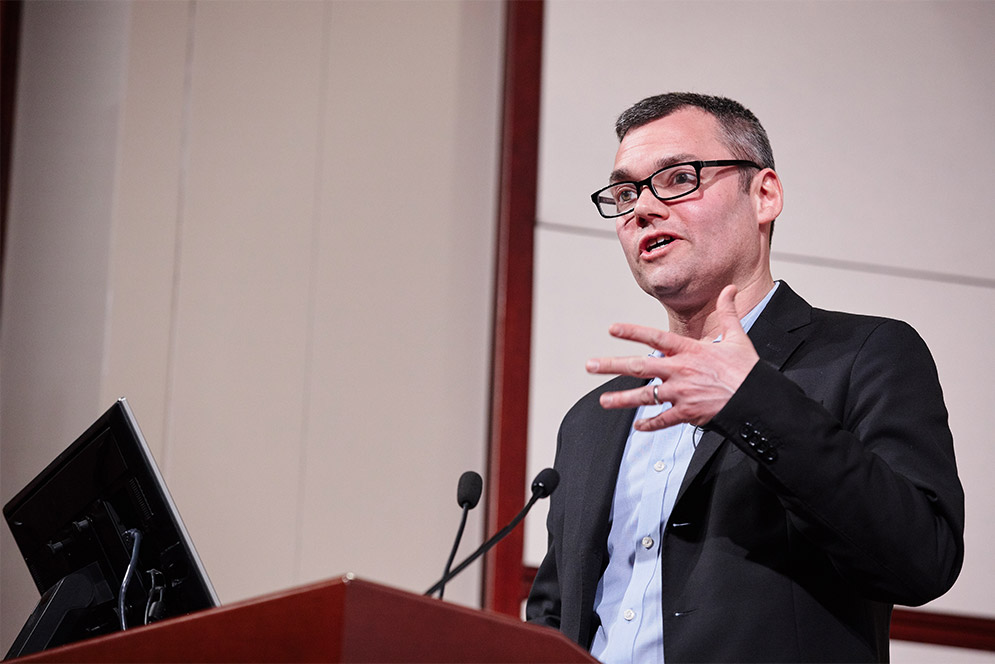 American Jews are more polarized than ever on issues involving Israel, and it's not clear what can bring them together, journalist and scholar Peter Beinart said at the Elie Wiesel Center for Jewish Studies 2019 Yitzhak Rabin Memorial Lecture on April 11.
An audience of nearly 350 in the Questrom School of Business Auditorium heard Beinart describe a generation of young Jews in America divided between "secular universalists" who are "less comfortable with privileging Jews over non-Jews" in areas such as human rights for Palestinians, and a growing Orthodox group who are "arguably less integrated into US society than their parents" and less willing to accept criticism of Israel.
"The divide will grow larger and more fundamental. The center—liberal two-state Zionism—will shrink," said Beinart, a City University of New York associate professor of journalism and political science and a contributor to The Atlantic. "One-state right-wing Zionism and one-state anti-Zionism will both grow. The debates will be even fiercer than they are now, because they won't be about Netanyahu or the settlements; they will be about the very existence of a Jewish state of Israel."
Since 1967, he said, Zionism has been at the center of American Jewish life, the closest thing to a common faith among various institutions and factions. But that is changing, due to complex factors, from the rise of nationalist politics around the globe to the growth of a younger generation of Jews further removed from the notion of refuge Zionism. "I don't think it can continue to play that role," said Beinart, former editor of the New Republic. "Not unless we are willing to exclude much of the next generation."
US Jews must find a new common ground, he said, which might be a renewed emphasis on Torah, "the text that encapsulates three millennia of Jewish wisdom about who we are and how we live. If I had a billion dollars to put into the American Jewish community, I would create institutions where left- and right-wing American Jews would put aside their differences about Israel and Trump and come together with great teachers to study Jewish texts."
The annual lecture series, begun in 2005 and supported by Jonathan Krivine (CAS'72), has focused on a variety of issues and historical perspectives regarding Israel. This year was the first time its lens was turned on American Jews.
"It seems we are being forced to choose between one extreme or another," said Michael Zank, a College of Arts & Sciences professor of religion and director of the Wiesel Center, who introduced Beinart and coined the title for the event: US Jews and Israel: Are We Headed for Divorce?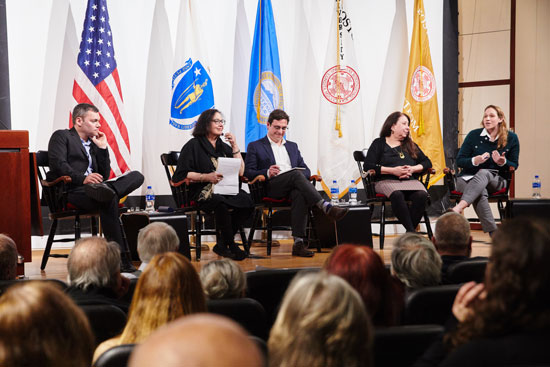 Moderated by Lori Hope Lefkovitz, Northeastern University Ruderman Professor and director of the Jewish Studies Program, the event included a wide-ranging panel discussion with four additional experts. Eve Spangler, a Boston College associate professor of sociology, called the agency of Palestinians living under Israeli occupation the "elephant in the phone booth," but also asked attendees to consider problems that will play out in Israel and everywhere else on the planet: the globalization of capitalism and especially, climate change.
The most contentious exchange came when Beinart said, "The organized American Jewish community has become one of the greatest threats to free speech in the United States," citing moves to define anti-Zionism as anti-Semitism as a way to criminalize criticism and shut down the debate.
He drew applause, but so did Rachel Fish, senior advisor and resident scholar of Jewish/Israel Philanthropy at the Paul E. Singer Foundation in New York City, who pushed back hard, citing a recent incident at Emory University where Jewish students received fake eviction notices that said they had no right to exist. "I think that is anti-Semitism," Fish said, "and I think it's imperative that university administrators understand that they cannot hide behind the guise of academic freedom and freedom of speech when it's hate speech." Such incidents would not be tolerated if they involved a noose on a black student's door or a similar effort aimed at a gay student, she said.
Dov Waxman, a Northeastern professor of political science, international affairs, and Israel studies and codirector of the Middle East Center, placed little faith in Beinart's idea of Torah study as a unifying force, simply because Jews are as divided about their faith as anything else.
"The arguing is the thing we share," Waxman said, to laughter. The important thing, he added, is to conduct that argument in a civil manner.