Particles and Pizza
For 16 years, BU's Rob Carey has been opening up the atomic world to local high schoolers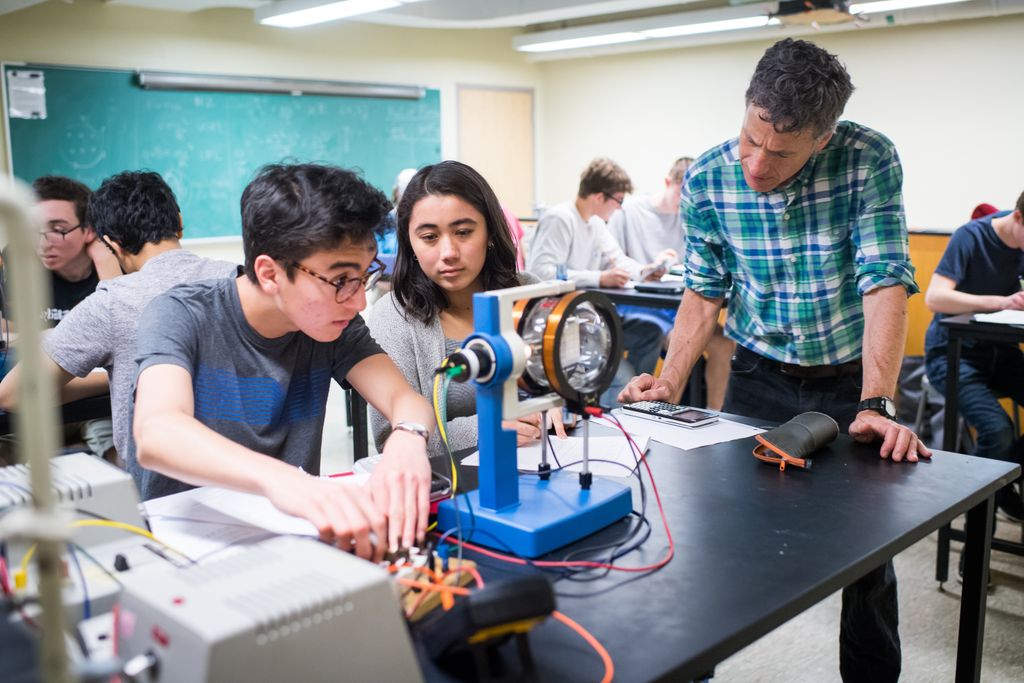 Few things in life are constant. In Boston, we need look no further than the weather or the T's arrival times for proof of that.
But in nature, you can count on a few things to remain the same, regardless of time and place. For example, the speed of light is always 300 million meters per second, no matter where you are in the universe. Values like this are known as "fundamental physical constants," and their universality makes them valuable for defining other constants. (Recently, for example, the kilogram was redefined so that it is now based on a fundamental physical constant known as the Planck constant.)
Some of these fundamental physical constants can be measured directly. Others, however, can be obtained only by measuring combinations, or ratios. In particle physics, you can find the ratio of an electron's charge (e) to its mass (m) with a relatively simple laboratory experiment, known as the charge-to-mass ratio—or e/m—experiment. It's one of the most important experiments in the field and a great way to introduce young students to the wonders of physics. For the past 16 years, Rob Carey, a College of Arts & Sciences professor of physics has been doing just that—conducting e/m experiments with local high school physics students in the lab facilities in the Metcalf Science Building. He even gives them a crash course in particle physics, served up with pizza.
The initiative began in 2003 under Cynthia Brossman (COM'94, Wheelock'12), director of CAS STEM Outreach and Diversity and cofounder and administrative director of BU's Learning Resource Network (LERNet). As part of her STEM outreach initiatives, Brossman offered local high school physics teachers a chance to bring their classes to the University to take part in one of six undergraduate-level labs led by BU graduate students and a faculty member.
That first year, Bedford High School physics teacher Sean McGowan came with his class to do the e/m lab, and Carey was the BU professor paired with him. The two hit it off immediately—they both have children roughly the same age and share a passion for soccer, track and field, chess, and mathematics, in addition to physics.
Even after BU stopped offering the labs, McGowan continued to bring his students to BU to work with Carey.
"Rob, Cynthia, and all of the grad students have been amazing, and every single [Bedford] student has said it was a great field trip," says McGowan.
In fall 2017, Carey was applying for a grant with the National Science Foundation. The NSF puts a large emphasis on outreach, and that gave Carey the idea to reach out to more local high schools to take part in the e/m lab. So last spring, with the help of the physics department's research fellow Mark Greenman, Carey brought nine high school physics classes to experimentally find the charge-to-mass ratio of the electron.
Carey wound up not getting the grant, but decided to continue the outreach anyway. This year, eight groups of local high schoolers traveled to BU to do the e/m experiment, including Prospect Hill Academy Charter School, Newton South High School, Cambridge Rindge and Latin School, Dexter Southfield School, and, of course, Bedford High School. The students come from a range of academic backgrounds; some are in regular physics classes while others are taking AP courses; some are underclassmen while others are seniors. "But e/m is not that hard of an experiment to do, so you can enjoy it at a number of different levels," says Carey.
Since expanding the program, Carey says he has received lots of requests from other high school physics programs. He never turns anyone down; as long as a school can arrange transportation, he makes the time to accommodate them. Carey gets lots of assistance from other people in the department: in addition to Greenman, physics lab manager Erich Burton is instrumental in scheduling the visits and setting up the labs, administrative coordinator Kelly Capri arranges parking and orders the ever-important pizza, and other members of the physics faculty take part in hosting and instructing labs.
When the high schoolers arrive at the Metcalf Science Building, they head to the basement and get situated at one of the dozen tables in SCI B19. Carey—or another physics professor—gives an introduction to the experiment. Then the students are off to the races. If they need any assistance, Carey, their high school teacher, and (if the group is big enough) BU physics grad students are on hand to help.
The experimental apparatus consists of a cathode ray tube (it looks like a big, transparent light bulb) mounted between a set of Helmholtz coils (two copper wire coils on black spools). A phosphorescent screen (it looks like a gridded index card) is suspended in the middle of the bulb.
To conduct the experiment, students first must connect the apparatus to a multimeter (an instrument that measures electric current and voltage), a double-pole/double-throw switch (used to reverse the direction of the electricity in the coils), and two different power supplies (one for the cathode ray tube, the other for the Helmholtz coils). Once turned on, the cathode ray tube shoots a beam of electrons into the bulb. The students then power up the Helmholtz coils, which generate a magnetic field; the magnetic field causes the beam's path to bend, which can be seen on the phosphorescent screen. The degree of bending depends on the strength of the field. Students use the grid markings on the screen to measure the radius of the electron path.
Then, using Newton's Laws, the Lorentz force law, and the work-energy theorem, students find the relationship between the voltage that accelerates the electrons, the radius of the electron path, the Helmholtz coils' magnetic field, and—the ultimate goal—the ratio of the electron's charge to its mass.
"It's an experiment that is very important in the history of physics, and it almost gives you access to a scale that is completely beyond our direct comprehension," says Carey. The mass and charge of the electron are inconceivably small—9.10938356 × 10⁻³¹ kilograms and 1.60217662 × 10⁻¹⁹ coulombs, respectively—but their ratio (approximately 1.76 x 10¹¹ coulomb/kg) is accessible.
Knowing that electron charge-to-mass ratio unlocks the charges and masses of the other fundamental particles. "It's a way of opening up the atomic world," says Carey.
Of course, there's more to the experience than just calculating this ratio. The students learn about converting units, troubleshooting equipment, and taking good readings from instruments. It's also an opportunity for them to see what a real college lab class is like.
After a couple of hours in the lab, the high schoolers move to another room in the basement of Metcalf for a pizza lunch. That's where Carey gives a talk about particle physics and his research with the Muon g-2 experiment at Fermilab. This experiment has a setup very similar to the experiment that the students have just completed; it, too, involves trapping a beam of particles (in this case, muons) in a magnetic field.
During a recent visit from a group of students from Newton South High School, Carey says he barely got two slides into his presentation before he was bombarded by questions from the students. What was supposed to be a 5-minute primer on particle physics turned into a 90-minute question-and-answer session about leptons, neutrinos, fundamental forces, and everything in between. "I think it was the most energetic reception I've ever gotten," says Carey. (The Newton South group later invited Carey to come to their classroom to finish his talk on Muon g-2—and ask him more about particle physics.)
This past spring marked the first year that McGowan didn't come to BU with his class. He recently took on the role of teaching AP computer science and passed his AP physics duties to Bedford High colleague Lucas Wickham. But McGowan can't stay away—next year, he says, he plans to tag along with Wickham to help chaperone.
"I think it's a useful enrichment thing for the students, for them to come and see what it's like in a real university setting, to do an experiment that is so fundamental to physics and so fundamental to our understanding of the microscopic world," says Wickham. "We aren't equipped to do it at Bedford."
Carey hopes to bring groups from even more high schools to campus next spring and continue to spread enthusiasm for particle physics. "I think it's really, really important that students be exposed to experimental physics and to realize that you can make fundamental measurements with a not-that-complicated apparatus," he says.
Of course, there will be pizza.