BU Political Analyst Reviews Mueller Report: "Impeachment Is Going to Happen"
Thomas Whalen says that in political chaos in 2016, Russia's Putin got "what he wanted"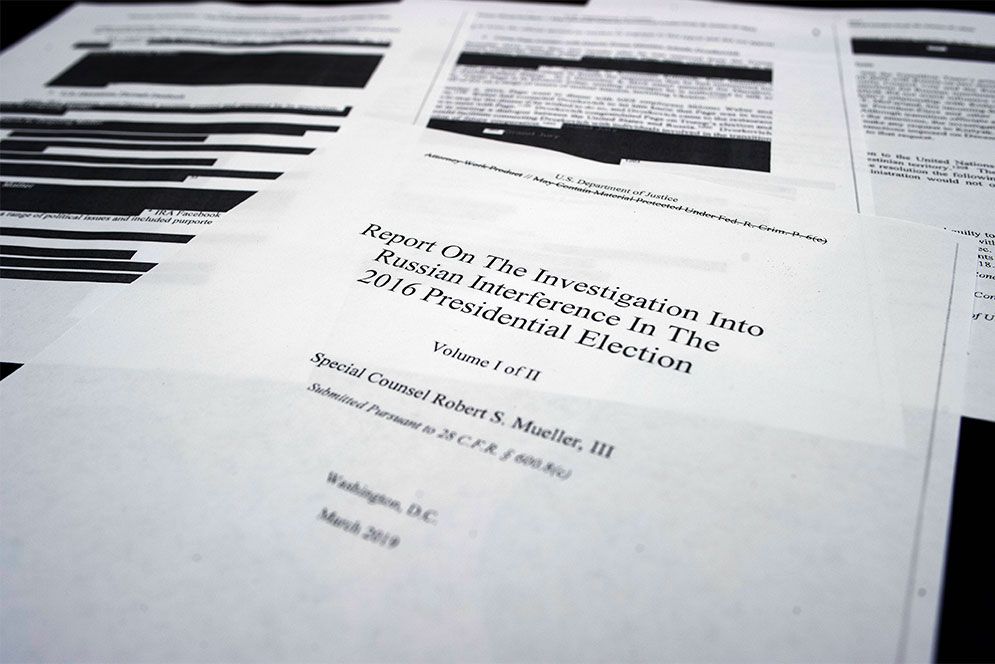 The impeachment of President Trump and a Constitutional crisis over executive privilege are likely after Thursday's much-anticipated release of the Mueller report, which offers a far more disturbing picture than Attorney General William Barr has claimed, according to BU historian and political analyst Thomas Whalen.
"Impeachment is going to happen, take it to the bank," says Whalen, a College of General Studies associate professor of social sciences. "The subpoenas are already being written."
Most troubling, Whalen says, is that the report from special counsel Robert Mueller makes clear that Russian interference in the 2016 election was pervasive and designed to elect Donald Trump as president, raising doubts about the legitimacy of the election.
Whalen, who studies 19th- and 20th-century politics, the Cold War, and modern foreign policy, says that he read key sections of the 448-page report, which is formally titled "Report on the Investigation into Russian Interference in the 2016 Election," and skimmed the rest. He says it's a treasure trove of damning info. And rather than ending the investigation of the Trump camp's ties to Russia and efforts to obstruct justice, he suggests that it's only the beginning.
"It's amazing: we're a year away from a presidential election and political chaos reigns here," says Whalen. "If I'm Vladimir Putin, I'm smiling and clapping my hands, because this is exactly what he wanted. That's the headline: Putin Wins."
Whalen's key takeaways:
Mueller put the burden on Congress. "Mueller has basically kicked the can down the road to the Congress," saying it's up to them to decide, Whalen says. "To be fair to Mueller, given the institutional restrictions and his mandate here, he didn't have much of a choice. He did what he thought he could reasonably do under the law." And Mueller has provided plenty of evidence for the Democrat-controlled House of Representatives to move forward. While Speaker of the House Nancy Pelosi has said no to impeachment, younger members like Alexandria Ocasio-Cortez (CAS'11) will push for action, Whalen says.
Barr has a lot to answer for. "Amazingly I think Barr was throwing sand in the face of America—'Just move on, nothing to see here,'" Whalen says. "I think he completely mischaracterized the intent of the report, and if I was Bob Mueller, I'd be somewhat upset. It will be interesting to see what Mueller says if called to testify before Congress." Whalen also says it's troubling that Barr so quickly concluded there was no basis to charge the president with obstruction of justice: "If this was a regular common American and some lesser crime, you'd be thrown in irons. But the bar to get a president on anything, to indict, is so high it's practically impossible."
The Russians' actions were historic—in a bad way. "Mueller says it quite plainly. They did in fact interfere with our democratic electoral process, specifically the 2016 presidential race. That's an act of war. No one's saying that, but that's huge. A foreign power. And apparently the Trump administration had lots of contacts with that foreign power, including members of Trump's own family. That to me is the most startling thing. Now I really have strong doubts about the legitimacy of the 2016 results. This is huge."
Americans will react along party lines. Democrats will see a treasure trove of material and will open up a slew of further investigations, says Whalen. "If you're on the Republican side, all you're going to look at is: there is no criminal conspiracy, because they couldn't establish criminal intent. It's like a Rorschach test—everybody's going to see what they want in this."
None of this is good news. No matter what side you're on. "The biggest takeaway is, it's a bad day for democracy, because this just shows how imperiled our democratic institutions are," Whalen says. "There's no faith now in the Justice Department or our election system. It just seems like, one-by-one, our democratic institutions are going by the wayside, and that cannot be a good thing moving forward."