Researcher Who Exposed Flint Water Crisis to SPH Grads: "Stand Up for What Is Right"
Convocation speaker Mona Hanna-Attisha urges perseverance in the face of health injustices
The Convocation speaker of the largest class in the history of the School of Public Health, Mona Hanna-Attisha, called on the 440 graduates to embrace the unexpected and "stand up for what is right, no matter how hard it will be.
"By taking on a life of public health, you have put yourself on overwatch, and you will be on the front lines of some of the most important battlegrounds today," Hanna-Attisha said at the BU Track & Tennis Center on May 18. "I urge you to use the tools that you learned here, and the tools you will acquire, to keep your eyes open.
"Let your clarity of vision and your broad public health perspective show you how the world should be, not the imperfect place that it is," she urged.
Hanna-Attisha is the pediatrician, scientist, activist, and author whose research exposed the 2014 Flint, Mich., water crisis. Currently a Michigan State University College of Human Medicine associate professor of pediatrics and human development, she is the founder and director of the Michigan State University–Hurley Children's Hospital Pediatric Public Health Initiative, a program that aims to mitigate the effects of the Flint water crisis on children and families.
"Sometimes the work you choose has other plans for you," said Hanna-Attisha, who found herself facing the dire needs of an entire community after she publicly revealed evidence of elevated blood-lead levels in Flint children in September 2015, more than a year after the city switched its water source from the Great Lakes to the highly corrosive Flint River.
It was her public health perspective—shaped by her knowledge of epidemiology, statistics, policy, practice, and environmental health—that enabled her "to take on something bigger."
The Flint water crisis, she noted, is a story of what happens when "the people charged with keeping us healthy and safe care more about money and power than they do about us and our children." Despite frustrated and fearful mothers and community members raising concerns about murky drinking water and the inexplicable illnesses of their children, she said, government officials told the people of Flint to relax and that everything was OK.
"But it wasn't OK. It was preventable, but no one stopped it. It was avoidable, but it happened."
After announcing her research findings, Hanna-Attisha was swiftly condemned by state officials. "For a minute, I regretted using my voice," she recalled. "I was scared. I was sick. I began to second-guess myself.
"But that was quickly replaced with the realization that this had nothing to do with me, and everything to do with the kids."
The Flint water crisis was not an isolated story, she said: there are children everywhere "from the Rust Belt of America to coal country, black, brown, white, waking up to the same nightmares of poverty, injustice, austerity, lost democracy, and stolen opportunity."
This, Hanna-Attisha said, is why the dedication and perseverance of emerging public health professionals is more important than ever. "We need all of you," she said, "because vaccine denial is a public health issue. Racism and hate and nationalism are public health issues. Guns are a public health issue. Controlling women's bodies is a public health issue."
Hanna-Attisha closed her address by underlining the core values of public health. "The story of Flint shines a light on our civic responsibility and deep obligation as human beings to care and provide for each other," she said. "From this day on, you are entrusted to be the voices of health."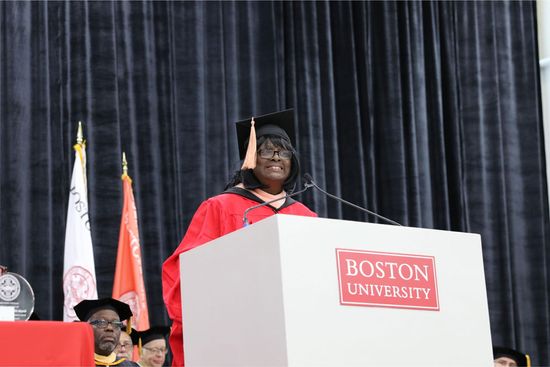 Student speaker Marylyn Creer (SPH'19) spoke about the values her mother had instilled in her as a child. Growing up in Tuscaloosa, Ala., and later moving to Birmingham, Creer had been a community leader, a grassroots organizer, and a neighborhood president for almost 30 years before coming to SPH to earn a master's in public health.
"My mother taught us to always help others, and never forget where you came from," Creer said. When she  was 21, her parents were both hit by drunk drivers, and her mother died. Creer said she's never forgotten her mother's words.
"I mentored young underprivileged people," she said, "and I wept when my mentee Wendy was killed in a senseless murder. I wanted to do something about all of that. I knew I had to work in public health."
At SPH, Creer said, she soon discovered that inequities and injustice exist everywhere. "I was brokenhearted," she said. "But then I became emboldened and encouraged when in those same classrooms I learned about ways that I could fight the good fight, and of ways to fight smart."
She urged her fellow graduates to show care and respect for these communities. She shared a quote from her brother: "People don't care how much you know until they know how much you care."
And from her: "Carry that torch of justice with you and be determined to make a difference. You can, and you will, and you must."
Several awards were presented at the Convocation. Two faculty members were honored for teaching and scholarship: Jessica Leibler, an assistant professor of environmental health, received the Norman A. Scotch Award for Excellence in Teaching, and Sydney Rosen, a research professor of global health, received the Faculty Award in Research and Scholarship.
Greylin Hillary Rinaldo Nielsen (SPH'19) received the Leonard H. Glantz Award for Academic Excellence.
The first-ever Award for Excellence in Practice was presented to Amparo "Chary" Ortiz, biostatistics department senior financial administrator, by Harold Cox, associate dean of public health practice. Vanessa Boland Edouard, director of strategic initiatives, received the Dzidra J. Knecht Staff Award for Distinguished Service.
At an SPH awards ceremony on May 17, several new awards went to a total of 32 students, faculty, and staff for outstanding contributions and achievements. View the full list of award recipients here.
Find more coverage of Commencement here.
Jillian McKoy can be reached at jpmckoy@bu.edu.