Class of 2023 Formally Welcomed into the BU Family at Annual Matriculation Ceremony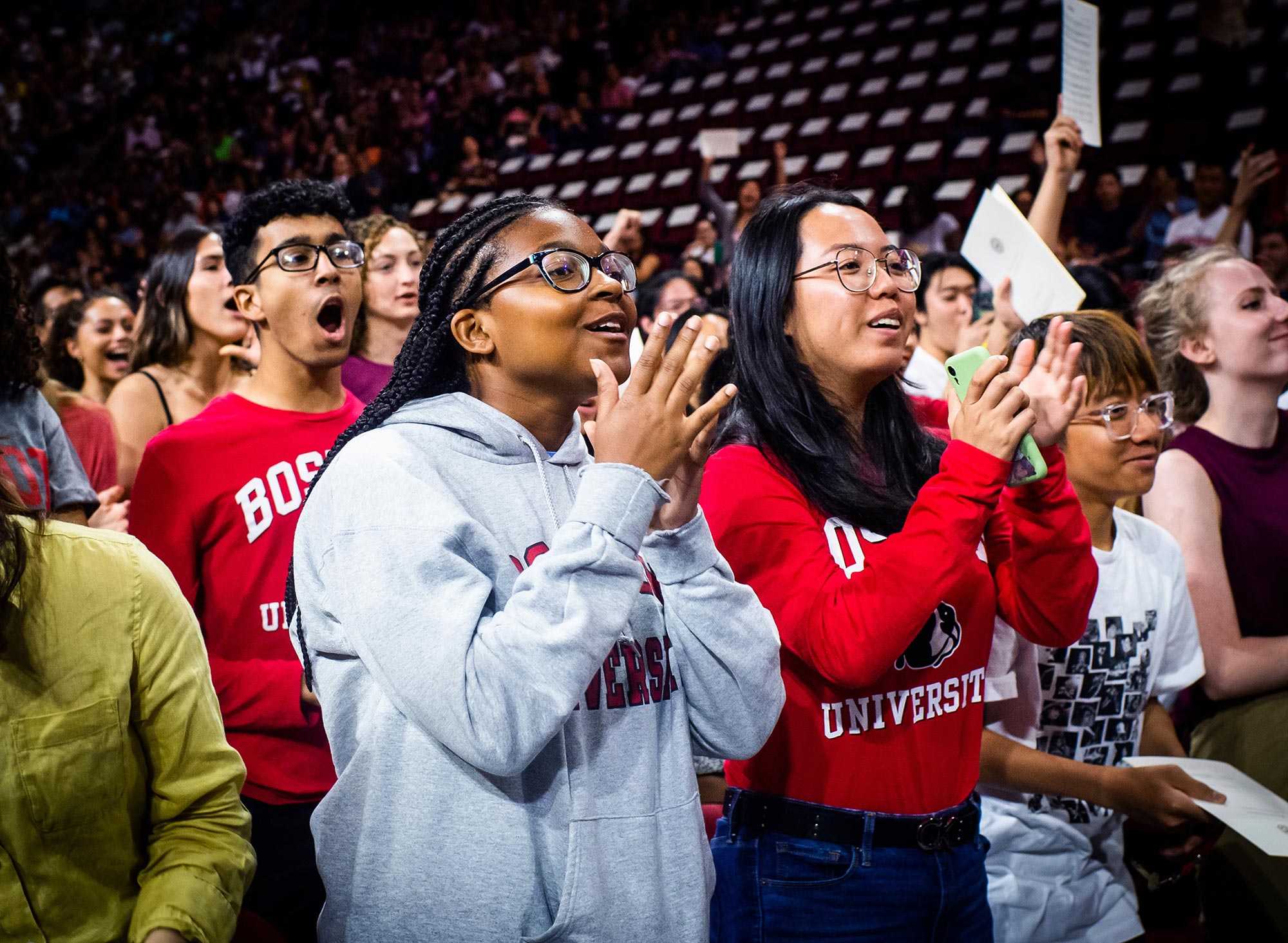 Class of 2023
Class of 2023 Formally Welcomed into the BU Family at Annual Matriculation Ceremony
In his Matriculation address to the approximately 3,100 newly arrived members of the Class of 2023 and their families on Sunday, BU President Robert A. Brown touched on themes of tolerance and diversity and spoke of the importance of taking advantage of everything the University has to offer. The annual welcoming ceremony was held at Agganis Arena.
The event marks the official enrollment of the incoming freshmen and is one of only two occasions the Class of 2023 will gather in its entirety. The second? Commencement, a point the president noted.

"You are poised to emerge from college at one of the most challenging and exciting times in the world's history," said Brown, who was garbed in his presidential doctoral gown and carried the academic mace in the procession of BU faculty and administrators to the stage. "The world is changing at a rate we have never seen before. When you stand on Nickerson Field at graduation in 2023, the world will be more global, more diverse, more urban, more interconnected and run by machines than at any time in our history. Our goal is for you to thrive and to lead in this rapidly changing world throughout your life. We believe that the BU experience…prepares you for this change if you set your goal to fully engage in the community."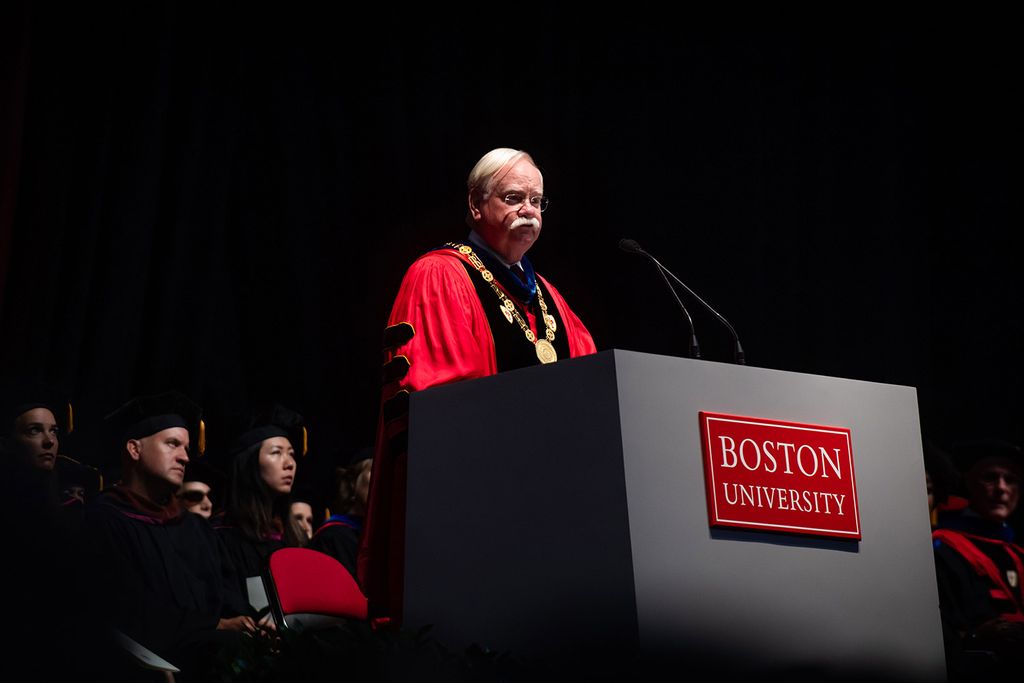 BU's scale and breadth gives you choices, Brown said, citing examples like BU's 174 undergraduate degrees (not counting combined undergraduate and master's programs) and its 400 student-run organizations. He also made a point of emphasizing the diversity of the Class of 2023, noting that members hail from 42 states and 53 nations "and represent the future of this country."

Students sat with their school or college during the ceremony, and practically all were clad in scarlet, the school color of BU. They filed into Agganis to music performed by the Boston University Faculty Brass Quintet and hummed along with Caroline Burg (CFA'20) as she sang "Clarissima," the school's anthem.
The president opened with a special welcome to students and families from Florida, Georgia, and the Carolinas, areas that could be severely impacted in the next few days by Hurricane Dorian, which was upgraded to a category 5 storm Sunday morning. On a lighter note, he gave special thanks to the family and friends of the Class of 2023. "Thank you for all of your assistance getting your BU students settled into their housing, for fighting the lines at Bed Bath & Beyond, for enduring Boston traffic during Move-in weekend, for everything you have done to make this weekend possible," he said, to laughter.
Among the other points Brown touched on were the new Center for Computing & Data Sciences, scheduled for completion in two years, and BU's chartering in 1869 and eventual transformation into a large research university, and he gave strong warnings against binge drinking and sexual misconduct. Noting that 2020 is an election year, he urged the freshmen to start preparing. "US citizens, we need you to vote," he said. "Do as much as you can, exercise your right."
Delivering the faculty salutation was Malika Jeffries-EL, a College of Arts & Sciences associate professor of chemistry, who told students, "Don't forget to call your mother." J. R. Hipple (COM'88), president of the BU Alumni Association, urged the class to "be a sponge" and absorb new knowledge.

The Class of 2023 also heard from Hafzat Akanni (CAS'20), student government president, whose speech was deeply personal and honest. She spoke of mistakes she had made, the personal struggles she's experienced while at BU because of the death of some family members and friends, and even admitted that BU hadn't been her first choice of colleges. 
"Be intentional and take chances," she said. "Opportunities will arise, and if not, don't be afraid to open doors for yourself. Design your own course, start your own club, make the most of your time here… Open yourself to new experiences. You are not alone. Don't be afraid to ask for help and guidance. Welcome—be bold, be brave, be you."

As the ceremony wound down, Jean Morrison, University provost and chief academic officer, introduced the deans of the various schools and colleges, who in turn welcomed the new students into their individual schools.

Students and their families were invited to Nickerson Field following the ceremony to attend the 13th annual Terrier Tailgate, with free food, music giveaways, and prizes, and the BU men's and women's home-opener soccer games.