New Coach Marisa Moseley, New Attitude for Women's Basketball
Coming from UConn, she brings winning formula from record-breaking team
It's frigid outside. But inside the second-floor gym at the Case Athletic Center steam may as well be blowing out of Marisa Moseley's ears. Because she's boiling. The first-year coach of the women's basketball team has been watching one of her forwards miss rebound after rebound during a routine drill until she can't stand quietly any longer.
"One more rebound and we're running," Moseley says with a pointed finger.
Sure enough, two minutes later, another rebound eludes the forward and all her teammates know what's next. They line up on the baseline. Moseley asks for 10 seconds to be put on the clock overhead. And on her signal the players take off in a full sprint to one end of the court, then back. If one player doesn't finish in 10 seconds, they'll do it again. Mercifully, they all make it—and jump right back into their drill.
When any college coach takes over a new team, it's difficult to make an immediate impact. They are working with players recruited by the previous coach, in this case, Katy Steding. That means the new coach must employ their motivational skills, philosophy, strategy, play-calling—whatever it takes to shape the program. It's been a big adjustment for Moseley (CAS'04), who spent nine years as an assistant coach at the University of Connecticut, the most successful women's basketball program in history. The Huskies lost a total of 14 games—14!—in nine seasons while winning five national championships. The Terriers, on the other hand, lost 19 games (and won 10) last year alone.
"The goal at UConn was a national champion every year," says Moseley, sitting in her office, relaxed in BU sweatpants and surrounded by pictures of her meeting President Obama, her championship trophies, and a framed number 12 jersey from her playing days at BU. A large poster of Martin Luther King, Jr. (GRS'55, Hon.'59) hangs behind her desk. "There are different goals here. The biggest adjustment is finding the good in every game. A goal of winning the conference championship. And building confidence."
Discipline, on and off the court
Moseley's focus is not just on how her players perform on the court. Off-the-court habits matter just as much, she says. The day before the team left to play Bucknell and Loyola in early January, guard Payton Hauck (CGS'17, ENG'19) was careful to call it a "business trip" rather than a "road trip," a term her coach uses to emphasize that they are going to work. Not play. It was a successful business trip, with two wins, as the Terriers opened Patriot League play 4-0 before dropping three straight.
"Those little things, they translate to winning on the court," says Hauck. "We all have the same look when we travel. No tucking the bottoms of our pants in. Some of us like to do that. But now we're all matching."
It's a coaching philosophy befitting of the daughter of a sociology professor who herself majored in sociology. Her relationship with the University is notable for several reasons, among them: as a player, she was a defensive star and team captain who in 2003 helped lead the Terriers to their only NCAA tournament appearance (they were defeated in the first round, 91-44, by none other than UConn). Now, she is the first alumna to helm the BU program, an honor she doesn't take lightly.
"It all made sense to me," Moseley says of returning to her alma mater. "I followed and knew the team's success and I've seen the stumbles, too. And being back in the Roof is amazing."
Lessons from UConn
If there was one lesson that stuck with Moseley from her time under UConn coach Geno Auriemma, it was that college coaching is about a lot more than wins and losses. It's about instilling a sense of pride and meaning in everything the players do, no matter how trivial. For example, she says, being on time means actually being five minutes early.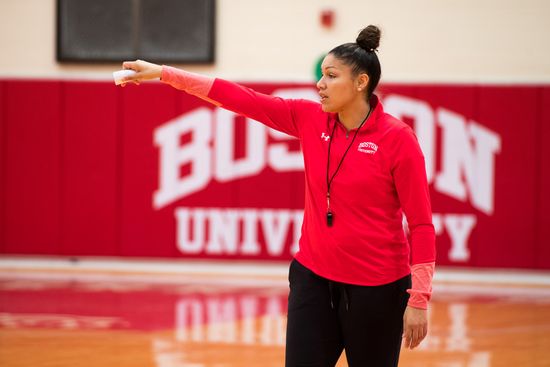 "Making sure shirts are tucked in, shoes are tied, even how we dress at a banquet and speak to reporters," she says. "We're preparing them for something bigger than basketball. A deep focus on doing things the right way. We want to strive for perfection and catch excellence, on the court and in the classroom."
Another simple way to keep the players' minds sharp while on a road trip? Team trivia about their opponent's hometown, forcing players to study up on the city they are visiting.
For a new player, like guard Riley Childs (CGS'20), who played high school ball in nearby Medway, the news that the coach who recruited her to BU was leaving caught her by surprise. But Moseley came to the homes of all four freshman players and had dinner with their families, Childs says, which immediately put her, and the others, at ease. Now, she says, her biggest adjustment is not to the coach, but to the grind of Division 1 basketball.
"The pace of the game is so much faster than high school," she says. "And there are a lot of extra workouts to improve. But you also get a lot more individual feedback."
She had never before had a coach sit with her and break down her game on video, pointing out what she needs to work on. But Moseley did. "That was so helpful," Childs says.
The Terriers got off to a promising nonconference start in their first season under Moseley, winning four of their first six games before losing four straight and opening 2019 at 4-6. The roller coaster of wins and losses that all teams (except, apparently, UConn) inevitably go through is another big adjustment for Moseley. She's also had to get used to playing in front of 300 fans during some home games; Husky games were often sold out. But she understands that that's as much about the difference in playing in rural Storrs, Conn., with a population of 15,000, versus a major city and cultural hotbed like Boston, where students have so many ways to fill their evenings and a women's basketball game won't always be a priority.
She's quick to point out that it's no excuse for her players to lose their intensity or focus on the court. Reflecting on the team's early-season loss to Dartmouth on December 5, she says the team had a lackluster effort in the first half, but played much harder in the second. At UConn, any loss was unacceptable. Moseley knows that standard has to change for her. "I did commend them for their play in the second half," she says. "I never want to question their effort."
Dripping with sweat after yet another tough practice, Hauck and Childs nod their heads and smile when asked about all the running and quick-paced drills that Moseley has the team doing. Hauck, who remembers last season, says the running isn't about simply trying to tire them out for the sake of running. It's about conditioning them for games. And the players realize that.
"I think we can be conference champions," she says. "It will be tough, there are a lot of strong teams. But I sense a lot of excitement. And there is a lot of trust in our coach."