Can Latin America Jump-start Our Clean Energy Future?
Kilachand student's research: renewable energy could be a path to independence for region's developing nations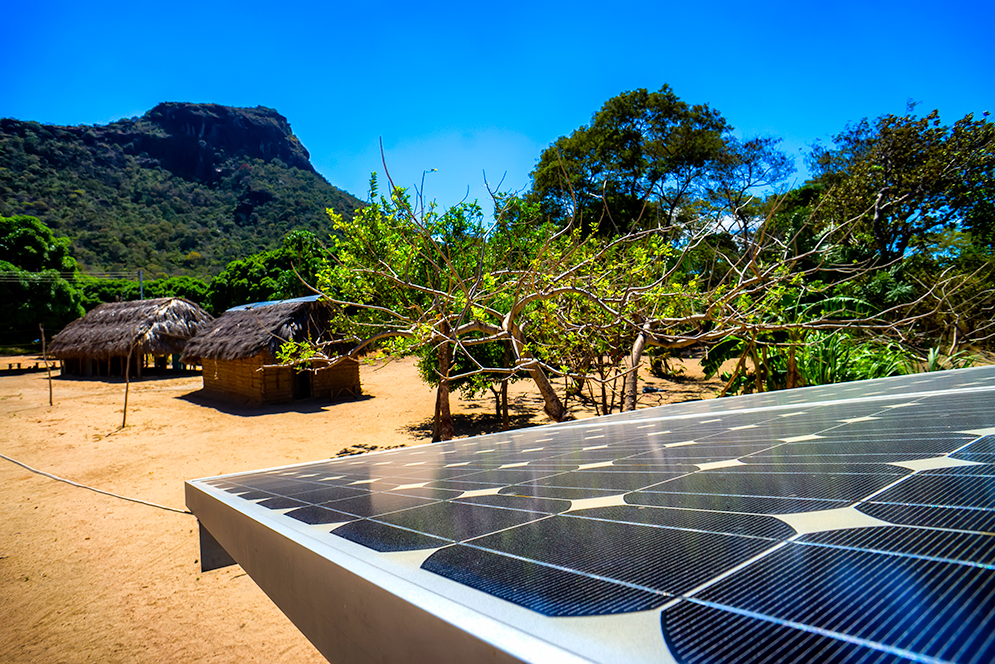 Senior year for Daniel Gonzalez has been a pins-and-needles witnessing of his native Venezuela's slow burn amid political and economic turmoil. President Nicolás Maduro clings to power despite domestic and international condemnation and widespread poverty from decades of policy misfires. Gonzalez's country is oil-rich, but its economy is a shambles, crippled by decades of underinvestment and political instability, abetted by Maduro's strongman tactics.
The question of extricating the country, and region, from dire economic circumstances helped inspire Gonzalez (CAS) to probe the role of energy in politics in his Keystone Project, a culminating research work done by Kilachand Honors College students.
Specifically, Gonzalez, who is majoring in international relations at the Pardee School of Global Studies, researched Latin America's renewable energy sector. His conclusion: it's the ticket for developing nations there, not just for clean power, but also for independence, in a region long colonized economically by the United States. Lately, China has pumped infrastructure-building funds into the Americas in its global spending drive to increase its political influence.
Gonzalez traveled to Washington, D.C., and Mexico City for his research, interviewing representatives from banking and business, human rights advocacy, and think tanks. A summer job last year with the State Department hooked him up with Latin America experts there.
BU Today spoke with Gonzalez about his research and why he believes investment in green energy is vital for the future of the region.
BU Today: Why were you interested in researching green energy specifically in Latin America?
Gonzalez: I appreciate the benefits for the future of our planet. But renewable energy development and investment, first and foremost, is a profit-driven enterprise. There is a massive opportunity, with the big decline in the price of solar panels and wind turbines in the past 15 years, for developing countries for breaking that cycle of economies that are highly dependent on the price of one commodity, whether it be oil or a certain mineral.
Your Keystone report references areas in Latin America with consistently high sunlight and wind speeds. Which regions do you mean?
Chile—they're the leader in the region in solar; the Atacama Desert has sun all year round. Brazil has lots of potential just because they have such a large landmass. Colombia has a lot of potential. In terms of wind, Argentina and Brazil have tons of potential. Mexico also has quite a lot of potential for wind.
What are some of the current barriers to sustainable energy?
The important thing for investors to see is that they're going to get a return on their investment. For that to happen, you need the economic environment for them to feel comfortable. While the operation of solar plants and wind farms is relatively cheap compared to traditional fossil fuels, a lot of the investment is up front. You need to find low-cost financing for that, and investors and banks can feel uncomfortable throwing so much money at countries with unstable credit histories. The construction period for these mega-projects is about three to six years. It takes a long time to start making money.
There can be massive shifts in political ideology. In Mexico, 2013 was a big year for the electricity industry. There was huge reform that brought a lot of investment. However, last year they elected a president who campaigned on nationalizing the sector and doing away with 2013 energy reform. The reform that exploded the investment in renewable energy is now up for debate.
It's still cost-prohibitive to have mega solar farms or mega wind farms and not have batteries that can store excess power for when the wind is not blowing or when the sun is not shining. In Latin America, solar and wind will make up a very small part of the portfolio until we develop those batteries. The other issue in Latin America is old, outdated grids that can be really inefficient.
Is Latin America going to need homegrown investment?
Absolutely. Maybe [by] having national development banks in your own country or relationships with multilateral development banks like the World Bank, or also considering an American development bank. The benefit of investing in renewable energy is a sense of energy independence. But opening your electricity sector to foreign investors is also a big part of getting that off the ground. Several decades ago in Latin America, there was a monopoly of government controlling the electricity sector. Now a lot of them have liberalized and invited commercial involvement.
Is there concern that foreign investors might exploit Latin America, as foreign corporations historically have done?
There is absolutely a concern, because there's a history of that extractive culture that is really a form of colonialism. The new player in this space is China. And Chinese investments range from energy to roads, bridges, everything. Chinese financing is often a little shady. They're not really transparent with the terms that they expect. You're not really investing in your own population. When the time comes, the profits of renewable energy are being exported back to China.
Multilateral development banks have been huge in this renewable development, and they will continue to be. They're a much safer player to contend with than the Chinese.
How serious are objections by indigenous populations to development?
You have to consider the history of extractive industries that have, for a long time, affected these native rural populations. Renewable energy, despite its environmental benefits, is land-intensive. Native and local populations are being consulted prior to development. I think a lot of these populations understand that development is a natural process and that they'd be interested in some of the benefits of development as well.
Do you think that 10, 20 years from now, these countries will have made sufficient transition to wind and solar to make a big contribution to stopping climate change?
Yes. I hope so.