Through 1,000 BU Hockey Games, Larry Venis Has Seen Tragedy, Triumph
Longtime athletic trainer marks a milestone with men's hockey program this season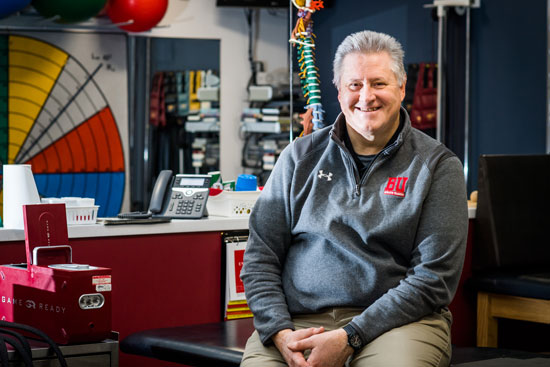 It's October 20, 1995. The defending national champion Boston University Terriers are hosting the University of North Dakota in the season opener. A BU freshman races for the puck toward the far corner from the home bench, but his check misses the opposing player and he crashes into the boards headfirst. He doesn't get up.
The BU athletic trainer rushes over. In what turns out to be one of the most devastating tragedies in college hockey history, forward Travis Roy cracked his fourth vertebrae, leaving him paralyzed from the neck down.
But this story isn't about Roy. It's about Larry Venis, the trainer who rushed to Roy's side.
In his 24th season at BU, after years of watching players and coaches achieve milestone games, goals, points, and wins, the longtime head athletic trainer reached his own special milestone this season—his 1,000th game with the men's hockey program.
"He knows every generation of hockey player in the last 25 years," says Roy (COM'00, Hon.'16). "That's a lot of different connections…. Larry and [equipment manager] Mike DiMella cross over the generations. They're the common thread."
Venis and DiMella form one of just two duos in the country to have reached the 1,000-game mark together at the same program.
"It's amazing it's been that long," Venis says.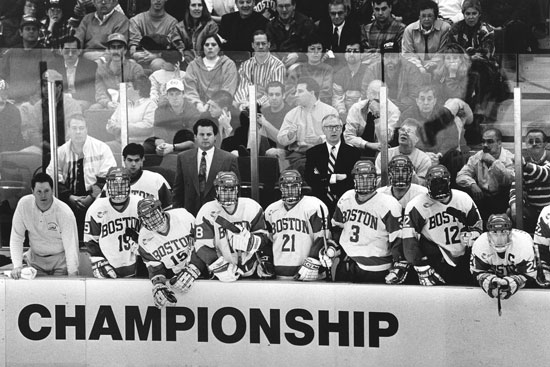 Since being elevated to the position of assistant director of athletic training services, Venis has continued coordinating care with the men's ice hockey team, but now also helps direct the 23 staff members across the 23 varsity programs, 34 club teams, and ROTC. "We're like an EMT who will go out to triage people in an emergency situation," Venis says. "We're also like a primary care physician because we have patients coming in on a regular basis with a cold or a flu. From there, we'll refer them out to a specialist."
During rehabs, the department staff will take on a physical therapist role, and when student-athletes come complaining about their playing time or recovery, they switch to the role of counselor.
"It's a mixture of a lot of different professions," Venis says.
Boston boy lands Boston dream job
Raised in South Boston, Venis grew up a passionate Boston sports fan, following the Bruins, the Patriots, the Red Sox, and the Celtics. Although he gave playing sports a shot, he says it didn't take him long to realize a playing career wasn't his calling. And although he entered UMass Boston as an accounting major, his love of sports kept him close to the school's games. While working for the athletic department, he decided to switch majors and study physical education, with a concentration in sports medicine.
"Growing up in a household where my parents fostered service to others, it was one of those things that just kind of went hand-in-hand," Venis says.
After launching his athletic training career at Dedham High School and a year later at Framingham State College, Venis returned to UMass Boston in 1988 as the associate head athletic trainer.
Then during summer 1994, while he was at a camp at UMass, Venis received a call from a former mentor of his who had heard that the athletic trainer of the Terrier men's hockey team had just left. He asked Venis if he was interested.
"Of course," Venis replied. "You know I love hockey, and I love BU."
Just as he followed Boston's professional teams, Venis regularly attended BU games growing up. (And occasionally games at the college down the road, too, but never mind that.)
Venis contacted Maria Hutsick, then BU's head athletic trainer, who told him to swing by that day. "Wait, what? Today?" Venis asked. "I'm wearing shorts and a polo shirt."
"Just come over," she told him.
He did. And that weekend he got a phone call offering him the position—and he's been at BU ever since, starting his first day in August 1994 with the football program. Venis began his BU career as the head athletic trainer for the football, baseball, and hockey programs.
Facing his own injury
A few years into the BU job, Venis found out the hard way what it's like to be on the other side of the training profession, to need medical assistance. What happened to him during an early November 2003 BU-Merrimack game is still a vivid memory.
"I remember everything about that night," he recalls: a defenseman by the far circle. Backup goalie to his right on the bench. Glass on his left. And when the defenseman tried to clear the puck, the bench was trying to avoid the puck.
"Like a fool, I looked to see where the puck was, and I found out where it was pretty quickly," Venis says. "It hit me in the right temple, knocked my breath away. I went down and picked up the puck, and I heard people yelling for the trainer."
"And I was like, 'I'm busy,'" he recalls saying.
Of course, the trainer was needed to help the now swollen-eyed Venis, who gave a self-assessment and insisted he could stay on the sidelines. He felt nauseous, but he decided that wasn't a big deal since he already lived with migraines. He would even get back on the ice to help a player later in the game, just as he would in any game.
"Medical professionals are really worried about people other than themselves, but we're the worst patients," Venis says.
"He's a lucky guy, to tell you the truth," said Jack Parker (Questrom'68, Hon.'97), who was then BU head coach, after that evening's game.
Parker made sure that Venis got a ride home that night, and fellow trainer Mark Laursen that he would get to the hospital the next morning. It was good that Venis did.
"I knew I was gonna be there a long time, but long time, I thought, was the rest of the day," Venis says. "I didn't know it was gonna be a couple of days."
He was diagnosed with a subarachnoid hematoma—bleeding in the space between the brain and the tissue surrounding it. The injury required surgery and time off until late January. After a few days at the hospital, Venis went through extensive inpatient and outpatient rehab that included activities he took for granted—for instance, a shopping spree at Shaw's supermarket, where he and other patients were given a set amount of fake money to spend, and had to choose a recipe and purchase its ingredients.
"It was really enlightening, because I thought I was fine—and in the grand scheme of the group of people I was with, I really was," he says. "I had people looking out for me."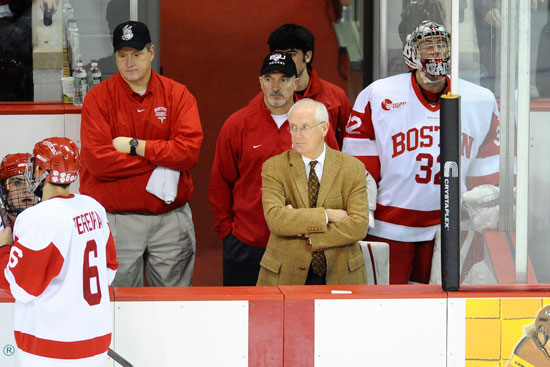 A career looking out for others
"Through my whole career, I had been an advocate for the patient to advocate for themselves, and that became even more apparent after that," Venis says. "Some of the best successes we have here is when people stick up for themselves and say, 'No, I can't do that. I feel sick. I can't do that.' You know, to get over the guilt of not being present at a job or at practice or something like that."
Over his career, Venis has seen a number of changes in how games are played and how players are monitored. Along with technological advances, so too have players evolved. Whereas student-athletes in the '90s were often two-sport or even three-sport athletes, he says, players today are specialized. "They're only using the same muscle groups from the time they're 14, 15 years old," he says. "You do the same thing every day, and you don't give your body a break."
But throughout those changes, Venis has remained a constant at BU—a reliable presence who has garnered the respect of everyone in the program.
"The program leans on him," former Terrier Chad Krys says. "It's a no-brainer when he says someone's good to go for play. That kind of says the amount of respect that he has from the staff and the players."
What makes Venis stand out isn't strictly his professional abilities; it's also his genuine care for the players. "He's very honest and caring for the guys," says head coach Albie O'Connell (CAS'99). "He's always got their best interest at heart."
"When you're hurt, you might feel left out because you're not doing the daily stretches and practices, and you're not in the locker room getting dressed before you're on the ice," former Terrier Bobo Carpenter (CGS'17) says. "He's always there every day, asking how you're feeling and giving you a helping hand."
Even after 1,000 hockey games at BU, retirement hasn't crossed Venis' mind. "The games are fun, although some of them can get old, depending on how the team is playing or what's going on and how busy it gets," he says with a laugh. "But no, I love doing what I'm doing and seeing the people I see."
Senior Jonathan Chang (COM) can be reached at jchang19@bu.edu; follow him on Twitter at @jonathanychang.