Make the Most of Your Labor Day Weekend: Fireworks, Great Music, Terrier Tailgate, and More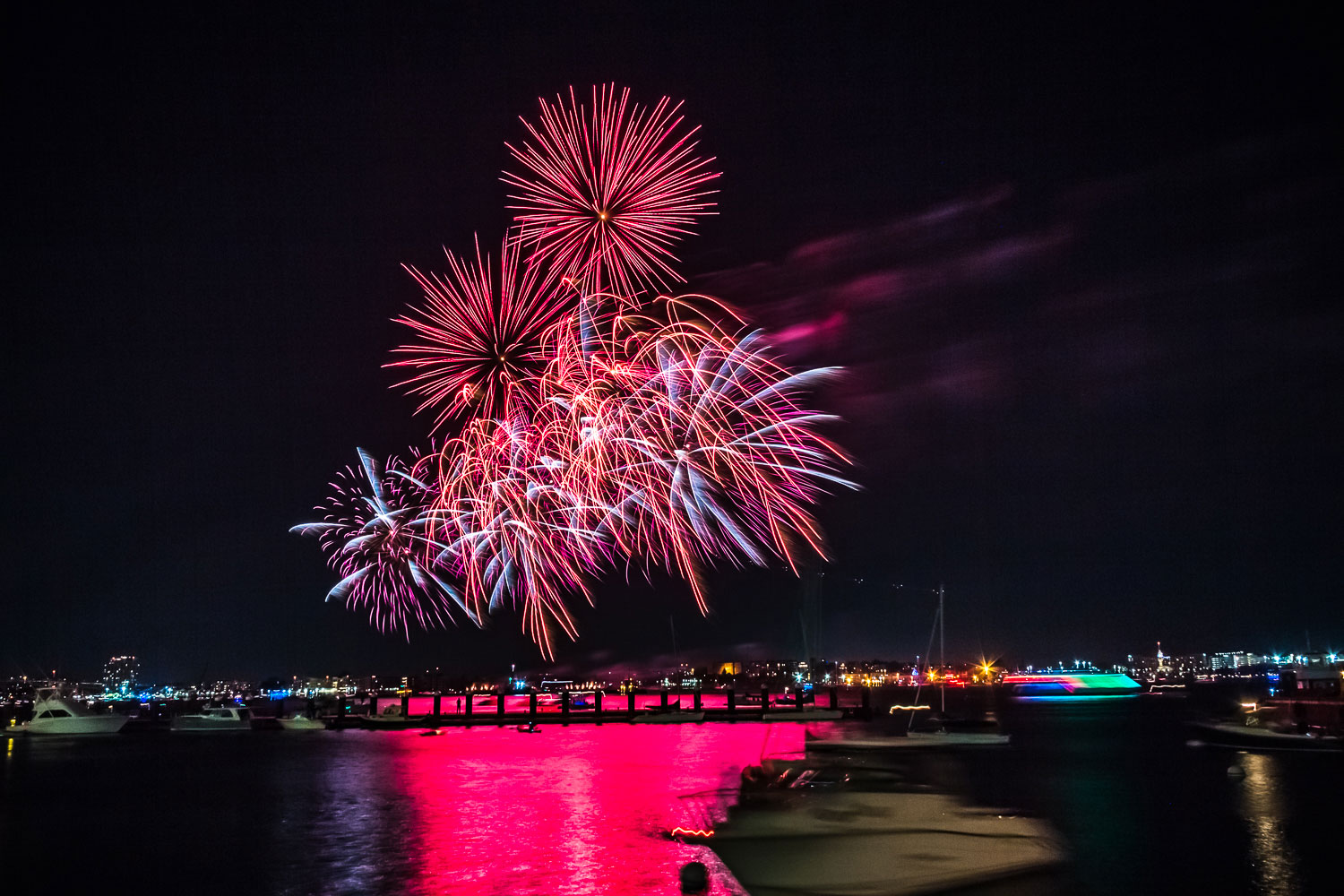 Things-to-do
Your Guide to a Fun-Filled Labor Day Weekend
Jazz festival, soccer games, art exhibitions, and more
Labor Day weekend marks the unofficial end of summer. It's also a great chance for new students to explore campus and Boston and an opportunity for returning students to meet up with friends and discover new parts of the city. There are lots of events on tap to celebrate the holiday and the start of the new school year, from fireworks and a free jazz festival to an open-air market and the start of the BU Athletics 2019–2020 season. We've put together a list of happenings, on campus and off, so you can plan a fun three-day weekend. Check it out.

Thursday, August 29
Boston's Labor Day festivities kick off with the 7th Annual Illuminate the Harbor Fireworks Celebration, a dueling fireworks display over Boston Harbor launched from two barges near the Seaport and the North End. Hosted by the nonprofit Boston Harbor Now in conjunction with the city of Boston, Friends of Christopher Columbus Park, and the Wharf District Council, the spectacular show can be seen from three designated public viewing spots: Christopher Columbus Park in the North End, Fan Pier in the Seaport District, or Piers Park in East Boston. There will also be live music and free lawn games. If it's a cool night, bring a sweater. The waterfront can get chilly, even in early September.
The fireworks display over Boston Harbor begins at 8:30 pm.

Friday, August 30
The ninth annual Boston Jazz Fest is a must for any fan of the genre. The two-day event, held Friday and Saturday at Boston Maritime Park in the Seaport, is free and will feature performances from dozens of innovative jazz musicians from around the globe, including Bradley Bartlett-Roche, "the Boston Piano Kid." There will be food vendors on site as well, offering plenty of great lunch and dinner options at reasonable prices.
The Boston Jazz Fest is Friday, August 30, from 5:30 to 9:30 pm, and Saturday, August 31, from noon to 9:30 pm. Take an MBTA Red Line train to South Station and transfer to a Silver Line bus to the World Trade Center, then walk to Boston Maritime Park.
Club Passim in Cambridge's Harvard Square has been a fixture of Boston's folk music scene for more than six decades. The intimate venue helped launch the career of artists like Bob Dylan, Joni Mitchell, Regina Spektor, and Joan Baez. For the past 21 years, the club has hosted a "campfire festival" each Labor Day weekend. This year's four-day festival (Friday through Monday) will showcase performances by more than 100 rising artists. The event begins at 6 pm on Friday, August 30, and concludes on Monday, September 2.

Club Passim, 47 Palmer St., Cambridge, hosts its 21st annual campfire.festival Friday, August 30, through Monday, September 2. Day passes are $10 each, and a full festival pass is $25. Find the complete schedule and purchase tickets here. Take an MBTA Red Line train to Harvard Square.
BU Weeks of Welcome Ice Cream Social
The Student Activities annual Weeks of Welcome program begins with a free ice cream social at BU Central in the George Sherman Union. Take a break from move-in and sample the most popular flavors from local chain JP Licks. It's a great way to beat the heat, meet up with old friends, and make some new ones. The Weeks of Welcome ice cream social is at 8 pm at BU Central in the George Sherman Union basement, 775 Commonwealth Ave., and is free and open to BU students only. RSVP in advance and find a full list of Weeks of Welcome activities here.
Saturday, August 31
New England Revolution vs Toronto FC
Calling all soccer fans: the New England Revolution host Toronto FC on Saturday in a fight for the last spot in the MLS Eastern Conference playoffs. Both teams are currently in position to make the playoffs, and the Revs have a one-point advantage over Toronto with seven games yet to play. New England will have star players Carles Gil, Diego Fagúndez, Andrew Farrell, and Juan Agudelo on the field, while Toronto has longtime United States National Team regulars Michael Bradley and Jozy Altidore playing alongside midfielder Alejandro Pozuelo, chosen for the 2019 Major League Soccer All-Star Game. With so much to play for, this showdown is sure to offer some of the best entertainment on display this weekend.
The New England Revolution vs Toronto FC game begins at 7:30 pm at Gillette Stadium, One Patriot Place, Foxboro. Find tickets here. Find directions here.
BU Weeks of Welcome Atlas BU: Night Market
This event is a must for foodies. Inspired by Asia's night markets, Atlas BU will offer Instagram-worthy street foods from all over the continent. The event, held in the GSU Metcalf Ballroom, will also include live pop-up performances and a DJ. And it's all free.

Atlas BU: Night Market begins at 8 pm in the George Sherman Union Metcalf Ballroom, 775 Commonwealth Ave. The event is free and for BU students only.

Sunday, September 1
This popular open-air market, held along Harrison Avenue in Boston's South End, is a great spot to while away a Sunday afternoon. The market is each Sunday from May through October and showcases work by more than 100 local artisans selling a range of items, from handcrafted art, jewelry, and ceramics to soaps, photography, home goods, and more. There's also a farmers market offering fresh produce from nearby farms and baked goods from area bakeries. If all the shopping makes you hungry, there is an array of food trucks at SoWa selling barbecue, banh mi, burgers, and much more. For those 21 and older, there is a beer garden with local craft brews and wine, as well.
SoWa Open Market, 530 Harrison Ave., Boston, is open every Sunday, 10 am to 4 pm, from May through October. Find parking information and directions here.

Men's and Women's Soccer at 13th Annual Terrier Tailgate
It's time to pull out your BU apparel and head over to Nickerson Field for the 13th annual Terrier Tailgate, the official kickoff of the BU Athletics season. There will be games, giveaways, and free music and food. Then, cheer on the men's soccer team as they host rival Boston College at 4 pm, followed by the women's soccer team's home opener, against Michigan State at 7 pm.

The BU men's soccer team hosts Boston College at 4 pm and the women's soccer team hosts Michigan State at 7 pm at Nickerson Field, 285 Babcock St. The Terrier Tailgate begins at 3 pm. All events are free and open to the public.

BU Weeks of Welcome Bingo
Another popular Weeks of Welcome event, the annual bingo night, returns to the GSU Metcalf Ballroom, starting at 8:30 pm. Players will compete to win Apple products, TVs, PlayStations, and more. Additionally, like any Weeks of Welcome event, it gives students a chance to meet new people before classes start. So be ready to make some friends and compete for a new set of AirPods—BU bingo is the best way to do it.
BU Weeks of Welcome Bingo is held in the Metcalf Ballroom, George Sherman Union second floor, 775 Comm Ave. Admission is free and for BU students only.


Monday, September 2
Free Admission to the Institute of Contemporary Art
In honor of Labor Day, the Institute of Contemporary Art is offering free admission to the public from 10 am to 5 pm. It's a great opportunity to catch the ICA's special exhibition Less Is a Bore: Maximalist Art & Design before it ends on September 22. Another must-see: the 2019 James and Audrey Foster Prize exhibition, highlighting the work of Boston-area artists Rashin Fahandej, Lavaughan Jenkins, Helga Roht Poznanski, and Josephine Halvorson, a College of Fine Arts professor and chair of graduate studies in painting. Also on display are solo exhibitions of work by Nina Chanel Abney and Vivian Suter. The ICA water shuttle will also be running on a first-come, first-served basis to take visitors to the ICA Watershed, an additional exhibition space in the Boston Harbor Shipyard and Marina, for its last weekend of operation this season. There, you can catch the video installation Purple by acclaimed artist and filmmaker John Akomfrah.
The Institute of Contemporary Art, 25 Harbor Shore Drive, Boston, is free on Labor Day, September 2, from 10 am to 5 pm. Find directions here.
Boston's rich history has been shaped to a great extent by women. Some of their stories and accomplishments are brought vividly to life in Boston By Foot's walking tour The Fierce and Feminine: Great Women of Boston. This 90-minute tour offers a fascinating glimpse of how women have shaped the city through art, literature, gender rights, medicine, social reform, and more.

Boston By Foot's Great Women of Boston Walking Tour begins at 11 am at the corner of Tremont Street and Court Street, Boston, in front of the Government Center T stop. Tickets are $15 for general admission, $5 for members of Boston By Foot, and can be purchased here.
Summer 2019 will be remembered as the year of the shark on Cape Cod. Hundreds of sightings of great white sharks in the past few weeks have closed beaches up and down the Cape for several hours at a time. As summer comes to a close, here's a chance to have an up-close shark encounter while remaining safely in your seat. In keeping with tradition, the Coolidge Corner Theatre celebrates Labor Day with its annual showing of Jaws, the Oscar-winning 1975 blockbuster about a man-eating great white shark. Directed by Steven Spielberg (Hon.'09) and starring Roy Scheider and Richard Dreyfuss, the film broke box office records (and emptied beaches) when it first opened. It's still terrifying. And that spellbinding score by John Williams (Hon.'85) will have you sitting on the edge of your seat.

Jaws screens at 7 pm at the Coolidge Corner Theatre, 290 Harvard St., Brookline. Purchase tickets at the box office or call 617-724-2501. Find directionshere.