Julie Sandell Leaving BU to Become Suffolk University Provost
Parent-friendly policies among senior associate provost's achievements during three decades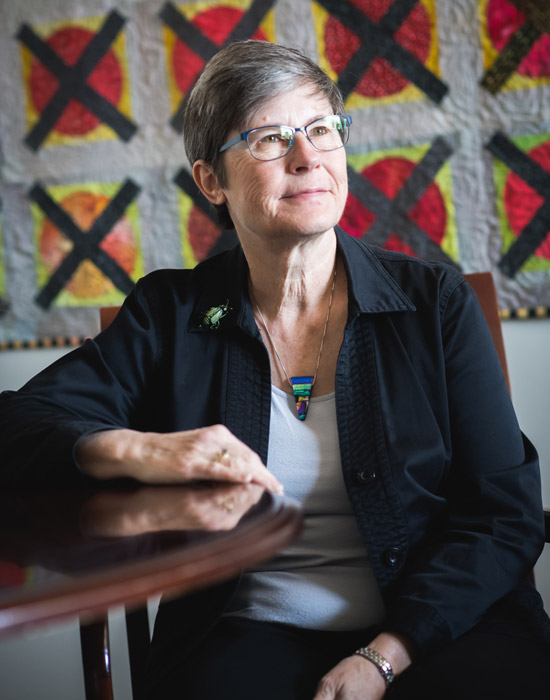 In an era when child care obligations have decreased women's participation in the US workforce, Julie Sandell made parenthood a little easier at BU.
Sandell helped implement Workload Reduction, giving qualifying faculty a lightened load following the birth or assuming custody of a child.
"It has probably helped more faculty at more levels than anything else I have done" in almost 30 years at BU, says the senior associate provost. That tenure will conclude at the end of June, when she'll leave BU to become provost and senior vice president for academic affairs at nearby Suffolk University.
In 1991 Sandell joined the faculty at the School of Medicine, where she is a professor of anatomy and neurobiology. She became an associate provost in 2009 and last year was named senior associate provost, reflecting "her years of outstanding service and the addition of new responsibilities…including oversight of the University-wide sexual misconduct training, dean searches, and periodic dean's reviews," Jean Morrison, University provost, wrote in a letter to BU faculty and staff announcing Sandell's departure.
"Julie's stamp on Boston University is extensive," Morrison added.
Before joining the Provost's office, Sandell had won MED's highest teaching honor, the Stanley L. Robbins Award, and had chaired the Faculty Council, whose members represent their schools in reviewing or initiating University academic projects and policies.
Once in the Provost's office, Sandelll "shepherded to fruition new tenure and promotion, sabbatical, and personal and family leave policies that have provided greater flexibility and clearer paths to advancement for faculty members," Morrison wrote. She also oversaw enhanced faculty participation in BU's governance, always bringing "exceptional insight and judgment, as well as encyclopedic knowledge" of University policies.
It's all those faculty hiring, promotion, and tenure cases—hundreds since she became associate provost and worked with the committee handling them—that Sandell is proudest of: "The committee has been deeply thoughtful, critical, and fair, and our recommendations have helped to shape the faculty in very positive ways for a long time to come," she says.
Her move up the academic ladder at Suffolk is bittersweet after three decades as a Terrier.
"I spent roughly half my time at BU, 14 years, before Bob Brown became president, and 14 years here since," she says. "It was a pretty sharp divide for me personally, and I think for the University as well. In the past 14 years, I have seen the University develop higher aspirations and grow into them in so many realms—diversity, student success, better systems and processes, outstanding faculty. I have had a seat at the table and sometimes a supporting role in BU's development during a critical era. BU has a wonderful trajectory that I will be proud to follow now from a different vantage point."
Her greatest challenge and that of her BU successor, she says, will be "the diminished public perception of the value of education, and little appreciation for the contributions of educational institutions to human knowledge and culture, technology, and progress."
That said, she understands families' concerns about the high cost of college, which will be a bigger challenge in her new school than here: roughly one-third of Suffolk's students are their families' first generation to attend college, she says, and 38 percent of its students are eligible for federal Pell grants for low-income students, "roughly twice the proportion at BU."
Morrison says she will "consult broadly within the University" to select Sandell's successor, whose portfolio will include faculty recruitment, appointment, and compensation; the Charles River Campus promotion and tenure process; and service in the Provost's Cabinet.