BU Student Wins Coveted Truman Scholarship
BU junior Augustine Jimenez wins award for leadership and academic achievement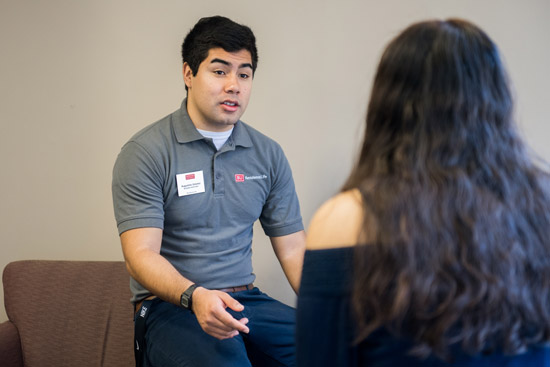 Augustine Jimenez is on a roll. In high school, he won a Posse Foundation Scholarship that allowed him to attend BU tuition free for four years. Last year, as a sophomore, he won an Initiative on Cities (IoC) National League of Cities Menino Fellowship for future leaders, an honor bestowed on one BU student a year.
And now he's hit the trifecta, honored in early April with a Truman Scholarship, an award given to a small number of college juniors across the nation based on their leadership, academic achievement, and commitment to public service.
For Jimenez (CAS), that commitment to helping others stems from a childhood of challenges and seeing the realities of economic inequality up close.
Born in Los Angeles, Jimenez was not quite two years old when his parents split, and his mother, unable to afford to raise him alone, sent him to live with his grandmother in rural Northern Mexico. He lived in a house constructed from cinder blocks and wooden planks, with a steel sheet rooftop, and the family raised corn, pigs, and chickens. There was no indoor plumbing, only an outhouse and water barrels filled at a communal pump.
When he was six years old, Jimenez moved to Atlanta to be with his mother, who lived in the affluent Buckhead area, home to the governor's mansion. But he and his mother lived in low-rent apartment buildings, he says, often moving to find affordable housing, so his mother would be closer to the restaurants where she worked double shifts as a cook each day.
"I experienced poverty myself growing up," he says. "That's one of the things that's driven me."
Given by the Harry S. Truman Scholarship Foundation, the scholarship comes with a cash prize of $30,000 that can be used toward graduate school, as well as opportunities to participate in programs for scholars in Washington, D.C. The fellowship was designed to be a living memorial, rather than a stone monument, to the nation's 33rd president, who wanted to help new generations of public service leaders gain footing.
In April, Jimenez and 61 students from colleges around the country, including Harvard, Duke, and Brown universities, were selected from a field of 840 applicants. Previous BU winners include Jessica Depies (CAS'17) in 2016 and Meghan Desale (CAS'08) in 2007.
Winning was an unexpected surprise for Jimenez. He had just lost a bid running for BU Student Government, and he acknowledges that he was licking his wounds from the defeat when he learned about the prize.
"It was validating," he says.
An international relations major, Jimenez initially thought he wanted to work at the US State Department, but changed his plans after completing his Menino Fellowship work with the National League of Cities last year.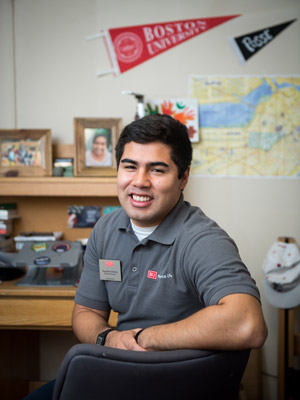 During that internship, which comprised a directed study at BU and a spring semester working at the league's Washington offices, he researched the growing number of nonprofits that take a two-generation approach, targeting services to both parents and children in need. He looked closely at the work of a nonprofit in Biloxi, Miss., for example, that helps single mothers get construction jobs and access to childcare. The experience, and the election of Donald Trump as president, made him think he could be more effective as a lawyer and a local policymaker looking for ways to help working-class families.
"People have to work around the clock to pay for food and utilities," he says of families trying to make ends meet. "They don't get to be around their children."
Jimenez experienced that economic inequality firsthand in Atlanta, which has one of the nation's highest gaps between rich and poor residents, according to the Brookings Institution. He attended the new, $147 million North Atlanta High School, where about 20 percent of the population was Latino, but most were not going to college or even graduating. Many got into trouble, he says, because their parents were working long hours to be able to afford their rent.
Two caring middle school teachers who saw his potential saved him from the same path, he says, and helped him channel his energy into his studies, while inspiring him to advocate for change. He became a founder of his high school's inaugural chapter of the Hispanic Organization Promoting Education (HOPE), a group that offers events and community service opportunities to Hispanic students.
Since then, he has continued to pursue new opportunities, being chosen for a US Department of State Critical Language Scholarship to Oman, accepting an invitation to be this year's student speaker at BU's MLK Day, and receiving a Horatio Alger Scholarship.
IoC program manager Patricia Cahill, Jimenez's supervisor during his Menino Fellowship, says he's a go-getter with an earnest passion for helping working-class families get equal access to education, health care, and job skills. Jimenez needed no nudging at a conference they attended together last year, she says, easily getting to know a roomful of middle schoolers and encouraging them to go after big dreams.
"I would characterize him as driven," Cahill says. "And what impressed me was his ability to communicate that drive, that ambition."
Jimenez says that former President Barack Obama is one of his role models, and he eventually wants to to return to his home state of Georgia, where nearly half of all children live in low-income families. Those families are often forced to prioritize food and housing over childcare, workforce training, or health care, he says.
In his application for the Truman scholarship, Jimenez wrote that he has a deep curiosity about the world around him, and its injustices. He recalled wondering as a boy why his Atlanta neighborhood wasn't safe at night and why other students lived in homes that "looked like palaces."
"I wanted to learn why, if the United States is the land of dreams, why did some things I had seen here remind me of my life in Mexico?" he wrote.
Before returning to the South, he says, he wants to attend law school, because "in all matters pertaining to social justice, the law has the final say." He imagines leading "know your rights" workshops, directing pro bono representation clinics, and one day coauthoring legislation "guided by the principle that all families deserve the opportunities to lift themselves out of poverty."
After law school, Jimenez envisions running for local or statewide office in Georgia, where his mother still lives.
"I've always wanted to pursue a career that was bigger than myself, and not just for myself," he says. "I am trying to lift up my family as well."
Megan Woolhouse can be reached at megwj@bu.edu.