Tribute: James Winn, 1947–2019, Flutist and Preeminent BU Scholar of English Literature
Renowned musician, probed the relationship between literature and other arts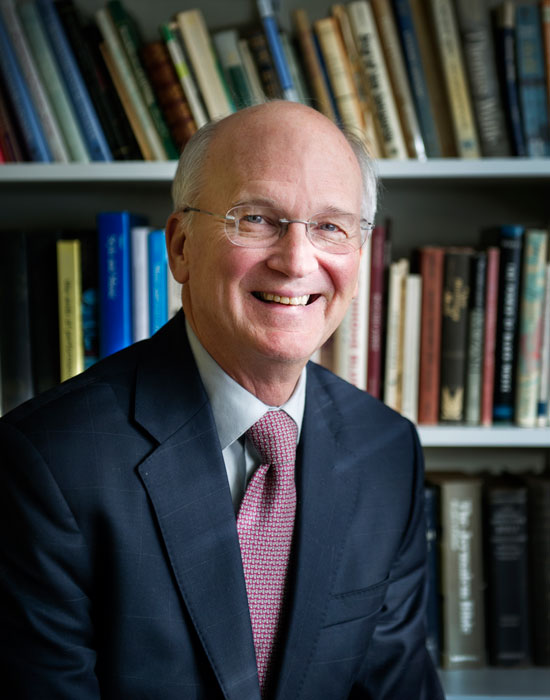 In an era that questions the value of a humanities education, and privileges technology even in everyday abbreviations like STEM, James Winn remained an ardent advocate for the liberal arts tradition.
The College of Arts & Sciences professor emeritus and chairman of English, who died March 21 at age 71 at his Brattleboro, Vt., home, was a Renaissance man, his BU homepage divided in half with a smiling photo of him in jacket and tie over the word "Scholar" on the left, and in a tuxedo holding his musical instrument over the word "Flutist" on the right. For 6 of his 19 years at the University (1998–2017) he held an affiliated appointment in the College of Fine Arts musicology and ethnomusicology department. He was appointed a William Fairfield Warren Professor in 2009, a designation recognizing Boston University's most distinguished faculty.
At Winn's retirement, Maurice Lee, a CAS professor and now chairman of English, noted that "many a time, James has risen in meetings such as this as an undaunted champion of the humanities. Like the true son of a radical Kentucky preacher, which he is, and like a devotee of 18th-century poetry, which he is, James speaks with passion, eloquence, wit, and what has always struck me as a kind of stubborn grace.
"He urges us to value liberal educational traditions," Lee said. "He urges us to think critically about facile trends."
Winn's expertise was English literature in the late 17th and early 18th centuries. An author, editor, or contributor on nine books, he roamed across topics, from a full-blown biography, Queen Anne: Patroness of Arts (Oxford University Press, 2014), to The Poetry of War (Cambridge University Press, 2009). The latter, a survey from Homer to Bruce Springsteen, clinched a spot as one of the Association of College and Research Libraries outstanding academic books of 2009.
His first book, 1977's A Window in the Bosom: The Letters of Alexander Pope (Archon Books), was the first extensive study of that poet's letters. His second, four years later, Unsuspected Eloquence: A History of the Relations between Poetry and Music (Yale University Press), is the only general study of that topic.
"After about a week in his fascinating Restoration poetry graduate seminar, I decided to change the entire course of my PhD study to work with him," says Melissa Schoenberger (GRS'10,'15), who teaches at Holy Cross. Kindness bolstered his academic prowess, she says: "Even after I finished graduate study, he continued to offer insight and commentary on research, teaching, and academic service."
BU felt his presence in administrative capacities as well. He was director of the Center for the Humanities from 2008 to 2016. Michael Prince, a CAS associate professor of English, calls Winn "my friend of many years and also a tenacious tennis player." Prince introduced Winn before the latter gave a 2016 lecture by citing his work as English chairman: "He appointed a cadre of talented young scholars who today comprise the foundation for the future of the English department."
Prince recalled that he first encountered Winn when he was studying for his PhD in 1987 and was assigned Winn's biography of the poet John Dryden—even though the book was brand-new, "on delivery, it had entered the canon of standard works in Restoration and 18th-century studies."
Jean Morrison, University provost, says Winn was "a gentleman and a scholar in the truest sense—one of our nation's preeminent literary historians, an acclaimed and prolific writer, a William Fairfield Warren Distinguished Professor, and a supremely gifted musician."
"Above all," she adds, "he was a terrific and generous teacher, colleague, and friend to all of us who had the privilege to work with him."
Winn earned a bachelor's degree at Princeton and a doctorate at Yale. He came to BU after a long and illustrious career in academia. He taught at Yale from 1974 to 1983 and at the University of Michigan from 1983 until 1998.
Listen to James Winn play flute in the player below.