Liberal Arts vs. Career Majors: What's an Education For?
Snaring a job, says Bill Gates, but BU profs say he's wrong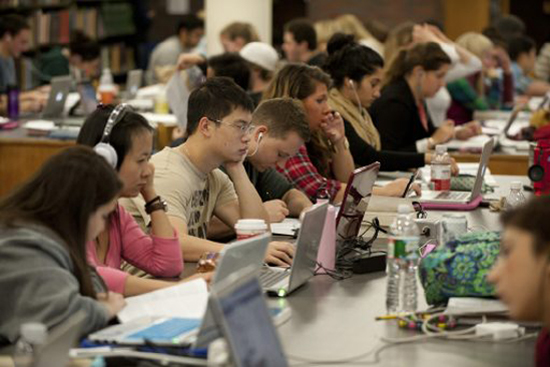 As a Harvard undergraduate, "I did nothing but poetry for four years," recalls Charles Glenn. Afterward, the English major's career zigzagged: aborted seminary study; the civil rights crusade, with those years reading Yeats paying off when he was jailed for civil disobedience and passed the hours reciting poems; then a doctorate and 21 years of directing programs for the Massachusetts Department of Education.
Now a School of Education professor, Glenn (GRS'87) replays his bio to make a point—his liberal arts education didn't derail a fulfilling professional life. Yet some educators fear that the liberal arts are in jeopardy, as one headline puts it. If they thought that before, a February talk by the world's most successful dropout surely spiked their blood pressure. In a speech to the nation's governors, Microsoft founder Bill Gates suggested that states waste taxpayers' money by subsidizing public university departments that don't produce the jobs of the future.
"The amount of subsidization is not that well correlated to the areas that actually create jobs in the state, that create income for the state," Gates declared. "Now in the past, it felt fine to just say, OK, we're overall going to be generous with this sector. But in this era, to break down and really say, what are the categories that help fill jobs and drive that state economy in the future—you'll find that it's not across the board in terms of everything that the state subsidizes in higher education."
Is Gates right?
Last year, the National Association of Colleges and Employers (NACE) reported that for new graduates, "academic major is the biggest factor in determining who gets a job offer before graduation." Accounting, business, computer science, engineering, and social sciences majors led the field in both the number of jobs offered and pay levels, the survey found.
But research by the National Center for Educational Statistics found that income-wise, liberal arts majors catch up with their career-major peers a decade after graduation, as skills gained from a liberal arts education—clear communication, for example—become more valuable in many careers over time. At any rate, students earning liberal arts degrees are more likely planning the graduate study necessary for many good jobs or else will get critical skills through internships or volunteer work such as the Peace Corps, says Virginia Sapiro, dean of Arts & Sciences.
Liberal arts and professionalism are not necessarily an either/or proposition at BU, where professionally oriented schools inject their undergraduates with "a healthy dose of liberal arts requirements," says Kenneth Freeman, Allen Questrom Professor and Dean of the School of Management. SMG, he says, is "striving to develop well-rounded, well-versed, responsible leaders, and an appreciation for the liberal arts is central to our goal."
"In the end, management is in itself a liberal art," Freeman says. "We are cognizant of the need to ensure that SMG students not become so focused on a narrow management education that they neglect to take advantage of their liberal arts electives."
Casey Larkin (CAS'11) is still trying to parlay his environmental analysis and policy major into a career—"I'm not sure what I want to do when I grow up, and so my liberal arts degree gives me a good foundation and freedom to pursue different interests," he says. Until November, he's an intern at a California winery, doing anything from sorting grapes to making wine to cleaning vats.
Larkin ignored career concerns in choosing his major, focusing instead on studying something important (saving the environment clearly qualifies, he says), and on a field whose course work fostered "critical thinking skills." He has no regrets. "The applicable skills of a career-oriented major are more valuable at an entry-level position, but the skills of a liberal arts major are more valuable later on. Overall, I'm optimistic about my future, and I think the Class of 2011 generally is as well." But the dreary economy has been a powerful equalizer, in a negative sense, he says: "The majority of my friends, regardless of major, don't have jobs lined up."
Cultural anthropology major Ellen Scott (CAS'11) recently took a job as an account manager with a Chicago direct marketing agency, where she had interned. "The job offers are pretty even across the majors" among her friends, she says. "As far as I can tell, the success of the job search depends on your flexibility and experience more than major. If you have experience in the workplace or in the field, many companies will not require your major to be very specific."
She'd pick the same major again in an instant, she says, because it taught her to observe, analyze, and write—valuable skills in any field—and because it "allowed me to be passionate about many facets of the human experience." She hopes to apply her degree to providing companies with research into marketing their products for specific ethnographic groups.
"I know my first job out of college will not be my last," says Scott. "I think most people will have to work their way towards fields associated with their degree, slowly and over time."
That's a crucial point, according to Sapiro and Kenneth Lutchen, dean of the College of Engineering. Although Lutchen's field was one of the majors avidly courted by employers in the NACE study, he says that with technology always becoming obsolete, "we have a responsibility to prepare our students for the decades to come, not just for the next couple of years. Nearly 45 percent of individuals with engineering bachelor's degrees go on to other careers a decade or so after graduating. We cannot design curricula that prepare undergraduates only for current jobs." He believes China and India are gambling badly by churning out narrowly trained engineers, technically proficient but lacking liberal leavening that will enable their American counterparts to work and communicate in "multidisciplinary, multicultural teams."
With a major accounting for fewer than half the credits towards a BU liberal arts degree, Sapiro says, "there's plenty of room to create a strong, deep, and wide platform from which to launch a life of productivity and success. As a dean—and as a parent—I am interested in the long-term prospects for our students."
Glenn believes the University hits a sweet spot that successfully blends the best of liberal arts and professional training. BU colleges with a professional orientation require heavy CAS course work for their undergraduate degrees. "That said, liberal arts education ought to include, in a way that it usually does not at other schools, thinking about what you want to do with your life that will make you useful. As you read Plato, you ought to be challenged: how is this going to apply to what you're going to do with your life?" Along those lines, he lauds efforts by Sapiro and Lutchen to encourage their students to consider careers as schoolteachers, putting their college studies to use in teaching others.
The marketplace has given its endorsement to BU's liberal arts, Glenn notes. In fact, 4,000-plus endorsements, which is the number of matriculants at CAS each fall.