Boston for the Holidays: What to Do?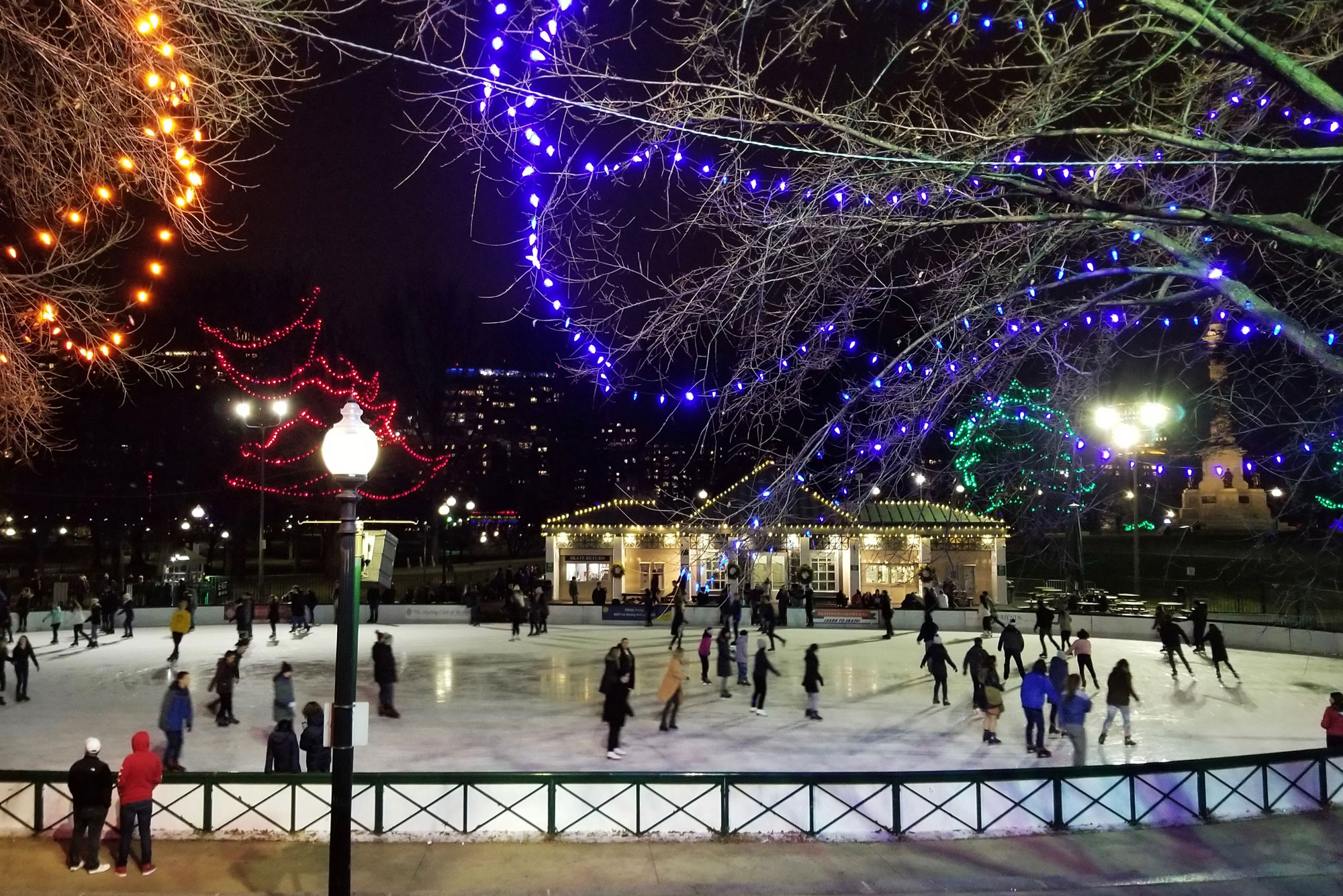 Things-to-do
Boston for the Holidays: What to Do?
Santa meet-and-greets, shopping, and ice skating
Final exams end today and now it's time to get into the holiday spirit. While most students and faculty head home for the break, we have the perfect list of fun and interesting shopping venues, performances, exhibitions, and festivals and light shows for those staying in town.

Note that residence halls close at noon on Saturday, December 21, and reopen on Friday, January 17, at 10 am. Dining halls close after dinner on Friday, December 20, and reopen Saturday, January 18.
If you have additional suggestions for holiday events, let us know in the Comment section below.

Shopping
The CambridgeSide mall offers free photos with Santa through December 24. Each participating family will receive two 4-by-6-inch prints and a digital download single image. Afterward, you can stick around to do some last-minute shopping. Among CambridgeSide stores are Abercrombie & Fitch, Apple, Best Buy, Gap, H&M, J. Crew, and Macy's.

Free photos with Santa are available on CambridgeSide level one, 100 CambridgeSide Place, Cambridge. Santa's hours are Monday to Saturday, 10 am to 8 pm, Sunday, 11 am to 6 pm, and Christmas Eve, 8 am to 5 pm. The mall's holiday hours are here.

You can also have your photo taken with the man in the red suit at the Prudential Center's Belvidere Arcade. Photo packages begin at $19.99. If you've bought gifts at any of the mall's dozens of stores—like Lord & Taylor, Vineyard Vines, Under Armour, and Saks Fifth Avenue—you can bring them to the gift-wrapping station across from the Barnes & Noble store to have them wrapped for free. Your donations help to support the worthy local nonprofits manning the wrapping station.

Santa in the City! is in the Prudential Center Belvidere Arcade, 800 Boylston St., through December 24. Santa's hours can be found here. The Charity Gift Wrap, sponsored by Barnes & Noble, runs through December 24. The Prudential Center is open Monday through Saturday from 10 am to 9 pm, and Sunday, 11 am to 7 pm.

The Harvard Square Holiday Fair insists that it is not an average craft fair, but instead, "a party where you can buy stuff." And it makes good on that promise. Over the course of more than three decades, the fair has become a tried-and-true holiday tradition. Dozens of vendors from across New England and around the globe will be on hand selling handcrafted jewelry, pottery, clothing, wooden kitchen utensils, and much more.

The 34th annual Harvard Square Holiday Fair is at 29 Mt. Auburn St. on the corner of Bow and Arrow Streets, on Friday, December 20, from 11:30 am to 7 pm, Saturday, December 21, from 10 am to 7 pm, and Sunday, December 22, from noon to 6 pm. Admission is free. Find a full list of vendors here.

Find a gift for everyone on your list on Newbury Street. Stroll the famous eight-block stretch and shop apparel from high-end boutiques like Chanel and Dolce & Gabbana to less expensive chains like Forever 21 and H&M. Or stop into Newbury Comics and Trident Booksellers for books and other quirky gifts. You'll find loads of restaurants, art galleries and salons, and special holiday pop-ups along the way.

A list of Newbury Street stores is here.

From Newbury Street, it's an easy walk to Copley Place, with such stores as J. Crew, Gap, Banana Republic, Boss, Coach, Barneys New York, and Neiman Marcus.
Copley Place, 100 Huntington Ave., is open during the holidays Monday through Saturday, 10 am to 9 pm, Sunday, 11 am to 7 pm, and Christmas Eve to 6 pm. A full list of stores is here.

Worship
Marsh Chapel will hold two services on Christmas Eve day. These services offer a time of meditation as well as celebration.

Christmas Eve Services at Marsh Chapel, 735 Commonwealth Ave., Boston, will be held at 1 and 7:30 pm on Tuesday, December 24.
Performances
Performances

Irving Berlin's White Christmas is an adaptation of the timeless classic film White Christmas. The play unfolds the story of a song-and-dance team putting on a show in a magical Vermont inn and, while doing so, falling in love with a dazzling sister act. This show is sure to bring dancing, singing, laughter, and some incredible holiday songs, including the titular "White Christmas," to get everyone feeling merry and bright.

Irving Berlin's White Christmas will be presented at the Boch Center Wang Theatre, 270 Tremont St., Boston, through December 29. There will be an ASL/Open Captioned performance on Monday, December 23, at 7:30 pm. Other tickets, starting at $25, can be purchased here. Get directions here.

The Underground Railway Theater and the Nora Theatre Company present their vibrant adaptation of Dickens' 1843 classic A Christmas Carol. Incorporating puppets, cheerful music, and dancing, this play brings the age-old tale of sweet Tiny Tim and grumpy Ebenezer Scrooge to life as they encounter ghosts, magic, and more.

This Underground Railway Theater and the Nora Theatre Company's production of A Christmas Carol will be presented at the Central Square Theater, 450 Massachusetts Ave., Cambridge, through December 29. Find directions here. Regular tickets are $61, but senior and student tickets are available for a discounted rate. Buy tickets here.

Boston will be the first to view this new Christmas musical, written by David H. Bell with songs written by Dolly Parton. Set at the height of the Great Depression in eastern Tennessee, this heartwarming show follows Ebenezer Scrooge, imagined as the owner of a mining company town, where his greed blinds him from partaking in the holiday spirit. As a snowstorm rolls in on Christmas Eve, ghosts visit Scrooge and enlighten him of the joy and spirit he lacks.

Dolly Parton's Smoky Mountain Christmas Carol is playing at the Emerson Colonial Theatre, 106 Boylston St., Boston, through December 29. Tickets begin at $39.50. Get tickets here.
The Grammy-winning Boston Pops Orchestra returns to Symphony Hall for the annual Holiday Pops concerts. Keith Lockhart (Hon.'04) leads the orchestra through a mix of holiday favorites, the traditional Pops sing-along, and a visit from Santa—all in the world-famous Symphony Hall, which is festively decorated for the season. Programs and artists vary by performance. Families with young children should check out the matinee performances, which are shorter and include a sing-along and post-concert photos with Santa. These concerts run through Christmas Eve, but sell out fast.

The 2019 Holiday Pops Orchestra runs through December 24 at Symphony Hall, 301 Massachusetts Ave., Boston. Limited tickets are available here. Children under four are not permitted at Holiday Pops concerts, but all ages are welcome at Holiday Pops Kids Matinees.

Boston Ballet's The Nutcracker

The Nutcracker is one of Boston's most beloved holiday traditions. This critically celebrated production is choreographed by artistic director Mikko Nissinen.

Boston Ballet's The Nutcracker is at the Boston Opera House, 539 Washington St., Boston, through December 29. Purchase tickets here or call the box office at 617-695-6955. Tickets range from $50 to $325.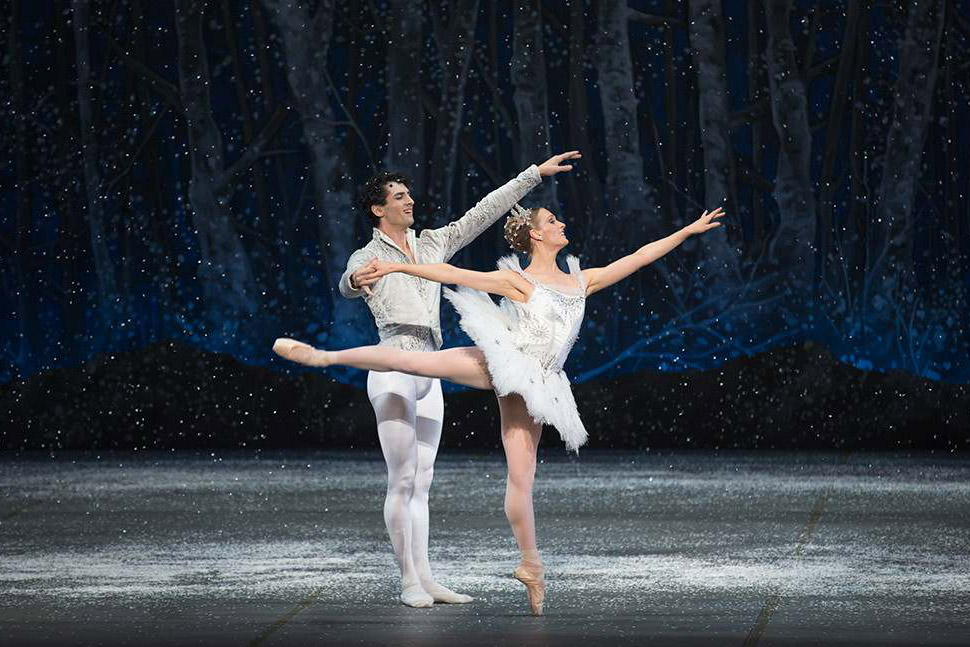 The Christmas Revels, a joyful theatrical celebration of the winter solstice, returns to Harvard University's Sanders Theatre, featuring music, dance, and folktales. Look for Swedish carols, Danish wassails, Norwegian ballads, Icelandic hymns, and Finnish rune songs, along with dance, puppetry, and storytelling—all performed by a 100-member ensemble.
The Christmas Revels performs at Sanders Theatre, 45 Quincy St., Cambridge, through December 29. Tickets range from $25 to $85 for adults and can be purchased online or by calling 617-496-2222.

Urban Nutcracker is back for its 19th season. This spin on the classic 19th-century fairy tale fuses elements of modern music and dance, like Duke Ellington mixed in with Tchaikovsky's classics, and a fusion of modern, multicultural, and classical dance. 

Urban Nutcracker is playing at the Shubert Theater, 265 Tremont St., Boston, through December 28. Get tickets here.

Since its premier in 2008, this raunchy adaptation of The Nutcracker has sold out numerous times and even performed in Montreal in 2010. While the story maintains the structure of the original ballet, the Somerville Theatre claims that in this adaptation, "the main characters have simply grown up." The Slutcracker follows Clara's courtship with Fritz, which angers her best friend Drosselmeyer and sets the stage for a transformation and awakening in the Kingdom of Sexual Sweets. Of course, the Cavalier is played by the Dildo Prince. The choreographer and director of the play, Vanessa White, studied and danced with a big ballet company as a child, including in The Nutcracker production, until she was told that she was "too big" to continue dancing with the company. The Slutcracker production became the perfect medium for revenge.

The Slutcracker is at the Somerville Theatre, 55 Davis Square, Somerville, through December 31. The event is 18+. Tickets can be bought here.

Grab your popcorn and hot chocolate and catch a holiday movie at the Coolidge Corner Theatre, one of the oldest theaters in the country. Every holiday season the theatre plans a great lineup of holiday-themed movies. This year there will be showings of The Nutcracker, The Nightmare Before Christmas, the slasher film Black Christmas, and The Muppet Christmas Carol.

The Coolidge Corner Theatre is at 290 Harvard St., Brookline. View screening times here.

Festivals and Light Shows
Faneuil Hall's world-famous holiday light-and-sound extravaganza Blink! is back for its seventh year. The show's more than 350,000 LED lights dance to six holiday tracks recorded by the Grammy-winning Boston Pops and attract more than 225,000 visitors each year. Shows take place every half hour, starting at dusk. Note that the show draws big crowds; you might want to get there early to grab a good spot.

Blink! is at Faneuil Hall Marketplace, One Faneuil Hall Square, Boston, through January 1 (the marketplace is closed Christmas Day). The seven-minute show runs every half hour from 4:30 to 10 pm in the South Market. Admission is free and open to the public.

Exhibitions and More
Ancient Nubia Now showcases the Museum of Fine Arts' impressive collection of Nubian Art excavated from southern Egypt and central Sudan. The exhibit not only features breathtaking artifacts such as jewelry, pottery, sculpture, and metalwork, but also confronts and explores previous misconceptions and biases about Nubian art and culture, which stems from themes of power, self-representation, and cultural appropriation.

Ancient Nubia Now is on view at the Museum of Fine Arts, 465 Huntington Ave., Boston, through January 20, 2020. The exhibit is included in the admission cost.

The Harvard Museum of Natural History is known for its beautiful glasswork of various flora and fauna. This winter, the museum is showcasing the lifelike glass botanicals of famed glass artist Rudolf Blaschka for the first time in two decades. The art depicts the rot, decay, and other diseases of summer fruits like strawberries, peaches, plums, apricots, and pears. These blemishes are often oddly beautiful and intricate.

Fruits in Decay is on view at the Harvard Museum of Natural History, 26 Oxford St., Cambridge, and closes March 1, 2020. The museum is open from 9 am to 5 pm daily but closed Christmas Eve and Day. Tickets are $15 for adults and $10 for non-Harvard students with ID; see other ticket prices here.

Gear up and take a trip to the Prudential Center to see Boston's winter wonderland from a bird's-eye view. The Skywalk at the Prudential is Boston's only skyscraper vantage point that provides a 360-degree view of Boston. There are audio guides in six languages describing the area's many points of historic and cultural interest.

The Skywalk Observatory is open daily 10 am to 8 pm. Tickets are $21 for adults and $17 for students with ID. See other ticket prices here.

Ice Skating at Frog Pond
The Frog Pond at Boston Common is a treasured space year round, serving as a reflecting pool in the fall and spring, a fountain in the summer, and a skating rink in the winter. This ice-skating venue is the perfect activity for a brisk winter day. The rink offers open skating as well as skating lessons for children and those who need a little help getting steady on their feet. There are concessions available as well.

The Frog Pond at Boston Common, 38 Beacon St., Boston, is open every day. Check for hours here. Tickets are $6 for people over 58 inches in height and free for those under 58 inches. Skates are available to rent.