A BU Student's Cancer Makes Him First User of His Own Planning App
Apps
A BU Student's Cancer Makes Him First User of His Own Planning App
Sean Doherty says creating Hang helped him forget he was ill 
It began as an entrepreneurial exercise. On a jog along the beach at his Connecticut hometown with a friend last spring, Sean Doherty discussed the difficulties of arranging get-togethers with friends: text invitations can be missed or buried in unrelated group chats or liked for reasons other than an intent to attend. Scheduling platforms like Evite or Google Calendar are used for more formal events and work, not spur-of-the-moment casual plans.
Wouldn't it be nice, the two agreed, to have an app that sends invitations with all pertinent information and records who's in and who's out? They decided to invent one, which they'd name Hang.
Then, in June, Doherty (Questrom'20) was diagnosed with metastatic testicular cancer.
Creator became customer: Doherty and another partner on the project, Kaitlin Tsai (Questrom'19), used their app-in-progress to schedule design sessions for their app-in-progress.
"Kaitlin has an apartment in Brooklyn, and I'm in Connecticut, so meeting up to work on this was something we needed to schedule," says Doherty, who in early November was declared cancer-free, the only residual sign of illness hair loss from chemotherapy. Some of those work sessions occurred at Memorial Sloan Kettering Cancer Center in New York City, where Doherty was undergoing chemo.
"It made my process so much better," he says. "We've been so busy and so engaged with working on this—I'm not kidding—even when I was really hurting, I would forget that I had cancer. The chemo really messes with your head, so it would like send me into a depression." Tsai, he says, "stepped up and would work on this."
"The chemo rooms," Tsai says, "have really become our Hang office."
Hang is now available through Apple's App Store, and the partners hope to grow it into a business, initially with a publicity campaign for the BU community titled "Come Together," with ads on YouTube, Instagram, and the app's website.
"Plans are social, but calendars are not," Doherty says. "Things like Evite are not really social things. People do use these platforms—they're just not comfortable yet using them for casual plans." Hang, he says, can be used for both planned and less structured invites.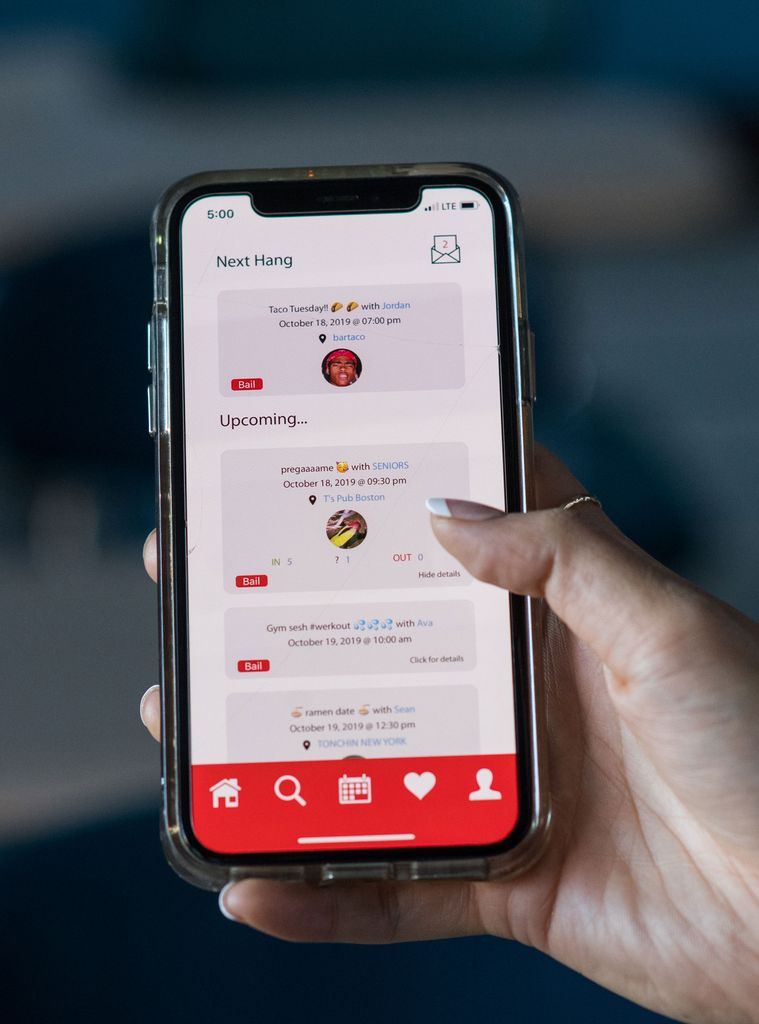 Will it be an uphill cultural climb to compete with text messaging and planning platforms like Outlook and Google Calendar? "We're not trying to get people to stop texting," Doherty says. "People love to text. But when it comes to making plans, we want people to realize that texting really isn't the most efficient option."
Tsai says that Hang, a "hybrid between social planning and a social network," allows users to hook up with several people, not just an individual friend. "You can create groups on it, and just easily select that group and send an invite to all of them. You can put in a time, a description, and location, and then they know to meet you 30 minutes from now."
"You can scale up to any amount of people you want for your groups, and you can create your groups in five seconds," Doherty says. "You can make your plan public or private. If it's private, only you and the other participant can see it, but if you want to share your plan, you can make it public."
"It pops up on my phone, and the notification says, 'Sean wants to hang,'" says Tsai, who then opens the message and accepts. The app's calendar files invites under "Next Hang" and "Upcoming," she says, in case "I had a billion more" appointments. Hang also tells you who has accepted and declined your group invitation.
Tsai's belief in Hang is strong enough that she abandoned plans to take a job in New York City. "I want to make this my full-time gig," she says.

Another partner in the project, Jacob Westphal (Questrom'21), will liaise with firms with the aim that they will adopt the app as a networking tool with customers to drive business. For example, Doherty says, if some Hang individual users' past hangouts reveal they're passionate about, say, rock climbing, "we would be able to pair them with a local rock-climbing place that's having deals" on equipment.
The plan is to charge businesses a fee for that use, while keeping Hang free for individual users.