How to Speed Up the Slow Green Line B Branch? Fewer Stops
MBTA consolidating four stops into two, new cars and fare collection on the way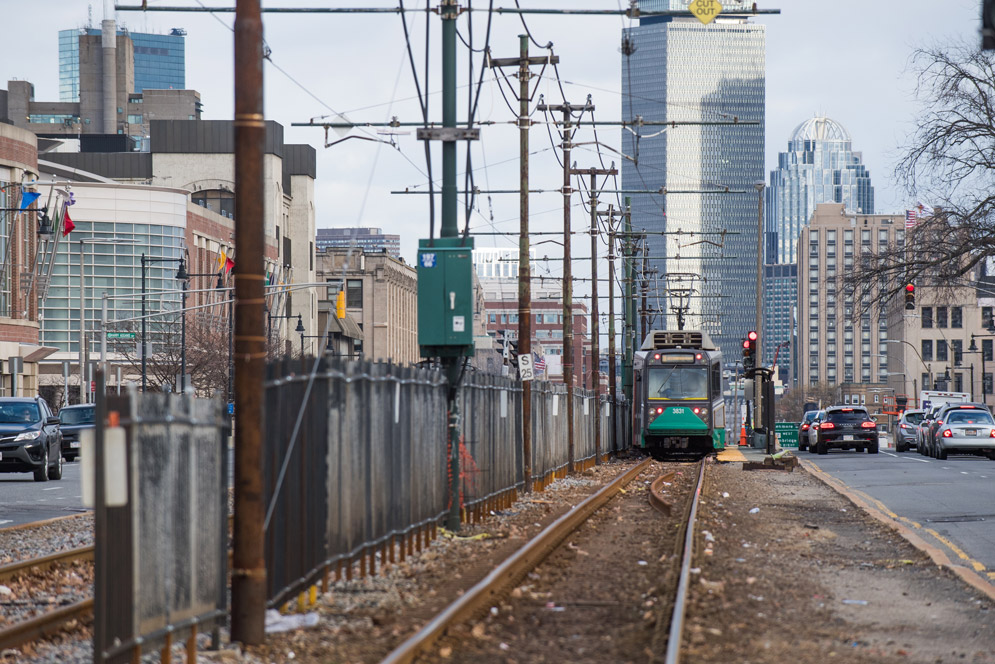 If it seems to you like Green Line B Branch trolleys, as they chug up and down Commonwealth Avenue, stop every 10 feet for one reason or another, you're not that far off. It's especially true when the trolleys are between Packard's Corner and the BU Bridge.
But now a project that's been talked about for years, even decades, is on the verge of happening—its sole purpose to speed up that trip as B Branch trolleys travel through West Campus. It's a short stretch filled with stoplights, street crossings, and four stops so close together that riders can literally jog to the next one and catch a trolley if they just missed it (writer's confession: yes, I've done this).
The MBTA calls the project Green Line B Branch Consolidation, but it's just a wonky way of saying: four stops are going to become two.
The BU West and St. Paul stops will disappear and a new stop will be built between the two. Farther out, toward Agganis Arena, the Pleasant Street and Babcock Street stops will also vanish and a new stop built between them. It will mean slightly longer walks and less convenience for some riders, but fewer stops for those on board.
It's a baby step in the direction of speeding up a line that has 19 stops from Kenmore Square to Boston College, including 8 aboveground in just the 1.5 miles from Blandford Street to Packard's Corner. The website Fixmbta.com, which calculates the average speed on the B Branch at a plodding 7.1 miles per hour, has proposed a dramatic reduction in B Branch stops, to 11. (Point of reference, the average person's walking speed is 3.1 miles per hour.)
"The stations along Comm Ave, they are very close, like every block almost," says Tom Nee, the MBTA's director of transit. "It is a slow stretch because it stops so often." He says the goal of the project is to speed up the one-mile ride from Kenmore Square out to Packard's Corner, which can sometimes take 15 to 20 minutes or longer, especially during morning and evening rush hours.
The consolidation project is just one of several big changes coming to the T in the next year: two others are an improved fare collection system and new Green Line trolleys (see details below).
Michael Donovan, BU vice president for campus planning and operations, says the consolidation project has been a long time coming. The new platforms, he stresses, will be longer—at 225 feet—and wider than the existing ones and will have better and bigger canopies to protect waiting passengers from wind, rain, and snow.
One of the reasons the platforms have to be longer is so they can accommodate the longer trolleys that are eventually coming to the Green Line, but are still several years away. These new Type 10 trolleys would be 112 feet long, as opposed to the current 74 feet, and be able to handle twice as many passengers by freeing up the entire floor for seats and standing room.
Although the consolidation project will most directly affect BU passengers, Donovan says, the MBTA is thinking more broadly. "They are looking at improving speed so they can help generate ridership for the entire Green Line," he says. "They are looking at it holistically, from Kenmore all the way out to Boston College."
In fact, after this project is complete, the MBTA will turn its attention to beautifying the stretch from Packard's Corner out to Warren Street. Nee describes the area where the Green Line turns left on Comm Ave at Packard's as "a very challenging intersection."
The coming consolidation project, projected to cost about $15 million and take approximately two years, was originally slated to be done several years ago, but got pushed back behind the larger and more complicated Comm Ave bridge construction work. The MBTA decided to wait until the bridge project was finished last summer before beginning the consolidation work.
Those still recovering from the Comm Ave bridge project, take heart: the MBTA is hoping to make the construction work as painless as possible by doing much of it during nonrevenue service hours.
"The MBTA is reengaging with consultants to revisit the design plans that had been previously prepared," Nee says. "And we're reaching back out to BU and other stakeholders."
It's just a matter of timing now. "We do have funding in the [Capital Investment Plan] for this project," Nee says.
Donovan says the consolidation is logical in the long run. "I think people get it. It's really wasteful, particularly the BU West stop. And they want to beef up the stop in front of Agganis Arena. It all makes perfect sense."
What else is new for the T, or coming soon?
If you've been riding the Green Line in recent months, there is a chance you were a lucky passenger aboard a new Type 9 car that recently arrived from Spain. Only 2 are in the system now, but 24 should be in place by the fall. The new cars not only can hold about 10 percent more passengers than the old ones, but also have several other advantages. The doors open to the side rather than swinging out, making boarding and exiting easier. Poles inside are easier to spot, as they are yellow rather than silver in color. Small video screens will show alerts (in addition to inescapable advertising). And an improved braking and propulsion system is predicted to make the rides smoother and quicker.
A new fare system may start to roll out late in 2019 and more widely in 2020. Among the biggest advantages: passengers will be able to pay with a smartphone, a credit card, or a fare card and pay at any door on Green Line trolleys and buses.