Global Music Festival Returns to BU This Weekend with Performances, Workshops, and a Global Bazaar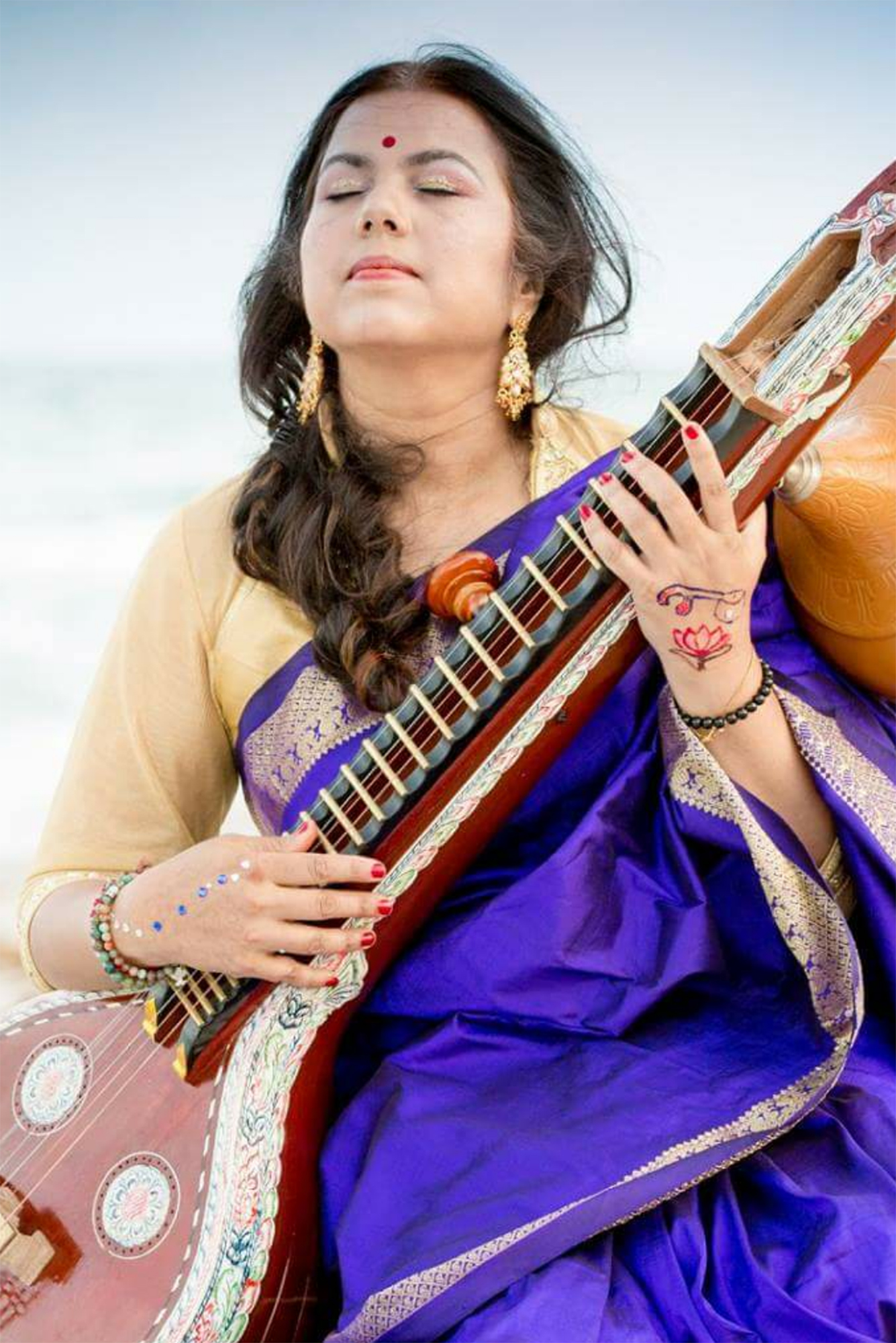 Arts on Campus
Global Music Festival Returns to BU This Weekend
Two-day event will feature musicians from around the world, workshops, and a global bazaar
Musician Saraswathi Ranganathan says she believes in the good in people, despite all the divisions in the world today over race, religion, gender, and nationality. That's why she's bringing her Indian classical sound to this weekend's BU Global Music Festival: to spread understanding and maybe make the world seem a little smaller and friendlier.

"What we don't know causes fear," she says. "That is why we have to get the young people at the colleges and universities to be positive about things that are different from what they know, so they embrace them and pass them along to their peers, their friends, and their families. That hopefully turns into less hate and more love, so we can all live as one family."

Reminding people that we are all one global family is one reason for the second annual two-day festival, being held Friday evening at the Tsai Performance Center and Saturday at the George Sherman Union. The event is presented by the BU Arts Initiative, the Office of the Provost, and the College of Fine Arts department of musicology and ethnomusicology.

"It's to celebrate BU and Boston's global identity," says Ty Furman, Arts Initiative managing director, noting that the University has students from over 100 different countries. "The arts and music are a means of building community, breaking down barriers, and learning from one another."

Tickets to all events are free and open to the public: register here. Admission to each event is on a first-come, first-served basis.

The lineup assembled by festival artistic director Marié Abe, a CFA associate professor of musicology and ethnomusicology, and Furman, includes an array of sounds from across oceans and continents.

---

The arts and music are a means of building community, breaking down barriers, and learning from one another.

---
Highlights include the music and dance ensemble Gamelan Çudamani, from Bali, who will open the festival on Friday night at 7 pm at the Tsai Performance Center; 47Soul, hailing from Palestine and the UK, who recently brought their "shamstep" electronic/rock/dub sound to NPR's Tiny Desk Concerts and will light up the GSU Metcalf Ballroom Saturday at 5 pm; and KoKoKo! from the Democratic Republic of Congo, who will bring their DIY sound, a success at this year's SXSW, to the festival as the closing performers Saturday at 8 pm at the Metcalf Ballroom.

The event also features a global bazaar on the GSU Plaza from 1 to 4 pm on Saturday, selling handcrafted items from around the world, including paintings, drawings, clothing, jewelry, and more, and a cultural fair of Boston-area organizations that present year-round culturally based, arts-related programming open to the public, in the GSU's Ziskind Lounge from 5 to 7 pm.

Chicago-based Ranganathan, who emigrated from India to the United States in 2000, says she hasn't experienced the sort of antagonistic incidents that many people of color have faced recently, but is well aware of the national and even global mood.

"It has definitely strengthened my intent to do my work," she says. "My hope is even if it's a small set of people that are influenced by what I do, they will embrace it, talk about it with their community, and hopefully the word gets around. That's how, as artists, we can create a subtle paradigm shift in how people perceive what is different from them."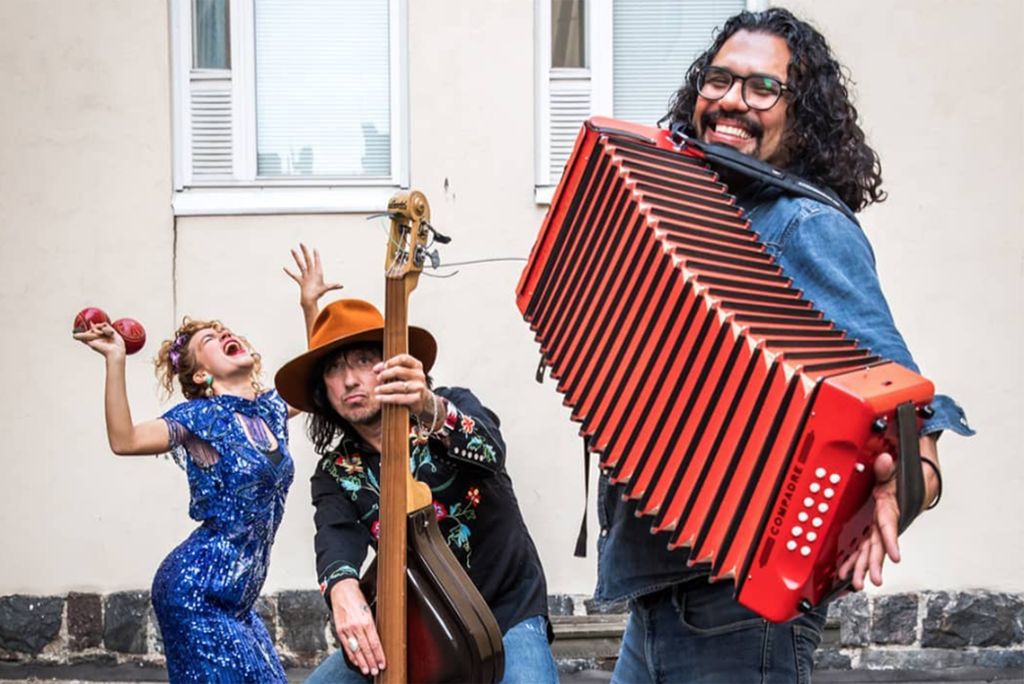 Ranganathan will play a set of Carnatic music—southern Indian classical music—on a plucked stringed instrument called a veena. "I'm always looking for ways of getting this instrument to a mainstream audience," she says. "I work on creating awareness that there's this instrument from southern India called the veena that predates the sitar by a few thousand years."

She will be accompanied by her brother, Ganapathi Ranganathan, on the mridangam and Nitin Mitta on the tabla, both percussion instruments.

She collaborates often with musicians playing a range of music, from reggae to the blues and from flamenco to West African sounds. These projects are not looked on favorably by some Carnatic traditionalists, she says. "There is a lot of pushback, there are purists, people who consider this very divine and don't want to 'muddy' it," she says. "But there are also people taking it to a whole other level."

And what is it like being a woman musician from such a tradition-steeped country as India?

"It is difficult, is the short answer," Ranganathan says. "Living in India when I was there, there was a lot of that dismissive attitude toward women, men saying, 'Oh, you don't know much, I probably know better.' That happens a lot." She says it's also something she's encountered working in the United States in the tech industry, with men saying, "What do you know about technology? I know better than you."
"A lot of people are ready to put you down. We have to be very strong. I lead a team, so I try to mentor a lot of women," she says. "I tell them, 'Even if you don't know, just keep speaking up. One day you'll get it right. But don't let anyone put you down.'"
The BU Global Music Festival is Friday, October 4, starting at 7 pm at the Tsai Performance Center, 685 Commonwealth Ave., and Saturday, October 5, from 2 to 9:15 pm at the George Sherman Union, 775 Commonwealth Ave. The two workshops, "Rhythm & Thought," with Frontera Bugalú, and "Women, Music, and the Tuareg Society," with Les Filles de Illighadad, are Saturday at 3:30 and 5:30 pm, at BU Central. The global bazaar is from 1 to 4 pm on the GSU Plaza and the cultural fair is from 5 to 7 pm in the GSU Ziskind Lounge. All events are free and open to the public. Find a complete lineup here.