Francisco Alarcon Is Helping Engineers and Artists Communicate
Arts & Culture
Francisco Alarcon Is Helping Engineers and Artists Communicate
BU's first computational artist-in-residence bridges the divide between two fields
Francisco Alarcon is an artist, he trained as a civil engineer, and he holds a graduate degree in architecture.
That makes him a bit of a unicorn. Alarcon is BU's inaugural computational artist-in-residence, working with College of Engineering and College of Fine Arts students to explore high-tech artistic projects that use software algorithms, graphic design, fabrication tools, and cutting-edge robotics to create artistic images, video sculptures, and multidisciplinary artwork.
"I find I can listen to engineers and have something to offer them," Alarcon says of his fall semester residency, which wraps up this month. "There are not that many engineers who collaborate with artists often for one reason: they don't communicate in the same language."

His work at BU helps further define the evolving genre of computational art. A video projection loop titled Narrative of a Wave (on display in the Rajen Kilachand Center for Integrated Life Sciences & Engineering lobby until December 15) depicts an image of a blue wave suspended in air like a roiling magic carpet. Best seen at night, it's a mesmerizing representation of water using computer-generated imaging; it is also a commentary on the historic difficulty programmers have faced creating a digital representation of a wave. (Alarcon uses several generations of old programming to make his point.)

Fields of study are often intellectual silos of knowledge, and this is especially so in the academic worlds of engineering and computer science, where artist residencies are unusual. That's changing, as a growing number of computational artists work at the intersection of artificial intelligence, cognitive psychology, philosophy, and the arts. Unlike digital artists, who create art with software, Alarcon says, computational artists look at the digital movement "with a critical lens."
Alarcon has bridged various worlds in his residency, creating his own art, meeting with art students to help them advance their projects, or helping engineering faculty conceive narratives around art, not just product innovation.
"In one day, I visit three departments," he says, of his visits up and down Comm Ave. "My conversation can change every three hours, because I'm having the same conversation with different audiences."
In those conversations and workshops, he has challenged students to create public art, and he's solicited proposals. In one workshop, students wanted to make a robot that would run around campus in a friendly—not scary—manner, which sparked a conversation about robotic aesthetics. Another student proposed building a cell phone app that would tell users how many different nationalities were nearby at any given moment. Alarcon, who is from Spain, says the students thought it would be cool to build and that he could help them "make it look better." He says that instead, he challenged them to think about the sociopolitical implications of the work.
"In my opinion, this is what art can do," he says.
Azer Bestavros, a William Fairfield Warren Distinguished Professor, a College of Arts & Sciences computer science professor, and founding director of the Rafik B. Hariri Institute for Computing and Computational Science & Engineering, which was a sponsor of Alarcon's residency, says bringing an artist's perspective to computer and engineering sciences offers students new ways to ultimately humanize new technologies.
"Artists are the interface through which society expresses its anxiety, aspiration, and imagination, especially at times and in contexts where significant or rapid changes are afoot," says Bestavros, the recently named head of BU's new Faculty of Computing & Data Sciences and associate provost for computing and data sciences.
He says that as technology advances and continues to change how people interact with it, as well as with one another, in dramatic ways, the role that artists play "could not be overemphasized." (Read Bestavros' recent POV here.)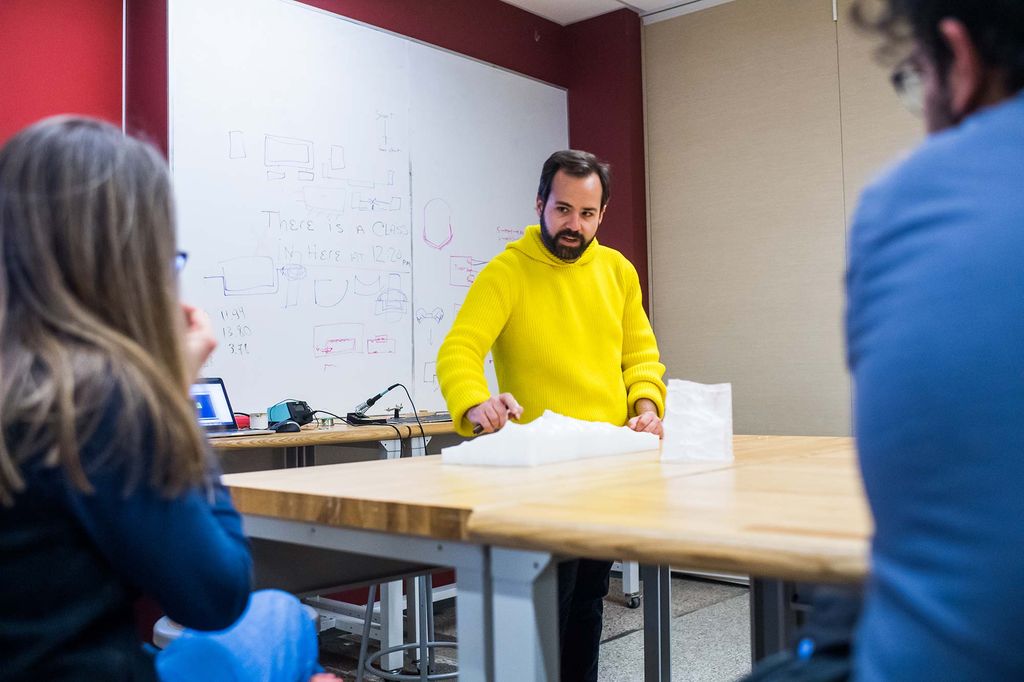 The residency is a partnership between the BU Arts Initiative and the Hariri Institute, with additional support from Innovate@BU, CFA, the School of Visual Arts, and BU Spark!
Determined to hire a person with a technical or engineering background for the computational artist residency, the search committee launched an international search. Alarcon, who lives in Cambridge, fit the bill. He holds a master's in design in art, design, and the public domain from the Harvard University Graduate School of Design, where he is pursuing a PhD in film and visual studies and critical media practice. His work has been exhibited in Germany, Spain, and across the United States, including at Harvard's Druker Design Gallery.
"There's a fear of automation, that computers are taking over," Alarcon says. "But there's always this human aspect behind it—there's always someone behind the computer, right? This is why I like to demystify a lot of the processes."
Alarcon's WoodonWood is a series of three images, on display at the Hariri Institute, that explore the structure and aesthetics of manufactured wood using digital fabrication tools, photography, and CAD software. The result is a captivating wave-like image. Only up close does his meticulous layering of plywood becomes apparent.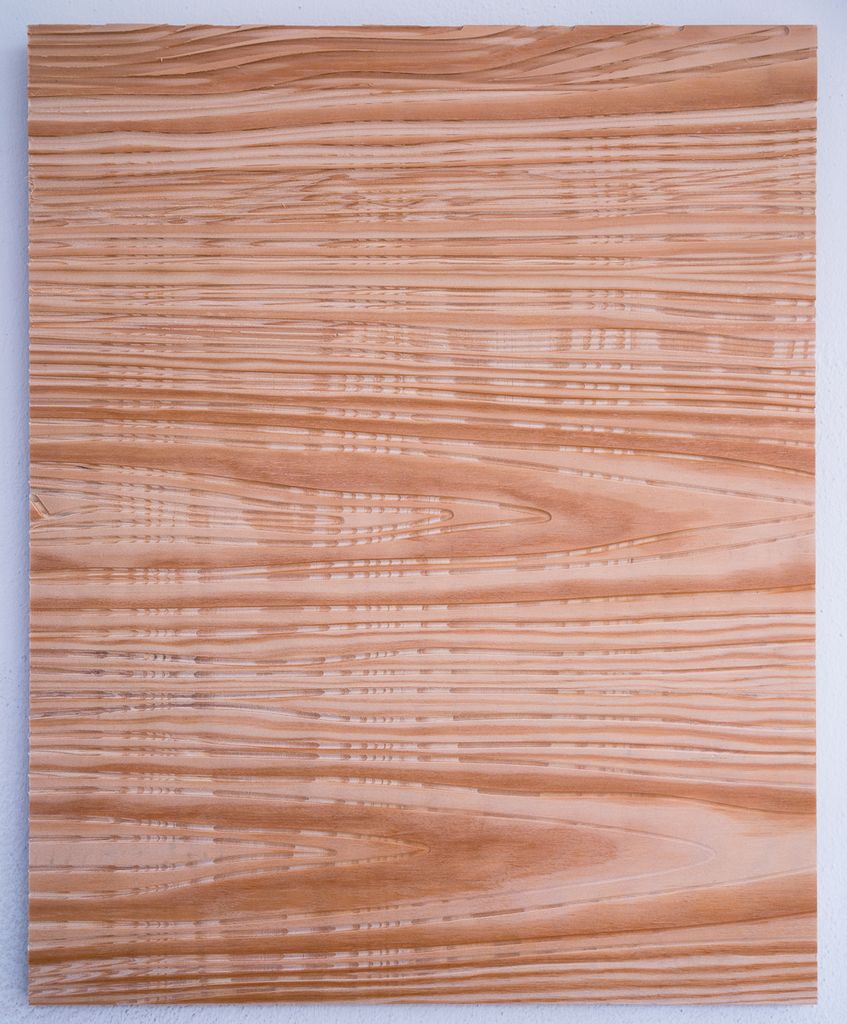 Then there is his large-scale backlit Normal Interfaces, a triptych depicting the transition from drawing to graphic imaging of a 3-D model of a robotic arm. See it for yourself on the stairwell outside the BU Arts Initiative offices at the George Sherman Union.

"I like his eye and the way he thinks," says Ty Furman, Arts Initiative managing director, noting that Alarcon's artist residency is a first in the science and engineering disciplines. "What's exciting for me was that this is sort of stretching our wings a little bit," he says.

Alarcon is from Almeira, a city on Spain's Mediterranean coast. He says he studied engineering because of pressure from his family, but when he came to the United States, his path shifted.
Dana Clancy, director of the School of Visual Arts, says Alarcon is able to successfully work across many mediums and ways of thinking because he offers opportunities for compelling conversations about "future ways of being" across subject-area boundaries.
"The challenges of trying to be interdisciplinary at a university are huge," she says. "What Francisco is doing, what he's a leader in, is not medium-specific. It's painting, sculpture, programming, and it crosses over with other disciplines—it's not just on the computer."

Clancy heard Alarcon speak recently at an American Academy of Arts and Sciences conference. "When I heard him speak about his experiences at BU," she says, "he said he was there to ask questions of the students. Well, the role of the artist in the universe is to ask questions."
That was the case on a recent afternoon, when Alarcon hosted a lecture called Challenges in Art Fabrication: Concept, Design, and Fabrication for students and faculty at the Engineering Product Innovation Center. He talked about his process in making a piece, from concept to design, from prototyping to final artifact.
Photographer, graphic designer, and PhD candidate Rohin Banerji (ENG'24) says he was inspired to consider the challenges of creating artwork with fluid surfaces inspired by biology and the natural world and that he hopes to see more events like this one offered.
"The ability to combine the computational power of complex forms and give it physical form by working with our hands and/or machines should push the limits of both artists and engineers alike," he says.
Mechanical engineering student Kevin Peng (ENG'20) says he was particularly interested in using precision industrial machines that are typically used for large-scale work in new and creative ways, much like Alarcon does.

It's "like watching football players do ballet," he says, and "the more BU invests in this type of display, the more vibrant, modern, and alive the campus will become."