Fall Alcohol Patrols Resume This Weekend
Alcohol
Fall Alcohol Patrols Resume This Weekend
They follow a year of slightly increased hospital runs for students
Increased weekend patrols for alcohol enforcement began this week to curb illegal drinking, loud parties, and hospital transports of dangerously inebriated students. The Boston University Police Department (BUPD) and the Boston Police Department launched the annual patrols Thursday. Last year's number of transported students had crept up by 8, to 152, from 2017-2018.
"There are many factors that may influence alcohol transport trends from year to year, and semester to semester," says Katharine Mooney (SPH'12), University Wellness & Prevention Services director. "We typically see transport numbers increase during the first several weeks of each semester, and again near holidays like Halloween and Marathon Monday."
Students below the Massachusetts legal drinking age of 21 typically account for the majority of transports, and that held true last year—84 percent of alcohol-related hospital runs were among those in that age bracket. First-year students, new to college life and on their own for the first time, are especially "at higher risk of being transported," says Mooney. Hence the University's mandatory AlcoholEdu for College, an online course for incoming first-years that debunks myths about heavy college drinking that can encourage alcohol abuse.
Under the enhanced fall patrols on Thursdays, Fridays, and Saturdays through November 16, plainclothes BUPD officers are deployed near residence halls, "where we can observe underage students attempting to purchase alcohol and either bring it inside a residence hall or carry it to a party," Molloy says. A Boston police cruiser, meanwhile, patrols the area around Gardner, Ashford, and Pratt Streets (the GAP area) to reply to complaints about loud parties and public or underage drinking, he says.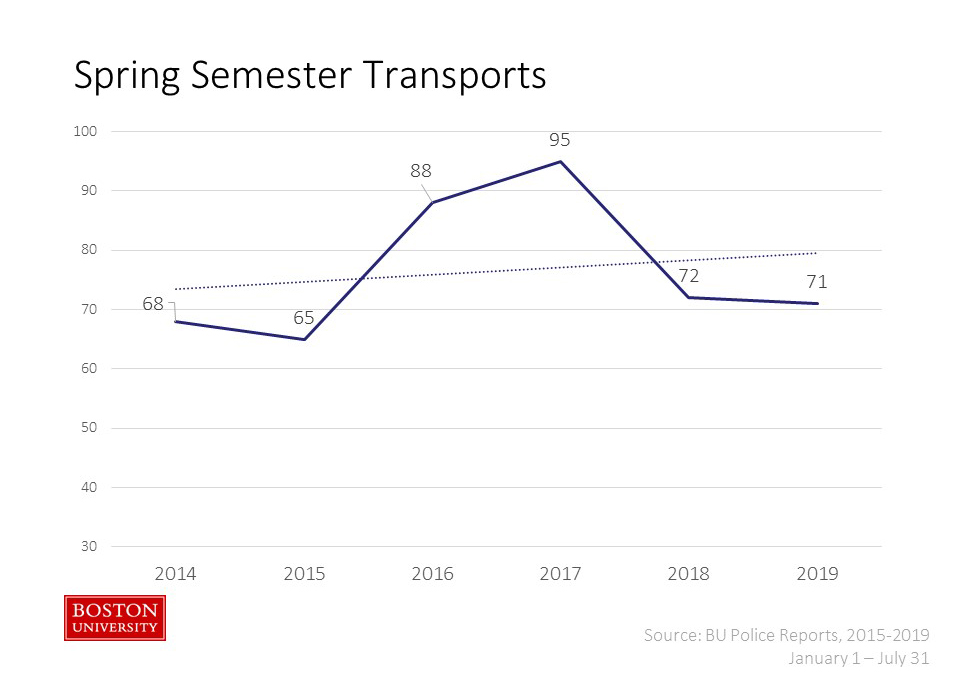 Transports during last spring semester were essentially unchanged from the previous spring, with 71 students requiring a hospital visit, one fewer than the previous spring and well below the six-year high of 95 in spring 2017. One possible reason holding transports down: inclement weather on April's Patriots Day weekend Boston Marathon Monday may have curtailed some parties, and that day is often an occasion for heavy drinking.
The University's efforts to keep students safe include substance-free events; campus programs promoting "smart" partying; a Good Samaritan policy, exempting those who seek help for themselves or others from sanctions unless other crimes are involved; and, of course, the alcohol patrols.
And what's the University's reaction if you do go to the hospital? "Typically, after an alcohol transport, students will be asked to meet with a Wellness counselor for two sessions," says Mooney. "These sessions include a substance use assessment, alcohol education and normative feedback, and referrals to any appropriate on- or off-campus resources."
BU's student Lifebook spells out the legal consequences: "Anyone under 21 years of age who knowingly makes false statements of his or her age in order to purchase or in any way procure alcoholic beverages is subject to a fine of $300 by the Commonwealth of Massachusetts. Anyone 21 years of age or older who procures alcoholic beverages for, or serves or sells alcoholic beverages to, anyone under 21 years of age, is subject to a fine of $2,000, or six months imprisonment. Also, be advised that in the City of Boston it is illegal for anyone to consume alcoholic beverages in public (sidewalks, streets, parks, and so on)."