Lost & Found: How $1,784 Made Its Way Back to Owner
BU custodian Rosa Cardoso discovered the cash during Commencement cleanup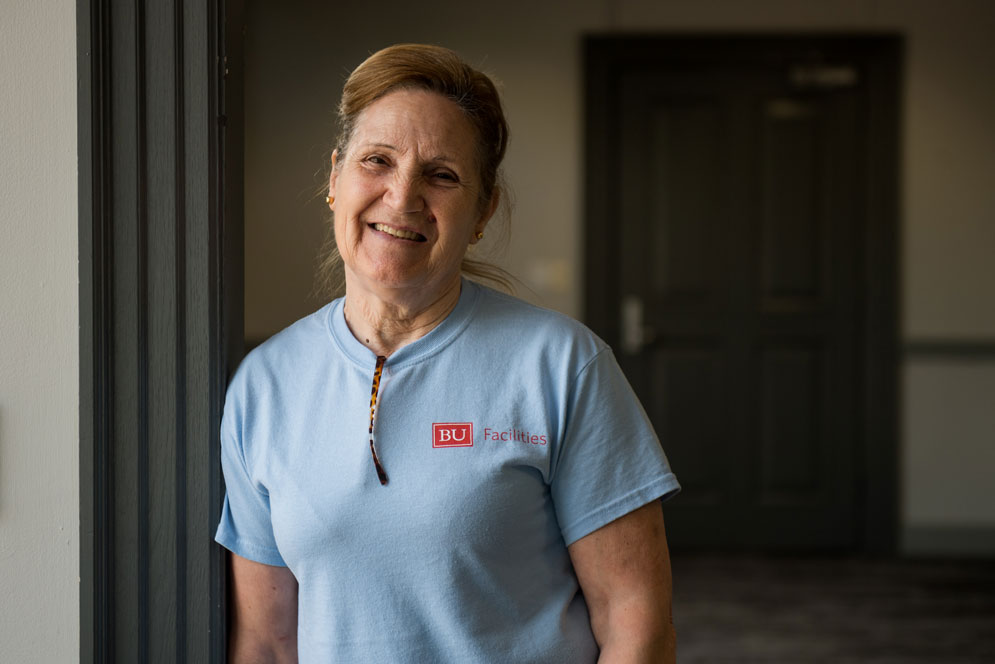 During 20 years at BU, custodian Rosa Cardoso has found her share of lost items, including the occasional $5 or $10 bill.
But $1,784? That's something else.
Cardoso tweaked an old adage, proving cleanliness and honesty are next to godliness, when she stumbled on the cash while cleaning after the School of Hospitality Administration Convocation in the Metcalf Ballroom May 18. She turned it in to her manager, Matthew Rodenhiser, who gave it to the Boston University Police Department.
The BUPD painstakingly tracked down the owner, the father of a 2019 SHA graduate, and is returning the money to the New York State resident, whose older son, also a BU alumnus, describes his father as "extremely happy," especially as the money was a graduation gift. (The son isn't sure if it was for his brother or for a cousin who had a graduation elsewhere on the same day.)
Since the father is a native of Israel and English is a second language, the elder son spoke for him. He requested anonymity for the family, as his dad  is "a pretty low-key guy.. ..He was confused and at a loss, obviously," after realizing the money was missing.
Cardoso was cleaning near a recycling bin with her custodial crew when her foot kicked something on the floor that she thought at first was trash. She reached to put it in her pocket for tossing, but "when I picked up the money, and I see it's money, I lifted up my arm and wave—'Money! Money!'" she says in Portuguese, translated by Eduino Torres, the lead daytime custodian for Cardoso's working area.
The money, two business cards, and a valet claim check from Boston's W Hotel were wrapped together with a rubber band. She turned it all over to Rodenhiser, beginning a week-and-a-half odyssey for BU officials hoping to track down the owner.
Rodenhiser first called the hotel to see if one of its guests matched the check. He didn't get a callback. The business cards, it turned out, belonged to people the money's owner has worked with, but when Rodenhiser contacted them, neither knew of any acquaintance who had come to Boston for a graduation.
He gave the money to the BUPD. "Over several days, I had phone conversations with hotel security" where the owner stayed, says Billie Kanavich, a BUPD detective. The hotel was finally able to match the claim check to a guest.
"I ran the last name through our database and came up with two students with the same last name from New York," says Kanavich. She phoned and reached the older son, who confirmed that the money was his dad's and "fell out of his pocket" at the ceremony without his father noticing.
As for a suggestion that she should be commended for her honesty, Cardoso waved that aside.
"So much money, you don't even think" about keeping it, she says. "I want just my own money."