Public Health
SPH's new Community Noise Lab is working directly with four local communities affected by noise pollution
Noise can be hazardous to your health. At only 65 decibels—about as loud as a car going by for someone standing on the side of the road—research has shown that people begin experiencing increased risk of hypertension and heart attack.
As sound gets louder, the effects progress "from annoyance to very serious health impacts," says Erica Walker, a School of Public Health environmental health department postdoctoral associate and creator of the new SPH Community Noise Lab.

But not all sound is equal, Walker says. Someone's favorite music could be playing at 120 decibels and for that person, the sound is enjoyable. If a neighbor hates hearing that same music—even if only at 65 decibels—it's noise and thus may have more of an impact on the neighbor's health than on that of the person playing the music, she says.

Because the difference between sound and noise is subjective, the Community Noise Lab is working directly with four communities affected by noise pollution in the Boston area: the Fenway, Mission Hill, and East Boston neighborhoods and the nearby town of Andover. Together, they are measuring and taking on not only the volume of sound, but also the irritation of noise.

"In the Fenway, if you ask them what's really bothering them, they're not going to tell you it's road traffic noise or aircraft noise—those aren't even in the top three," Walker says. "They're telling me, 'We're bothered by outdoor concerts at Fenway Park.' If I'm an epidemiologist and I'm using Fenway as a sample and I'm looking at the impact of aircraft noise on cardiovascular health, that may not be the noise that's driving the health impact. I would be misclassifying the experience."

Andover connected with her for help with an effort to get a sound wall to muffle the bumper-to-bumper commuter traffic noise on Interstate 93, and East Boston residents are concerned about the roar of planes taking off and landing at Logan Airport. Fast-growing Mission Hill, meanwhile, faces construction noise and the loud HVAC systems of new buildings, as well as the ambulance sirens, medevac helicopters, and traffic to the Longwood Medical Area's hospitals—and above-ground MBTA Orange Line trains and Green Line trolleys.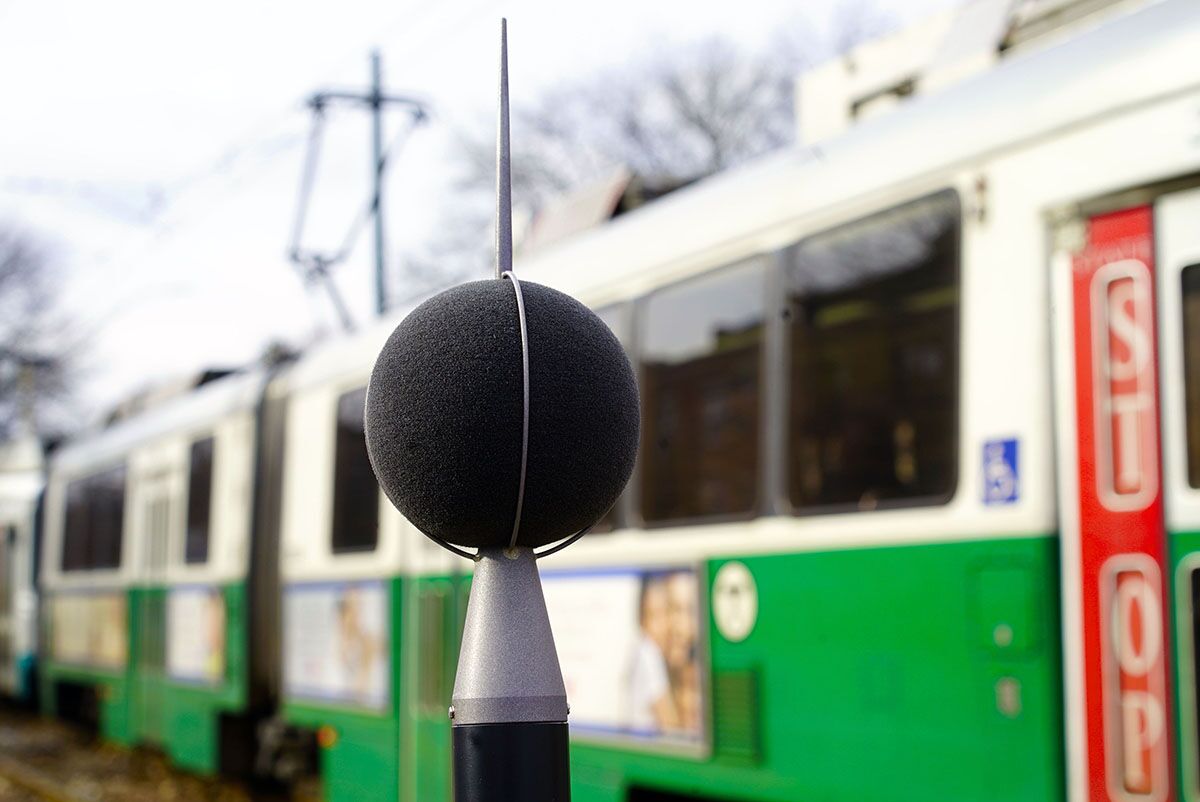 With a two-year, $410,000 grant from the Robert Wood Johnson Foundation, the Community Noise Lab is working with members of the four communities—and researchers and students across Boston University—to create a real-time sound-monitoring network of eight rotating sound stations and develop version 2.0 of the lab's smartphone app, NoiseScore, which allows residents to both objectively and subjectively describe their environmental soundscape and their own responses in real time. Walker is also leading a series of community-engagement activities, including "sound walks" and a podcast, and conducting a laboratory-based experiment examining the acute neurological underpinnings of noise exposure.

All of the Community Noise Lab's work will be documented on the lab's website, where each of the four communities has its own page. Meanwhile, the site's community library offers free access to fact sheets, reports, and data—for researchers and community members alike.
Walker describes the lab's approach as "ride-sharing." While gathering data from these four communities, she says, "I'm sharing the ride with others who have their own noise-related journeys and destinations. That's my definition of public health."

The response so far has been enthusiastic. "People are really excited—everybody wants the sound-monitoring equipment in their house," says Mary Ann Nelson, executive director of the nonprofit Mission Hill Health Movement. She says the collaboration is making her neighborhood think about solutions to forms of noise pollution that they had thought were inescapable.
Nelson says that longtime residents of Mission Hill automatically pause conversations for an ambulance siren or a house-rattling train, often without even realizing it. "No one was thinking that there was anything to do about the hospitals and the Orange and Green Lines," she says. Now, the community is thinking about what kinds of solutions the Community Noise Lab's research could lead to, like regulations for new buildings to better block sound or having the hospitals help offset the costs of new windows for residents.

"I think this is going to make a big difference," Nelson says.