Comm Ave's $20.4M Makeover Nears Completion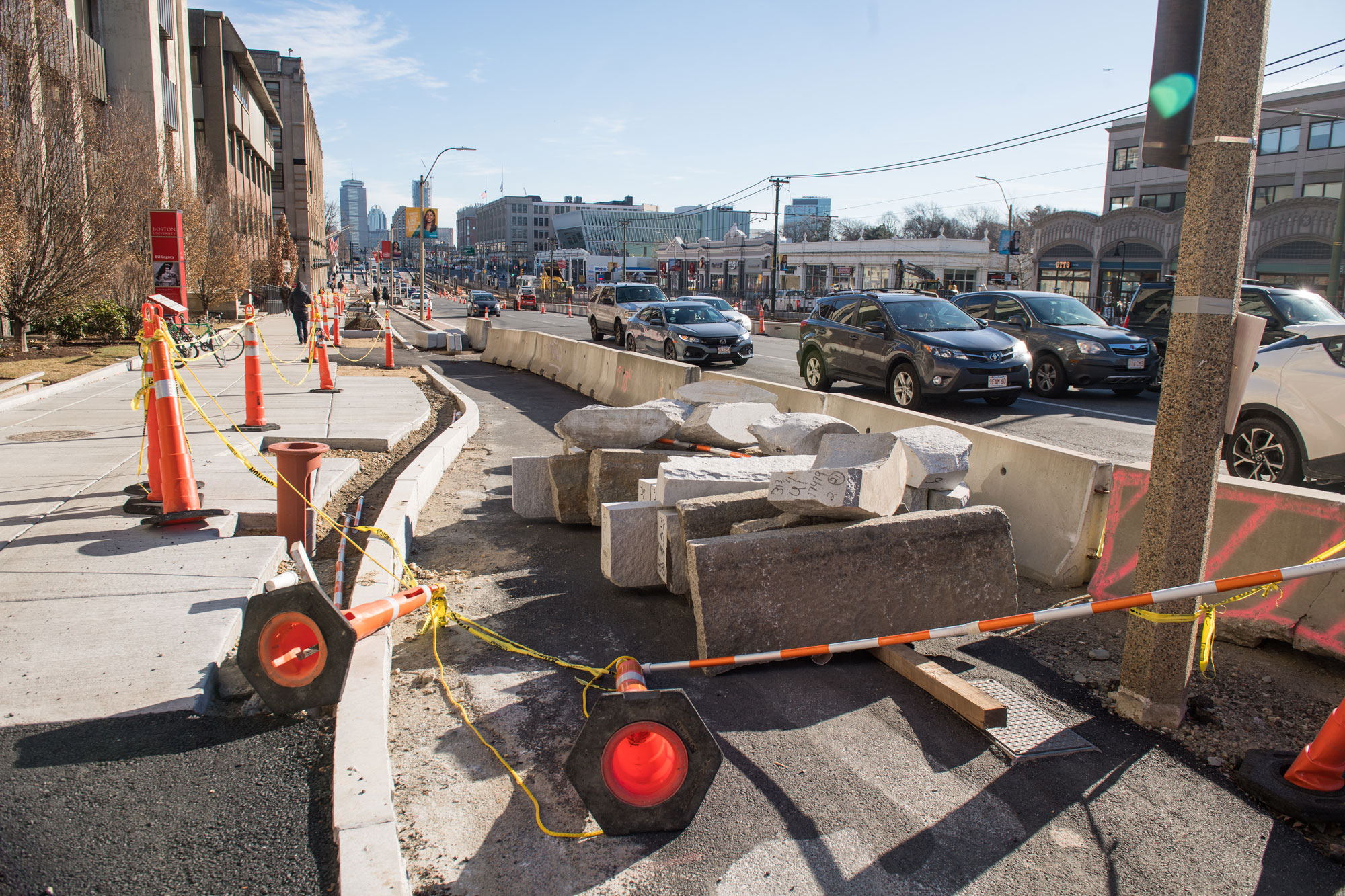 Comm Ave
Comm Ave's $20.4M Makeover Nears Completion
Dedicated bike tracks top list of improvements
Trust us, freshmen, Comm Ave is better now.

Work paused this week for BU Move-in, but the Comm Ave 2 improvement project that began in late 2016 and that some thought might never end is almost finished, down to a few punch-list items that will be completed in the coming weeks.

For many, the biggest improvement of the $20.4 million makeover is the safety upgrade for cyclists, with separate bicycle tracks between parked cars and sidewalks, away from traffic on one of the busiest stretches of pavement in Boston: Comm Ave between the BU Bridge and Packard's Corner.

With curbs on both sides, the tracks will offer cyclists a safe harbor from traffic as well as from getting "doored" by people getting out of parked cars. "It will be much safer for our large cyclist population," says Michael Donovan, vice president for campus planning and operations.

About 35,000 vehicles, 30,000 pedestrians, 27,000 MBTA Green Line T riders, and 3,000 cyclists use this stretch of Comm Ave daily, according to state authorities. More than 75 percent of the 121 bike accidents that the BU Police Department responded to from 2010 to 2015 occurred on Comm Ave, including one in 2012 that resulted in the death of BU student Christopher Weigl (COM'13).

Also included in the $20.4 million Massachusetts Department of Transportation (MassDOT) project, formally known as Commonwealth Avenue Improvement Project Phase 2, are streetscape improvements, including more accessible sidewalks and islands, and new traffic signals that will give trolleys and buses preference at stoplights. Reduction to two lanes for much of the route is also expected to improve traffic calming and reduce traffic flow.

"In addition to the improvements for cyclists, pedestrians, people with accessibility needs, and motorists, there are aesthetic improvements that will just make passing through that segment of Commonwealth Avenue much more pleasant," he says, including trees, planters, benches, and new lighting.

The project was originally scheduled to finish in June, "but completion is in sight," Donovan says, based on assurances from MassDOT.

Most of the work was completed earlier this month, according to Kenneth Ryan, BU director of city relations, and Thomas Daley, associate vice president for facilities management. Replacement of a few signal posts, some that impinge on the bike track, and final paving of the track are the largest remaining punch-list items. Work will resume after Move-in and should be completed within weeks, they say, although one or two signal replacements may take longer.

Related work on the MBTA Green Line B branch is expected to begin in January 2020. The number of T stops between BU West and Babcock Street will be cut from four to two by combining the St. Paul Street and BU West stops and the Pleasant Street and Babcock Street stops. Along with the new signals, eliminating two stops should ease the sometimes sluggish commute on the B branch.

"We're pleased to partner with the city and the commonwealth to make our West Campus—the home of over 4,100 students and a growing number of academic programs—more attractive and safer for the thousands of people who pass through it daily," Robert A. Brown, University president, said at the November 2016 project groundbreaking, which was also attended by Governor Charlie Baker, Boston Mayor Martin J. Walsh, Stephanie Pollack, state secretary of transportation and MassDOT CEO, Jeff McEwen, administrator of the Federal Highway Administration, and Thomas J. Tinlin, then MassDOT highway administrator.

The project was endorsed by the city of Boston and the University, which agreed to contribute $2.4 million to fund Phase 2 design. The $13 million Commonwealth Avenue Improvement Project Phase 1, completed in 2010, transformed the streetscape from Kenmore Square to the BU Bridge. The University contributed $3.1 million to that project, which beautified the campus with new trees, shrubs, plantings, lighting, street furniture, raised planters, and sidewalk pavement treatments.

Along with the Commonwealth Avenue Bridge Replacement Project, which closed the avenue for two weeks in summer 2017 and again for two weeks in summer 2018, Donovan acknowledges that it has been a busy and somewhat trying time for the BU community along Comm Ave.

When this winter's MBTA stop consolidation project is finished, he says, "that appears to be the end of major infrastructure work for all of us, based on what we now know from MassDOT. I certainly hope that is the case."