Club Squash: Friendly Environment, High-Octane Sport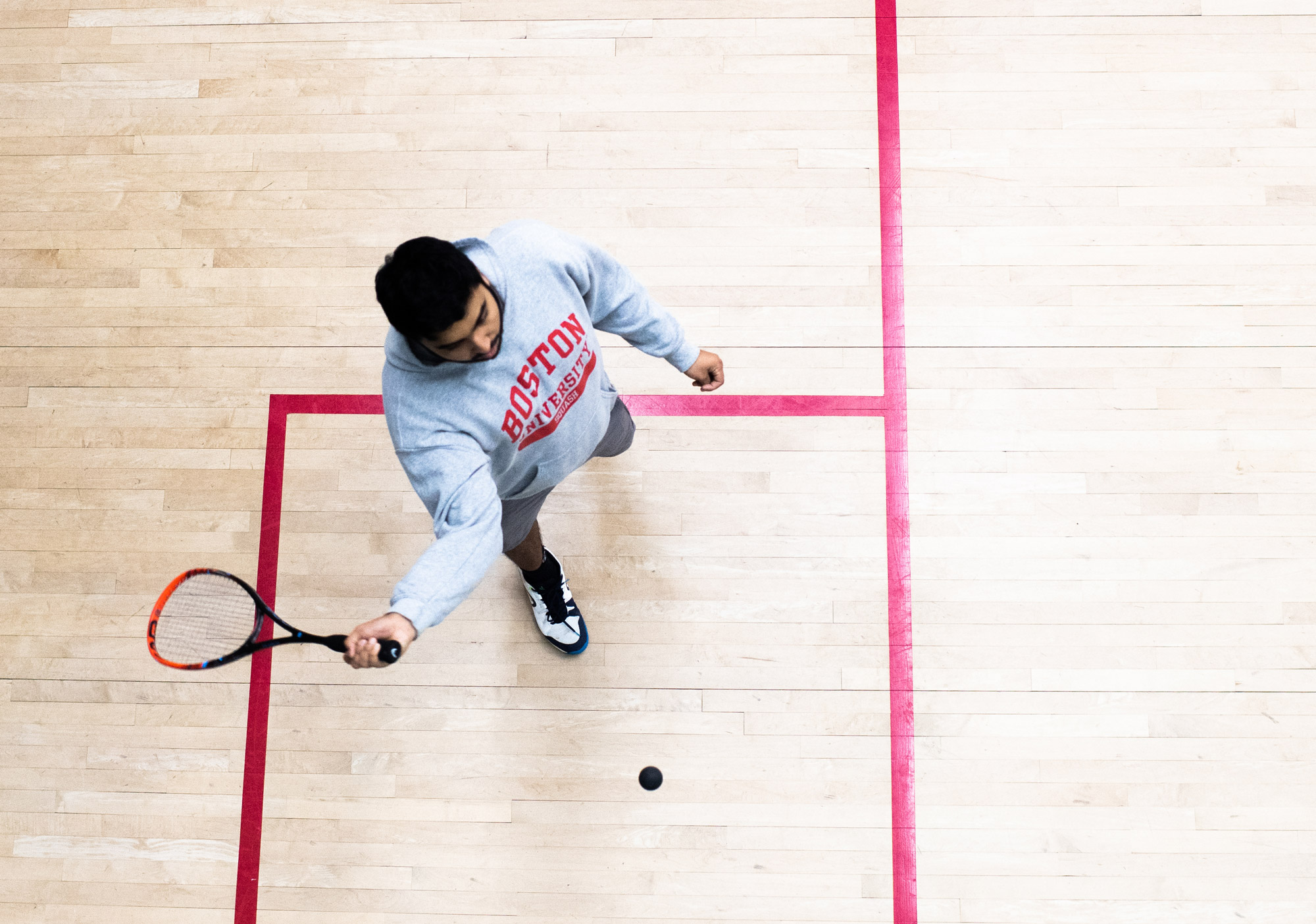 Club Sports
Club Squash: Friendly Environment, High-Octane Sport
Lifelong and new players join for a workout and a sense of family
You hardly see the ball as it moves through the air. You see the rackets moving in a blur and two players moving step-for-step, trying to circumnavigate each other like they're at a middle school dance, to get to the ball before it hits the floor a second time. It's fast-paced and intense—and one of the most inclusive environments on campus. It's club squash.
As the women's team lines up on the main court before the first match of the season last month against Boston College, a few players comment on how the men's team, who will practice after the women's match, have come almost two hours early to watch fellow Terriers play their rivals. They hadn't done that last year.

"We're really a tight-knit community. We all have big group chats together, some of us hang out after practice, and it just feels like a family," men's team player Ryley Thompson (CGS'20) says.

"Outside of [practices], we'll do team bonding stuff, we'll mix with the men's team as well, so I can't wait to see them play," says first-year player Bella Valcourt (COM'22).
Like sister sport tennis, anyone can play squash, at any age. It's why both Valcourt and women's team captain Normandie Essig (CAS'20), club president, picked up rackets when they needed to play a winter sport in high school. They've gone from viewing it as an easy gym class credit to enjoying it so much that they practice three nights a week until 11 pm.

Essig says the biggest adjustment going from a lifelong tennis career to playing squash is "having half of the court. That was really weird. The ball doesn't bounce like it does in tennis, so that's strange, but otherwise, they're really similar sports. It's the same type of team atmosphere in an individual sport."

Many of the club's athletes come from competitive backgrounds, but the BU-BC match doesn't feel like a rivalry. No one yells after losing a point, no one slams a racket, and everyone willingly shakes hands before and after the matches. Yes, it is a club sport, but the players seem interested in getting in a great workout and being a part of a good group of people, rather than reliving their high school glory days.

The games go at a lightning pace. Each game goes to 11 points, and the first team to win three games out of five takes the match. On average, matches last for just 20 minutes, yet the players come off the courts looking like they ran a marathon.

"Practice is always super late at night, so it's the last thing I do before going home. It's super tiring, so that's always good. I think it's the most calorically demanding sport per hour," says men's team captain Hunter Chun (CAS'21).

When playing, athletes need to keep up with the pace of the ball and to think a few shots ahead to position themselves correctly on the court. The hollow rubber ball hardly bounces, so positioning and court awareness are as important as speed and agility.

"It's a lot faster than it looks, because the ball is moving so quickly from the front wall to the back," says Thompson. "Sometimes, it's hard to see where the shot is going, so you have to be on your toes and predicting a lot."

Matthew Wallace (Sargent'20) learned about squash in his Brooklyn private school gym class and says it was a positive experience for him in middle and high school because of the people he met through the sport. Wallace cultivates that constructive environment with BU squash.

"My high school squash coach was the coach of the JV team before I got on varsity," he says. "He was the only other black squash player that I ever met, so I was kind of surprised. He also went to my high school when he was my age, so I got along with him and he helped me get into it."

Having a similar face on the courts helped Wallace as he began playing, and he pays it forward with CitySquash, a nonprofit in Brooklyn and the Bronx, where he and fellow mentors teach inner-city kids squash and studying techniques to create more opportunities.

"I know squash is not really a sport that a lot of minorities grow up with, because it's mostly a private school thing," Wallace says. "But I think, through that program, it's opened a lot of doors."