Jobs in the Emerging Cannabis Industry: Life on a New Frontier
Terriers on what it's like to work in a rapidly evolving field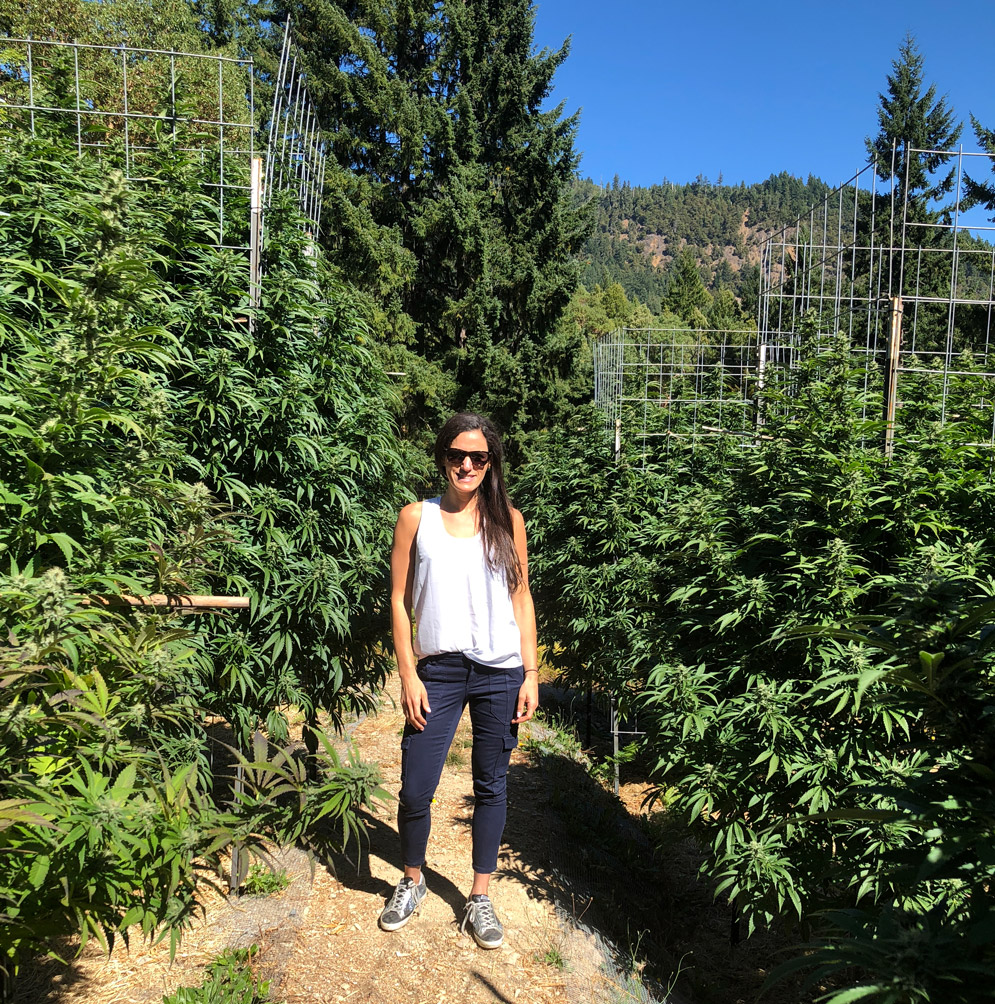 They are pioneers, among the first generation to work in the rapidly evolving cannabis industry. Rosie Mattio, Felicia Gans, Lindsay Roth, and Mackenzie Bullard are forging careers in a field that was unthinkable just a decade ago.
Massachusetts voted to legalize medical marijuana in 2012 and recreational cannabis in 2016. Currently, it's one of 10 states, and the District of Columbia, that have legalized marijuana for recreational use.
It's difficult to get a handle on how many cannabis jobs there are currently in Massachusetts, but there are 9 recreational sales operations up and running and 48 medical marijuana dispensaries licensed to operate. Sales figures attest to just how big the industry is: as of January 27, gross sales in Massachusetts totaled $27.9 million since recreational outlets opened their doors in mid-November. Everyone agrees it's a growing field (pun intended).
However, it remains illegal to possess, use, or cultivate marijuana on the BU campus, because federal law still prohibits it. Colleges that receive federal money are bound to uphold federal laws or risk losing that funding.
BU Today recently sat down to talk with Mattio (College of Communication'03), the founder of Rosie Mattio Public Relations, which specializes in the cannabis industry; Gans (College of Communication'17), the producer for the Boston Globe's marijuana coverage; Lindsay Roth (Metropolitan College'17), who along with her husband has started the Happy Confection, LLC, to provide high-quality cannabis-infused edibles; and Mackenzie Bullard (School of Public Health'19), who until recently worked for the Cannabis Community Care and Research Network (C3RN), where he did advocacy work for medical patients and recreational users. We asked them to talk about how they got their cannabis jobs and about people's reaction on learning what they do for a living. Below are excerpts from the conversation.
BU Today: Tell us how you landed your cannabis-related jobs.
Rosie Mattio: I've had my own agency since 2004, and in 2014, as cannabis was starting to become legal for adult use on the West Coast, I was approached to do the launch of a crowdfunding campaign for a cannabis cookbook. Why did they come to me? There were no cannabis PR firms back then. My background is in food and technology. It was the most successful PR campaign I've ever done. When the New York Times, Fast Company, Mashable were clamoring to write this story, the light bulb went off in my head. Fast-forward almost five years later and we have probably the largest cannabis PR firm in the country.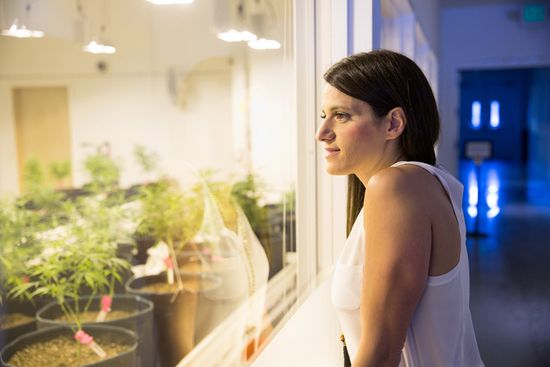 Mackenzie Bullard: I suffered from manic depressive disorders. When I was in high school, they gave me a lot of things, but the pharmaceutical drugs were awful and did nothing but make me feel worse. So I started using cannabis—that's kind of how I personally started getting into it. I developed a lot of friends, a lot of culture around the whole thing. So then I started kind of figuring out ways to get involved in advocacy. Coming to BU, in the School of Public Health, we deal with things like stigma and advocacy. Then I connected with C3RN, the Cannabis Community Care and Research Network, which won the 2017 Innovate@BU start-up competition. One of the things we did was observe how many people are using or have used cannabis to get off prescription opioid drugs. For me, cannabis just kind of lets me turn my phone off and not worry about what everybody else is saying. I find a sense of self, just like a prescription medication might help somebody else.
Felicia Gans: I was doing the State House Program through the College of Communication, and I had covered the legalization ballot question. I started working full-time for the Globe after I graduated, and it came up that we wanted to create a marijuana section. There are two other reporters working for the section; I became the marijuana producer and reporter. I focus on the digital angle. The Pittsfield store recently opened and I did this quick guide: here are the hours, here are the parking instructions, those little pieces of information that might be hard to find. I think we officially launched the week that the stores opened.
Lindsay Roth: I have been an infrequent cannabis user throughout my life, but also struggled with depression and anxiety and post-traumatic stress disorder. And for me, that manifests with insomnia, specifically. I'd been trying every medication under the sun to help me sleep, but would struggle with waking up the next day and feeling like a zombie. So I turned to cannabis through the medical marijuana program here in Massachusetts. I've been a patient going on three years now. It has completely helped me reclaim my life.
BU Today: Lindsay, what made you decide to start your own cannabis business?
Roth: I met my husband almost two years ago, Steven Sechoka. He is actually the executive pastry chef here at BU—random.
When we first started dating, I was taking cannabis by smoking and vaping, and it wasn't something that I really enjoyed, because I was previously a cigarette smoker. He suggested that I get concentrate and he could put it into edibles for me because he's a pastry chef and obviously is professionally trained. He started to make saltwater taffy, and I literally just take a piece of candy once a night and it tastes good, and unlike prescription drugs, I don't have to worry about the fact that it might be habit-forming or I might wake up feeling groggy the next day. We've created the Happy Confection, which is an edibles business—wholesale, not retail. We are starting with saltwater taffy as our main product line. We're fundraising and we're scouting for locations; we've been running into tons of roadblocks because this is an emerging industry. But we're learning a lot every day too.
BU Today: The first time you tell someone what you do, what kind of reaction do you get?
Mattio: I'm a mother of four daughters, so in the carpool line, I'm like, the "weed mom." People ask me, do I have anything? I'm not a drug dealer, you know. A lot of my clients are Ivy League–educated and were successful in their own business. They're not Cheech and Chong. When I first started my cannabis practice, we had just moved to Seattle for my husband's job and I took on my first account. And I started posting on Facebook about it, and my husband would be like, "I work in finance, maybe you just want to, like, tone it down a bit," and "What if my bosses find out?" We moved back to New York in 2017 and he'd be going to job interviews saying, "My wife is the smartest women you'll ever meet—she started a cannabis PR firm." So even the perception from 2014 to 2018 has really changed.
BU Today: Rosie and Felicia, you two actually worked together this week, is that right?
Mattio: Yesterday, for the first time.
Gans: Rosie's representing Ascend Massachusetts, which is going to possibly be among the first shops opening in Boston and…
Mattio: I'm like, gosh, who writes for the Globe? And it turns out I'm actually meeting her here. The story worked out well.
BU Today: What about you, Mackenzie? What kind of response do you get when you tell people what you do for a living?
Bullard: I'm from Orlando, Fla., originally, and then I went to undergrad in South Carolina. These are places, demographically, you don't talk about these things. As my cannabis use kind of went on, my parents definitely knew during high school. [Eventually] I had that discussion with my parents. It was more of a medical discussion—just, like my well-being—but ultimately when they came to see that I was benefiting from it, it became a conversation more of: this is something he's using to help himself move into the day and crush it.
BU Today: So your parents came to accept it?
Bullard: Yeah, of course. I'm their child. And I'm not doing anything to harm anybody else, or really, myself. But before that, I definitely was in a state of harm. Cannabis brought me to a place of peace.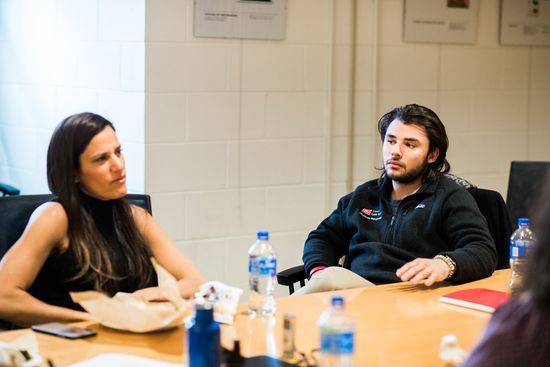 BU Today: Other reactions?
Mattio: When you hear stories, like these two have, how can you not get a chill? The more we talk about it, the more it becomes normalized and it's so important, you know, to get it out there. This helps people.
Roth: We obviously live in a more liberal and progressive state, but you come across people who maybe find it more taboo. Once you actually talk to them and speak about the myriad things that this one plant can be used for, it really can be eye-opening. But from an economic point, it's actually very, very smart to be exploring opportunities in this industry, because it's going to create jobs. It's going to create economic growth and mobility, and why is that a bad thing as a society?
Gans: I'm from New Jersey. I was home for the Jewish high holidays in September, and I got my job offer to move to the marijuana team an hour before Yom Kippur services. And I was sitting at dinner, explaining to my parents what I was doing, and I just remember my dad turning to me, asking, "So are we going to tell people at synagogue tonight?" My parents are caught between this Catch-22 of having your just-graduated-college daughter with you, and you want to tell people what she's doing—but do you want to tell people everything you're doing? And it was hilarious watching people's reactions. A lot of people were just fascinated.
Roth: I've actually enjoyed how this has expanded my relationship with people in my life. My parents and my in-laws are some of our biggest cheerleaders. And they are constantly sending us little clippings from the "Metro" or random papers: it's their way of showing that they're supportive.
BU Today: Has public opinion shifted since legalization?
Bullard: When you talk about the general public, my opinion on why it's changed is because people not of color, who have a lot of money, realize they can make money off of products. And before that, it was about stigmatizing people of color who were selling the drugs, the whole "drug epidemic" and stuff like that. People are thinking about how to make money instead of keeping the integrity of a good, healthy culture about how we can enable medical patients to continue to get products that are high quality for low cost.
Roth: I personally don't feel that all of a sudden everybody's open to cannabis because it's legal. I think it's been happening, and now people are more comfortable sharing and being open about it.
Bullard: With opening up the recreational market for marijuana, a lot of people who have never used cannabis are going to have that experience. From a public health standpoint, I think that we really need to be considerate about that as public health advocates and mental health advocates. These are the kind of things I worked on at C3RN. How do we educate those people to give them the right public health information so they don't have a bad experience? In this green wave, we have to understand that cannabis is not for everybody.
BU Today: For those of you who use marijuana, how do you consume it?
Bullard: I smoke, just because, you know, there's something that's communal, too. Like friends will come over…
Roth: We grow, we have two plants in our house at any given time, and my husband cultivates and he prefers to smoke.
Bullard: I have a quart of canna-butter, so sometimes: banana bread, pop it out, give it to my neighbors.