As Women's Soccer Celebrates 25th Anniversary Saturday, a Nod to Long-time Coach Nancy Feldman
League opener a chance for past and present players to reconnect on their love of the program
Women's Sports
"She has so much respect"—Coach Feldman, and Women's Soccer, Celebrate 25 Years on Saturday
League opener a chance for past and present players to reconnect on their love of the program
Nancy Feldman ushered the Boston University women's soccer program into existence, and now, into its 25th season. She built the program from scratch, leading the Terriers to 14 NCAA Tournament appearances and counting.
It's because of Feldman that a large turnout of alumnae is expected at the Terriers' Patriot League opener Saturday, against American University on Nickerson Field, when the program will celebrate its 25th anniversary.

"The pride starts with her, because she's a legend in the sports community, especially in the soccer community, and has been a pillar for women in the game," says program alum Rachel Blauner (COM'17). "We all know that when we commit to the school, and that gives us the drive to: one, give it our all for the time we have there, and two, choose to stay connected with the team after we leave, because it's like a family she created before we were even born."

Feldman started with the BU program in 1995, as it transitioned from club to varsity level. Since then, she's won 11 conference Coach of the Year awards, the 2018 United Soccer Coaches Long-Term Service Award, and the 2019 United Soccer Coaches WAGS Women's Soccer Award of Excellence. The city of Boston proclaimed December 11, 2018, Coach Nancy Feldman Day.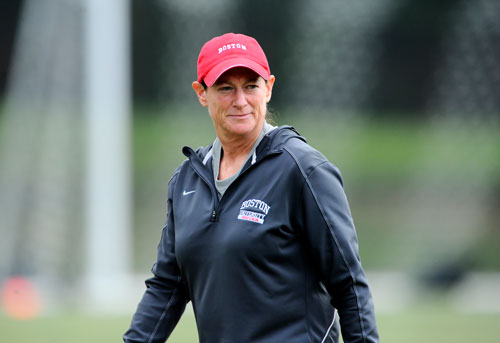 BU women's soccer teams and players have been consistently successful over the 25 years of the program's existence. The Terriers have produced 125 All-Conference selections, 25 All-Rookie Teamers, 8 Defenders of the Year, 7 Midfielders of the Year, 6 Offensive Players of the Year, and 4 Goalkeepers of the Year. And 11 alums have played professionally in America or overseas. Last September Feldman and the women's soccer program reached a milestone: 300 wins over their first 24 years.

The Terriers went to the NCAA Tournament for seven straight years, from 2005 to 2011. The teams won five NCAA Tournament games, the last in 2015, with a 2-1 overtime win over St. John's in the first round.

"What drives every year is trying to be better, trying to build a better team than the last," says Blauner, a two-time All-Patriot League Second Team honoree, who now works as an event coordinator at Fenway Sports Management. "Yes, that does set the expectation really high if you're coming off a year where, my senior year, you win the tournament, play St. John's and upset St. John's, and go to the second round. You have that feeling and the next year you want to have that feeling again. It's kind of like an addictive feeling. "

For some players, graduating doesn't mean the end of their relationship with the soccer program. A handful have come back to join Feldman's coaching staff.

Emma Clark (COM'14) played for Feldman and was a BU assistant coach for three seasons. Now an assistant coach at Seton Hall, Clark says her experience as both a player and coach was similar: she grew under Feldman.

"I had such a great experience as a student-athlete at BU that I wanted to be a part of every single student-athlete who walks through that door having the same experience that I did," Clark says. "Being able to have that influence on them while being a coach there was something that was really important to me."

Christen Davis (COM'99), a member of the program's first four-year senior class, also coached under Feldman, for one year. "I think it's a unique situation to have the same coach there from the day the program started," Davis says. "I think she's an amazing person, and she recruits talented soccer players and really good people who want to work hard."

For Feldman, the joy is in watching a team that she built come together over the course of a season.

"Sweating together, celebrating together, crying together, and getting through life together while you're a student-athlete here, I think those are bonds," Feldman says. "There's nothing else like it in any relationship that you have. I think those years are so darn special, and you grow and learn so much about yourself."

But it's not just the on-field success that keeps players both past and present dedicated to the team. Feldman organizes alumnae events, too.

"I don't know if a lot of head coaches have a big role in their alumnae network, and she puts in so much time to it," Blauner says. "It's nice. Getting an email from her talking about alumnae stuff rather than just someone from the athletics department means a lot to us and definitely makes us want to keep coming back."

Getting former Terriers back together and introducing program members from one generation to another is one of the benefits of Feldman's commitment. "I think they are relationships that are true, and they are relationships that are forever," she says. "If I believe that, I want to encourage it while they're here, but also when they're gone. However I can continue to support the network of connections, I feel like that is a part of my joy in being the leader of this program.

"Why leave behind those strong relationships? Because those friendships should last forever. It's a bond that you have with people that, really, I like to say would never be broken."

Now as a coach with another program, Clark has learned even more about the high regard Feldman is held in within the greater soccer community. "She has so much respect across the country," she says, "and that's a credit to her. She's put her whole self and heart into everything that she does."

For current players, such as Shannon Keefe (COM'20), the tight-woven cloth of BU women's soccer players from all classes reaffirms and cements the decision of her and her teammates to bring their talents to Boston University.

"Coach recruits a specific type of person, and it's going to be someone who is committed," Keefe says. "It's really cool to see—you don't realize it as a freshman and you kind of take it for granted, but as a senior, it's something you get to experience and get to be a part of."

Davis puts it another way: "I graduated a long time ago, but my best friends are still the people who were my teammates at BU."

Feldman concedes that challenging her players is not always super comfortable. Losing can be tough, but her goal is to have the players love their experience. For the coach, a quarter-century into her BU tenure, it's all about fostering a challenging and supportive environment.

"It's some of the best times of your life," Feldman says. "It's a gift. I want them to enjoy that gift."
The BU women's soccer team opens Patriot League play against American University on Saturday, September 21, at 1 pm, at Nickerson Field. As part of BU Alumni Weekend, all alumnae and staff from the program's 25-year history will be honored at halftime, with special recognition of the 2000 America East championship team, BU's first conference championship squad. Admission is free.