University Terrorism Expert Joins Research into Extremist Violence
Jessica Stern helping NATO, Homeland Security ponder prevention programs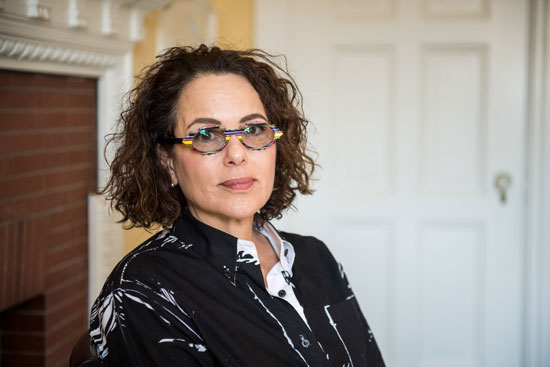 Jessica Stern's good news: amid the headlines about terrorism, there are more than 1,000 programs globally aimed at countering violent extremism (CVE, in experts' lingo). Her bad news: "These programs are being conducted all over the world without any evidence that they work."
A terrorism specialist and BU Pardee School of Global Studies research professor, Stern points to an analysis by the RAND Corporation that found only one CVE program that was evaluated by the gold standard of a randomized, controlled trial. Most assessments have been done by the groups running the programs, which, she says politely, "sets up troubling incentives." (Read: conflict of interest.) NATO and the American government have asked Stern to help fill in this knowledge gap.
She is a consultant to Harvard University colleagues on a two-year, $1 million grant, jointly paid for by NATO and the US Department of Homeland Security, to study CVE programs run by municipalities and NGOs in Macedonia, Sweden, Canada, and Colorado. The main goal will be to teach CVE operators how to collect information and evaluate their own programs accurately; Stern is already helping draft a questionnaire for CVE providers in Macedonia.
The researchers themselves won't be able to render a definitive thumbs up or thumbs down on programs during the study's brief life, she says: "How many years do we have to wait before we're persuaded that [extremists have been] deradicalized? How do we know it's not what their mother told them, as opposed to the [CVE] intervention?"
The lone terrorism expert with the study—her fellow researchers, led by senior scientist Elena Savoia, are from Harvard's T. H. Chan School of Public Health—Stern says the dual-discipline approach reflects her colleagues' expertise in evaluating violence reduction and public health improvements, since "CVE is now often thought of as a public health intervention."
The CVE programs they'll study operate in different settings. Some work with prisoners to wean them from their mayhem-triggering beliefs; other times, municipalities have teams of law enforcement, social work, and other experts who meet with people involved with hate groups before they've committed a crime, seeking the roots of their hate and ways to pry them from the group.
Stern first encountered such deradicalization programs after the 2005 murder of Dutch filmmaker Theo van Gogh by an Islamist. The city of Rotterdam asked her to help design a citizenship program that would encompass immigrants and children who might be wooed to jihad. She followed that with studying other countries' programs, including a prison deradicalization initiative in Saudi Arabia for convicted terrorists.
Her experiences led to her writing "Mind Over Martyr," a Foreign Affairs magazine article in which she argues that rehabilitating terrorists requires understanding of what drives them to commit heinous acts. The Saudi program administrators told her that religious terrorists often had scant understanding of Islam's teachings, and that their program used clerics who taught prisoners not to read texts selectively and that only "legitimate rulers of Islamic states" could declare jihad, not the likes of Osama bin Laden.
"Governments' arsenals against terrorism," Stern's article concludes, "must include tools to strengthen the resilience of vulnerable populations."
Working with war-traumatized Somali refugees in the United States further reinforced that conviction. With ISIS and the Somali terror group Al-Shabaab recruiting youths, Somali mothers sadly told her that "somebody's stealing their children.…They're cannon fodder in somebody else's war," with online pitches she describes as "a five-star jihad—this is the real Disney."
"The idea is that rather than responding to terrorist groups that already exist, you try to prevent people from joining," Stern says.
Per the US government's definition of CVE, NATO and Homeland Security have asked Stern and the Harvard team to study "ideologically based extremist violence," which means the programs she'll probe aren't geared toward violence like the school shootings plaguing America or the 2017 Las Vegas mass shooter, whose motive hasn't been determined. Still, Stern says, the findings might have broader applicability beyond jihad, possibly helping CVE operators to evaluate efforts at deradicalizing such hate-based ideologues as the racist Dylan Roof, who murdered nine African-American churchgoers in 2015.
It's worth remembering, she says, that jihadi terrorism afflicts Europe more than the United States. She points to an Anti-Defamation League review of ideologically motivated murders in the United States last year.
The ADL found at least 50 such killings. The murderers in 49 of them weren't jihadists. They were right-wing extremists.