Sights, Sounds, Sadness from Terriers in Paris as Notre Dame Burned
A week later, reflections from BU community who watched as fire ravaged historic cathedral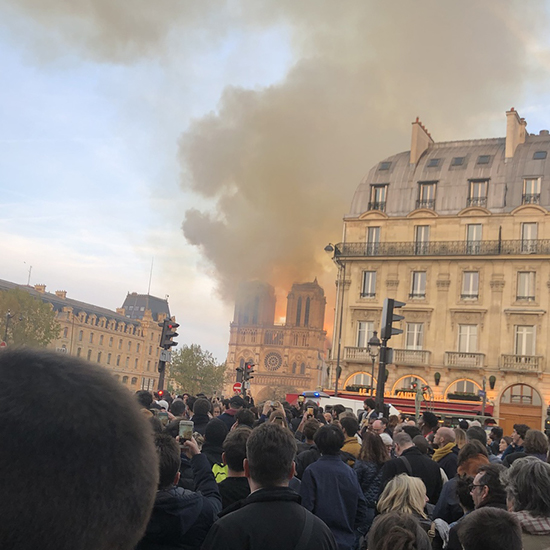 As flames ripped through the Cathedral of Notre Dame one week ago today, a small cadre of students, faculty, and staff from Boston University were among those standing, staring, and mourning in Paris. In the hours and days after the fire had been extinguished, the world grieved over the near destruction of a church whose construction began in 1163, was completed in 1345, and became one of the most iconic, and visited, structures in France's capital city.
BU Today reached out to the BU community in Paris for their reactions to what they heard, saw, and felt watching Parisians weep as their beloved medieval structure was being consumed by smoke and fire.
---
Early this evening, I rushed to the banks of the Seine to pay my respects to the old Cathedral for what I feared could be the last time. The crowd around me sang hymns, their collective spirit overpowering the drone of police sirens. And I could do nothing but watch powerlessly, watch as flames engulfed the rooftop, watch as the spire came crashing to the ground, and watch as glass melted into unrecognizable shards.
Fire and smoke are unfortunately not uncommon today on the streets of Paris, at least not on Saturdays when the Gilets Jaunes protests bring the city to a halt. Perhaps the damage to an icon of Parisian cultural heritage can rally together a city struggling through deep-set division.
—Junior Alex Lo (CAS)
---
My friend and I were getting back to Paris from a day trip when another friend texted me "notre dame is burning." Instead of taking the metro to meet some people for dinner, we went straight to the Saint-Michel–Notre-Dame stop, luckily before they closed it. We exited the metro to a hoard of people trying to catch a glimpse of the cathedral, with police shouting for everyone to get on the sidewalk. It was chaotic, especially once the green smoke billowing over our heads began to drop huge pieces of ash. We ran for cover, and ended up on the other side of the street, where we stood for the next few hours among a crowd of tourists and Parisians, watching Notre Dame burn as the sky grew dark. Eventually reporters began to show up. When they asked other French people for comments, they were chided for working instead of mourning in the face of this epic tragedy for their heritage.
It was horrifying to watch a monument I have admired so many times ablaze, as we all held our breath for one of the towers to fall or for the whole thing to go up in flames. I was grateful to have been inside back in January, with my architecture class. I knew that I was witnessing something historic, important, and devastating, but the most powerful part was singing with those around me, who chanted "Ave Maria" in French for three hours straight in prayer for the cathedral and its memory.
—Junior Rachel Kubrick (CAS)
I live an hour south of Paris and was home when I heard the news and closely followed the news well into the night, as did many of my students.
It is a common worldwide loss and we all mourn together. We all woke up this morning with the feeling we'd been hit by a truck. It's a dreary, cold, and rainy day, so the silence and sadness continue throughout the city. The tourists seem orphaned. Going through the RER C commuter train stop at Saint-Michel–Notre-Dame was eerie this morning, as it is closed, but the train still moved through.
Peeking through the holes in the tunnel, I could still see the roofless structure, naked in the morning, after having been ravaged by flames just five hours earlier. Every Tuesday and Thursday, my husband and I get off at this stop and climb the stairs from the underground commuter train to be greeted by her imposing structure. Always there, always faithful.
It took so long to build, so quick to destroy, and it will be so long to rebuild.
With a heavy heart…
—Renée Pontbriand, director, Study Abroad Paris, Boston University Global Programs
---
"I was sitting by a window in class (I attend Sciences Po, which is not far from the cathedral) and started smelling fire around 6:30 pm, but didn't think anything of it until I went outside at around 7:15 pm and saw smoke in the sky (though at that point I still didn't know what was on fire). I know some BU Paris students were at the vigil near the cathedral during the evening. I personally don't have much to say except that it's incredibly tragic and the whole city is mourning the history lost last night."
—Laurel Rush, graduate student assistant, Study Abroad Paris, Boston University Global Programs
I also watched Notre Dame burn. I am half French on my father's side (with a name like Yvette how could I not be!) and grew up making frequent trips to France to see family, stopping in Paris on the way. Notre Dame has been present in a very real way my whole life, so suffice it to say that seeing it burn was truly heartbreaking. I came as soon as I heard what was happening: 850 years of history were burning and I felt that I needed to stand witness.
I was not free from work until about an hour after the fire had started and after a brief stop at my dorm to ditch a heavy bag, I rushed to the Île de la Cité. I was on the phone with my father on the train when the spire fell, and I knew then that I had made the right choice to go. At this point no one knew how extensive the fire was or how much of Notre Dame would be left standing. I rode as far as I could on the metro, but trains in both directions were not stopping on the Île, which had been completely evacuated. I made my way to the Rue du Haut Pavé on the south bank of the Seine and squeezed between strangers, slowly moving forward as tourists lost interest and left.
By the time I reached the front of the crowd it was nearly 9 o'clock and the flames were still raging, a bright orange glow emanating from the windows as jets of water arced their way over the walls. By this point I heard mostly French, with a sprinkle of other languages from the crowd around me.
It was at about 10 pm that the crowd started to sing and to pray. The singing started with a faint melody of "Ave Maria" drifting from the back of the crowd, growing in strength as it moved forward, but it was the repeated chanting of a Catholic hymn, "Couronnée d'étoiles" ["Crowned with Stars"], that brought tears to my eyes. The lyrics of the chorus, roughly translated, are:
We salute you,
O you, our Lady [Notre Dame]
Holy Virgin that the sun drapes
Crowned with stars, the moon is under your feet
In you is given to us
The Dawn of Salvation
Though I myself am not religious, and the song is referring to Mary as "our lady" and not the church, hearing hundreds of French people singing in the name of Notre Dame was incredibly powerful. The crowd then started praying, repeating the Lord's Prayer over and over, lines that I had often heard in English, but never in French. The crowd repeated the prayer continuously for nearly 20 minutes before the singing started up again.
I stayed until just past 11 o'clock, when the flames were no longer visible on the south side of the Cathedral. Though I wanted to stay until all the traces of orange were extinguished, I realized that in my attention to the church, my phone was dead and I had no way of getting back to the metro nearly a half mile away without a GPS. I thought it best to attempt to make my way back sooner rather than later. I made my way out of the crowd, following a kind stranger next to me who offered to walk me to the nearest open metro station.
I arrived home at past midnight exhausted, touched, and incredibly grateful that I had made the decision to watch the Cathedral in person, surrounded by the Parisian community, rather than being glued to a screen in my room.
—Junior Yvette Sei, a Brandeis University student studying with Study Abroad Paris, Boston University Global Programs
---
I was at Notre Dame the afternoon of the devastating fire. Walking to dinner that evening a strange greenish cloud hovered over the city, which only later did I learn came from the burning Notre Dame. Another diner at the restaurant shared live footage of the catastrophe on her smartphone, to the shock of patrons and staff alike. As an historian of early modern European art, the Louvre and other Parisian art collections are my usual destinations. I last visited medieval Notre Dame as a student some 30 years ago, attending a midnight mass whose somber magnificence left a deep impression. Although I am not a Christian or a believer, like millions of others I experienced and still perceive the church not only as a house of worship but as a symbol of Paris' unique identity and of European civilization. For 850 years Notre Dame has stood proudly on the Île de la Cité, the oldest part of Paris, enduring desacralization and looting during the Revolution, escaping the fury of desperate communards in 1871 and total annihilation in 1944, when a Nazi general defied Hitler's command to reduce Paris to ruins.
It was heartbreaking to watch real-time footage of the awful flames engulfing Notre Dame as smoke billowed out over the city, and literally sickening to watch its roof and spire collapse. That night I walked along the Seine toward the burning church with throngs of Parisians and tourists, everyone in search of solidarity and compelled to bear witness. Roadblocks stopped us from getting close. By then flames no longer pierced the dark night sky, normally illuminated by Notre Dame's distinctive twin towers. Most of us were speechless, though some broke out into spontaneous hymns of prayer. It felt as if Notre Dame's survival for nearly a millennium was destined to be merely a poignant reminder of the ultimate fragility of life and civilization itself. At the same time, though, I was mindful that unlike recent terror attacks in Paris, not a single life had been lost in this tragedy. As news outlets reported that the church's artistic treasures and relics had been saved, that the fire was prevented from ravaging the façade, and eventually that the building's structural integrity had been preserved, my frame of mind become less pessimistic.
I was buoyed when President Emmanuel Macron pledged that night to rebuild Notre Dame, and by the donations that immediately followed with unprecedented speed and scale. Unlike a painting, a damaged building can be restored and rebuilt; while never be quite the same, it can be made more resilient with modern, fire-resistant materials. Notre Dame will be rebuilt, then, just as had Europe's churches and monuments reduced to rubble by World War II bombing. Its roof and elegant apse encircled by flying buttresses will once again define Paris's distinctive skyline. Notre Dame's rebirth from tragedy will serve as a symbol of the city's unique identity, its enduring beauty and charms. However frail that identity may seem in light of recent political and social crises, the rebuilding will be a potent reminder of the value of cultural patrimony, of history, and of civilization for an age intensely preoccupied with the promise of disruption and presentism.
—Michael Zell, College of Arts & Sciences associate professor of history of art and architecture