Come and Meet Those Tapping Feet
Student tap dancing club BU on Tap hosts spring showcase Sunday
When you think of tap dancing, it likely conjures up images of 1930s black-and-white films like 42nd Street and Gold Diggers of 1933, featuring rows of chorus girls in elaborately choreographed dance numbers.
But for members of BU on Tap, the campus' only tap dancing club, tap is a way to express themselves in innovative, intricate ways. For senior Matthew Hinshaw (ENG), tap dancing is all about the sound (tap shoes have metal on the ball and the heel of the foot). "The sounds can tell more of a story than just movement by itself," says Hinshaw, BU on Tap president. "I like my tap to be very precise—it makes sense, I'm an engineering student—and the tap shoe allows you to be very specific about how you're communicating."
Most of the dance troupe's current 13 members have been tap dancing since they were very young. "I was basically born into tap shoes," says junior Kaylee Maher (CAS).
Rehearsals can be grueling. Tap requires athleticism, grace, and coordination, with the shoes being the instrument. The group rehearses two to three times a week, each session between two and five hours. The dancers split their time between the GSU Alley and the BU Academy Dance Studio, which both have the excellent acoustics needed for tap.
The club draws students from across the University. "We have engineering majors, we have theater, we have opera. I'm anthropology," says senior Valeria Menendez (CAS), the group's vice president.
"We let people into the club based solely on their tap ability," Hinshaw says, "but somehow we ended up with this incredible, wonderful, caring group of people. It's like having a family of 13 people."
Watching BU on Tap perform is mesmerizing. This Sunday, at the FitRec Dance Theater, you'll have a chance to see for yourself at Mass Rhythms 2019, the group's annual spring performance. It will include dances choreographed by club members, as well as a special piece by guest choreographer Shaina Schwartz, a FitRec instructor and founder and artistic director of Touché Taps.
Dance numbers are set to music ranging from flamenco to doo-wop and the Beatles to modern pop. Each in a medley of Abba hits has been choreographed by a different BU on Tap member. There will also be performances by local college tap teams, including from Boston College, Wellesley, Harvard, and Brandeis. Touché Taps and the BU Ballroom Dance Club will also perform.
"You're listening to the sounds, you're feeling the sounds, you're seeing the people moving," says Hinshaw. "It's amazing and it's really meaningful to feel a part of that."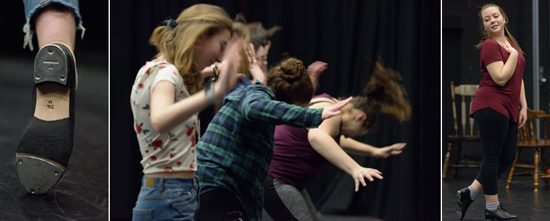 BU on Tap's Mass Rhythms 2019 is Sunday, April 14, from 4 to 6 pm, at the Fitrec Dance Theater, 915 Comm Ave. Tickets are $6 and can be purchased in advance through Eventbrite or at the door for $8.
Devin Hahn can be reached at dhahn@bu.edu. Jason Kimball can be reached at jk16@bu.edu.