Could You Average 57,000 Steps a Day?
BU Today writer reveals the identity of the mysterious Jose behind BU's 2019 Walking Challenge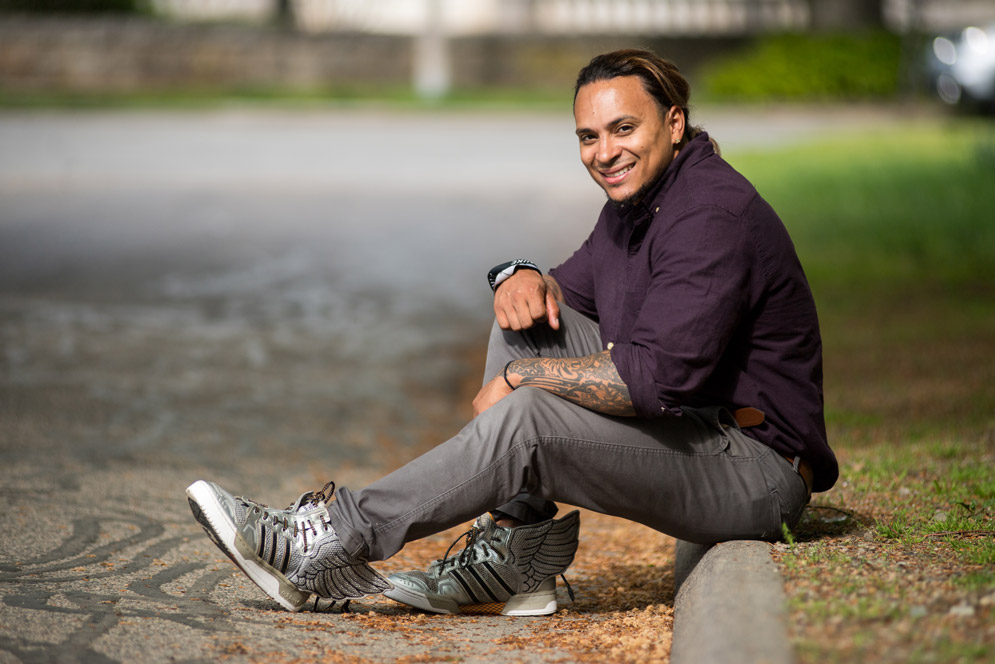 You asked. We have answers.
If you were among the 2,008 employees who took part in BU Employee Wellness' just-ended 6-week 2019 Fitbit® Walking Challenge, chances are you were wondering about the identity of the one name that kept appearing at the top of the leaderboard throughout the competition. We're talking about Jose, the mysterious walker who, by the time the competition had ended on May 20, had racked up an astonishing 2,424,470 steps (that's an average of 57,000 steps a day) and managed to remain number one for the duration of the challenge. Who is he and how did he do it?
First, for some perspective on Jose's step count, here are a few stats:
The challenge goal was to achieve at least 294,000 steps by the end of the six weeks
Jose had 148,718 more steps than the second-place individual, a walker named Sherman, whose step count was a nearly equally impressive 2,275,752 steps
Last year's first-place stepper logged a total of 1,749,272 steps
BU Today started fielding inquiries from Walking Challenge participants wanting to know more about Jose. As it turns out, we happened to be members of Jose's team, the Walk and Talks Round 2, a group of Marketing & Communications employees whose average step count put us in third place (we will neither confirm nor deny whether we had a part in our third-place finish). This year's noble first- and second-place teams were BUPTC-Chafing the Dream, comprised of staff from the Ryan Center for Sports Medicine and Rehabilitation, and Cirque du Sore Legs, which featured staff from Agganis Arena.
From day one, Jose baffled even his teammates as he began amassing his impressive record. We asked for insider secrets, but quickly discovered that any attempt to keep up with him was futile.
Drumroll please. We are about to reveal Jose's identity and how he accomplished his impressive feat (no pun intended).
Name: Jose Guadarrama-Lopez
Title: Desktop Services Specialist II, Information Services & Technology (IS&T)
BU Today: The question everyone has—how did you get so many steps?
Jose: First, I had to change a few things about my exercise routine. I took the "scenic" route to get to and from work to add another 2 miles to my commute—I bike 20 miles a day to and from work, and I was riding on lower gears on my bike, to increase the revolutions applied to the Fitbit on my ankle, even though it forced me to pedal much harder. I had to cut down on my weight-lifting and hit the treadmill during my two-hour gym sessions a lot more. I even had to increase my calorie intake. I was just burning so much energy, which was awesome because I absolutely love to eat. It is probably 80% why I work out, just so I can eat junk food.
How did you manage to get in steps during the workday?
As the desktop services specialist for Marketing & Communications, I do my fair share of walking to do my job. I did go out of my way to physically resolve issues, rather than resolve them remotely. My lunch breaks would consist of jogging in place at my desk or a walk around the office building. If I found myself at my desk, I'd either jog in place for a bit or bounce like a boxer.
What was your daily step goal and how did you stay on track?
This was my first time using a Fitbit and participating in a challenge like this, so I wasn't sure at first what would be a realistic daily goal for me. I managed to average about 57,000 steps per day, but I feel like I could have done much better. There were weekends that my legs were on fire and I got burnt out a bit, plus a weeklong vacation to Dubai didn't help much. I think next time around, I would try to average around 70,000 steps per day.
With this competition, I slept only six hours a night, and made sure I was active 18 hours a day. So I had a mini-goal each hour of the day, with 18 alarms on my cell phone reminding me of how many steps I should have taken for that hour. If I was falling behind, I'd just do some high knees and running-in-place workouts while at my desk.*
*Writer's note: This is about the time the team realized any effort to come close to Jose's record would prove impossible.
How did you fight through the pain?
There's this hypothesis suggesting that humans evolved to run long distances and that we would drive our prey to the point of exhaustion. So a part of me believes it's thousands of years of evolution that helped me, another part of me just really wanted to at least win a free breakfast [which second and third place win]…. I love breakfast.
Was this strict regimen hard on your family? How did they react?
I've always been an active person, so this wasn't exactly a huge change of pace for my family. I think my two kids had the biggest reaction to me being in the challenge. Over the six weeks, I was running around the house with them nonstop. I would take them to a trampoline house and bounce around for a few hours—I almost learned how to do a backflip because of this challenge.
Would you do the challenge again?
I would definitely love to do this again next year—the only thing I would change would be my pacing.
What was your proudest accomplishment in the challenge?
I was proud to make it to two million steps. I think only one other person hit the two-million mark with me, if I'm not mistaken—high five to Sherman if you're reading this.