A Taste of India Comes to BU: Dining Services Trains with Culinary Institute of America Chef to Learn How to Prepare Authentic Dishes
Dining Services
A Taste of India
BU Dining Services chefs  learn how to prepare Indian dishes from a master
BU Dining Services is always on the lookout for more diverse and exciting food options to bring to campus. So over the course of three days last month, Marciano Commons was filled with intoxicating aromas as Dining Services chefs learned how to prepare Indian cuisine from a visiting chef from the highly regarded Culinary Institute of America (CIA) in Hyde Park, N.Y.
Each day, the BU chefs divided into four different teams as they learned to cook five-item menus that included dishes like chicken vindaloo, lamb rogan josh, and dum biryani. From their stations, the scent of sauteed onions mingled with ginger, garlic, and chili paste and the yeasty aroma of naan wafted from a tandoor oven.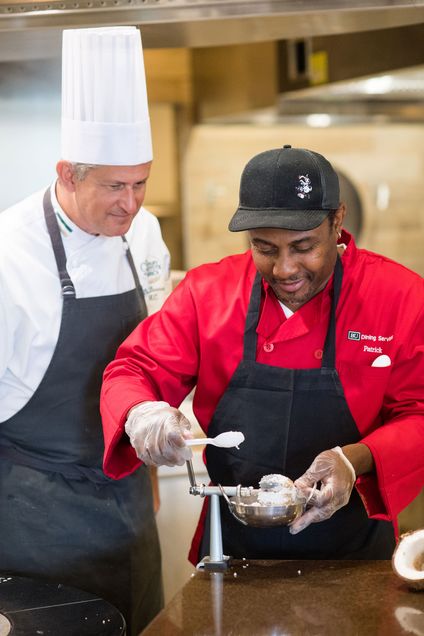 The intensive training was led by Brad Barnes, director of the CIA consulting and industry programs, and one of only 67 Certified Master Chefs in the country. Mornings began with a lecture at 8:30 on ingredients, flavors, and cooking methods, followed by demonstrations and cooking, and capped off with another lecture in the afternoon.
"We're lucky to have him here. It's a pretty special thing," says Christopher Bee, campus culinary director, who organized the training.

Barnes, who had recently returned from a trip to India, brought a native of Mumbai, CIA student Nimisha Chouhan, as an assistant. When the Dining Services chef teams started cooking each day, a symphony of spices being grinded, pans clanging, and food sizzling swelled in the dining hall. Chefs carefully rolled and pressed dough for paratha, made coconut chutney with freshly ground coconuts, and sautéed lamb in ghee for the rice dish dum biryani. Barnes and Chouhan made the rounds, pointing out tips, tricks, and methods for the dishes the chefs were tasked with creating.

On day two, one team watched as Barnes demonstrated how to make and proof dough for naan, then showed them how to bake it in one of the two Marciano Commons tandoor ovens. In the other oven, the same team made juicy and flavorful tandoori chicken, marinated in a yogurt sauce, brightened by the addition of fresh ginger and garlic and spices like garam masala, fenugreek, and coriander. These recipes required more than 30 different spices and spice mixes. The result? Warm, flavorful dishes that pack more of a kick than your standard dining hall fare.
Chouhan walked another team through the steps of making a perfect samosa filling and dough. She helped the chefs create a mixture of potatoes, peas, cilantro leaves, and spices and form them into uniformly sized balls for the filling. Then she demonstrated how to make the cumin seed–flecked dough, roll it out, and shape it into cone-like structures she filled with the potato mixture before sealing them. After she made a few, her students stepped in and fried up dozens.

By the time the three-day course ended, the BU chefs had made 17 menu items, including fish pulimunchi, a curry dish with mackerel; payasam, a rice pudding flavored with cardamom; and vegetable kolhapuri, vegetables in a curried gravy-like sauce. Not all the dishes Barnes and Chouhan taught will make it into the dining halls' rotation—the ones making the cut are still being determined—but many will start to appear later this month.

This semester, 934 students from India are enrolled at BU. The increasing number of students attending the University from there and surrounding countries was only one impetus for Dining Services to arrange the training. "Indian cuisine is something we've had students ask for more of on the menus for a while," says Dining Services marketing director Scott Rosario. A side benefit, he says, is that India's regional cuisines offer a lot of interesting vegetarian options, too. "We also want to make sure that we can make some dishes we have on our menu already more authentic, in addition to learning some new recipes that will be hits."
The CIA Indian cuisine training comes after a successful Asian cuisine training in 2014. Dining Services hopes to hold others in the future. "This is not only great for the students, it's a great learning opportunity for our chefs," Bee says.