When Does a Car Commuter Make the Leap to Become an MBTA Rider?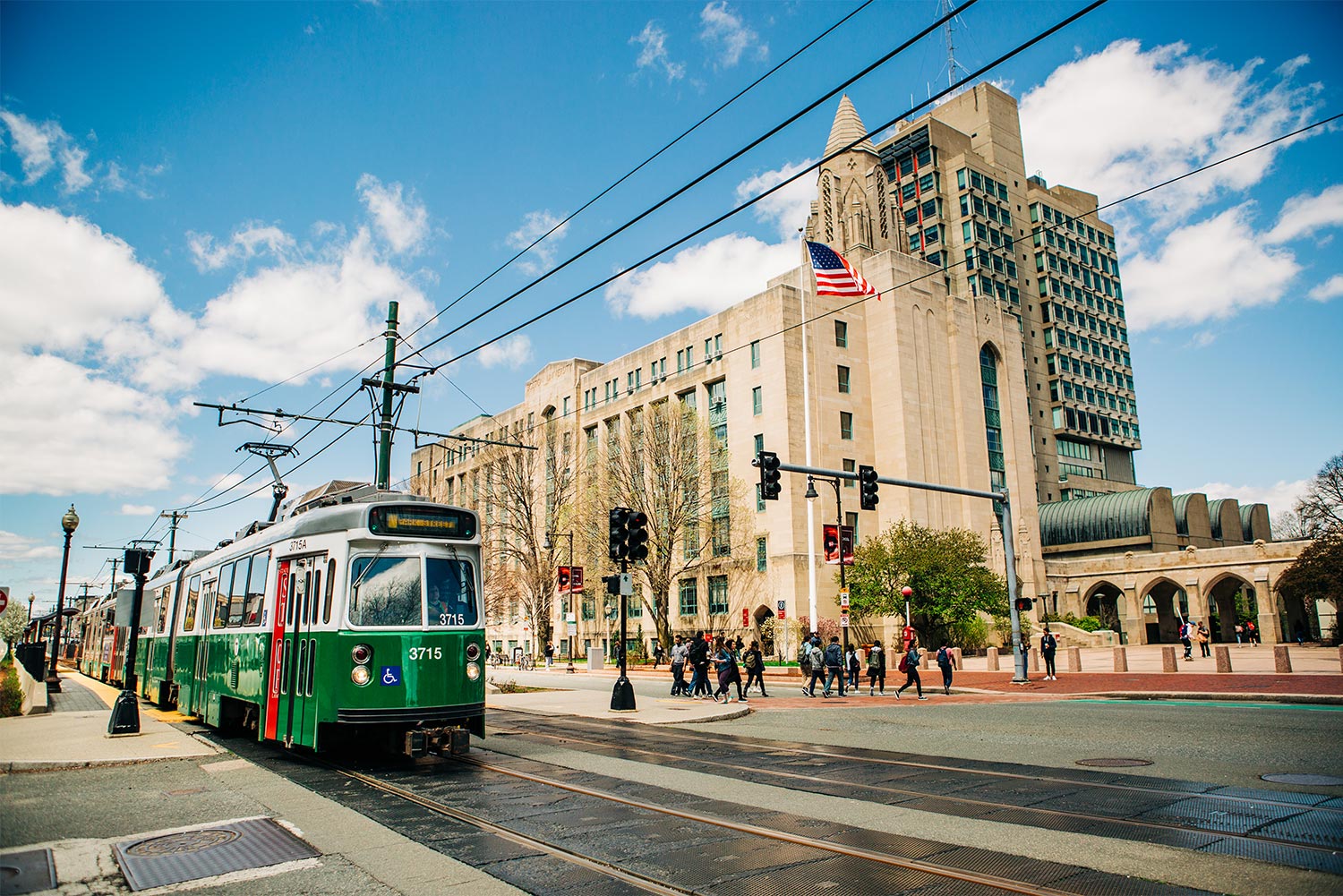 Transportation
What Will It Take for BU Commuters to Leave Their Cars for the MBTA?
University boosts T pass subsidies to cover half the cost, raises parking fees, all part of broader strategy to build a greener BU
You listen to podcasts and audiobooks and use Waze to try shortcutting traffic, but it doesn't change the painful reality: commuting to work in Boston by car is maddening. Construction delays, gridlock for no apparent reason, and roadway congestion all make travel time impossible to calculate reliably.
And while switching to public transit is tempting, train derailments, track fires, fare increases, and frustrating schedules don't exactly make it easy.

At what point does a commuter surrender and become an MBTA rider (one who perhaps mixes in the occasional bike ride, scooter trip, or healthy walk)?
BU, determined to reduce its carbon footprint, is looking for that magic formula in an effort to encourage drivers, especially those who live within three miles of campus, to leave their cars and use environmentally friendly transportation options. In August, the University increased its subsidies to MBTA riders, paying half the monthly cost of passes for faculty and staff, as well as half the total cost of transit station parking for railway commuters. So a commuter's $200 monthly pass and $100 parking costs, for example, might cost them only $150 total.

Campus parking rates will also increase to deter commuting by car, all part of a broader effort to cope with shrinking parking on campus and to encourage green transportation alternatives, says Gary Nicksa, BU's senior vice president of operations. With a B Line trolley running through the heart of the Charles River Campus, BU is a natural living-learning laboratory for an effort to get commuters thinking about their habits and climate change.
"One of our objectives here is to reduce our carbon footprint," Nicksa says. "As a region and an institution, we haven't tipped the scales yet. It's just not compelling enough yet to get people to leave their car in the suburbs and get here using public transportation. There was a need for us to develop a program, to balance the scales and give people a viable option."
If ever there was a time to encourage transportation alternatives to cars, it's now, when chronically clogged roadways have pushed many Boston drivers to their tipping point. A recent report by the Massachusetts Department of Transportation found that traffic has gone from bad to worse in recent years thanks to the region's booming economy and low unemployment. Some highway stretches are heavily congested as early as 5 am (like I-93 north at the Braintree split), and the "evening" rush hour now starts closer to 3 pm.
---

It's just not compelling enough yet to get people to leave their car in the suburbs and get here using public transportation. There was a need for us to develop a program, to balance the scales and give people a viable option.

---
Logjammed traffic stresses out drivers and the environment. The average passenger vehicle emits 404 grams of carbon dioxide per mile, or 4.6 metric tons a year. Crowded roads diminish air quality and contribute to atmospheric warming. BU sustainability director Lisa Tornatore (CAS'02) says carbon dioxide emissions from transportation, including car and air travel, make up about a quarter of the University's total emissions, according to BU's Climate Action Plan, which has set a goal of reducing BU's emissions to zero by the year 2040.
The incentives help, she says.

"From an environmental perspective, we have to incentivize people to make change," Tornatore says. "The behaviors that are very difficult to change are the ones that are ingrained. People have to make a conscious effort, but it also has to be worth their while."
The MBTA is certainly not an enticing panacea, with its long, sometimes erratic trip times, overcrowded cars, and trains that derail. The Baker administration has proposed an $18 billion bond bill to repair the aging system; it is also in the midst of rolling out an $8 billion infrastructure investment plan. The administration is also studying the feasibility of building new high-occupancy toll lanes on state roadways, allowing some commuters to bypass traffic for a fee.
Peter Smokowski, BU vice president for Auxiliary Services, says the University has been rolling out its own transportation vision for nearly a decade in an effort to balance parking needs and campus growth and development. The effort has led to incremental but significant changes over the years, including an expanded shuttle service between BU's campuses, the introduction of the first MBTA pass subsidies in 2016 (a 35 percent BU contribution, recently increased to 50 percent), and the creation of protected bike lanes as well as new financial incentives for bike commuters. The University also offers discounts and other incentives to carpoolers (including a designated parking space) to reduce the number of cars on campus.
Smokowski says BU has lost about 600 parking spaces on the Charles River Campus since 2008, primarily due to construction of the Rajen Kilachand Center for Integrated Life Sciences & Engineering and parking spaces eliminated by the city. Additional parking will be lost when construction begins on BU's Center for Computing & Data Sciences on the Granby Street lot on the corner of Granby Street and Comm Ave.
Nearly 40 percent of all commuters in Boston drive alone to work in a car, according to census data. Smokowski says that if BU can encourage the 400 faculty and staff who drive to BU yet live within a three-mile radius of the University to use public transit or another alternative, it will free up needed space.
"I'm not judging—people have their reasons for driving to work," he says. "But we're trying to use incentive-based programs to make public transportation attractive. And we thought 50 percent would help commuters make the jump."
It's not a problem unique to BU. According to the census, about 21 percent of all US car trips are transporting people a mile or less.
If the hassle of driving in bumper-to-bumper traffic doesn't motivate some car commuters to make a change, maybe increased parking rates will. A green day permit will cost $40 a week or $2,080 a year; evening staff can pay an off-peak green permit rate of $10 a week or $520 a year. The University also offers a discounted carpool day rate for faculty and staff who register for a shared permit at a cost of $20 a week or $1,040 a year.
Smokowski says the parking fees are still generously subsidized by the University and are well below market rates. (The Van Ness Garage in Fenway, for example, charges a daily rate of $36 and a monthly rate of $325, or about $3,900 a year.)
But the parking increases have upset some staff who feel financially penalized for driving to work. Roseann Langlois, Global Programs administrative services manager, says the cost of parking at BU has increased several years in a row, making it increasingly less affordable for employees earning modest salaries.
Taking the T can also be a time-consuming option, particularly for people who have little time to spare, like parents of young children. Langlois has tried taking the train from her home in Burlington to BU, and she says getting from North Station to BU alone takes 45 minutes or longer in T cars crammed with commuters. 
"I respect BU's vision for the future, but I don't think Boston's transportation infrastructure is ready for it," she says.
---

We need to be building for people, not cars. I think BU is doing a smart thing in creating a significant enough difference [in the cost of driving versus taking public transit], so that people will more readily accept other modes.

---
Nathan Phillips, a College of Arts & Sciences professor of earth and environment, says one of the problems for Boston commuters is the fact that every aspect of the transportation system is broken, from clogged highways to delayed and derailed MBTA trains to safe bicycling options.
But Phillips says creating more and cheaper parking on the BU campus would not be a solution—it's "one of the most retrograde uses of precious urban space in the heart of the city," he says.
"We need to be building for people, not cars. I think BU is doing a smart thing in creating a significant enough difference [in the cost of driving versus taking public transit], so that people will more readily accept other modes."
Phillips says one of the state's best kept secrets is the Park & Pedal program that allows commuters to park their car all day for free and cycle to their destination.
BU environmental health doctoral student Matthew Raifman (SPH), a former senior manager at Ford Motor Company's Smart Mobility City Solutions initiative, says the region's transportation problems have helped spur people to think about solutions, from high-occupancy vehicle lanes that charge a fee to the development of autonomous cars. Throw into the mix the steady downward trend in the number of young people getting their driver's license and the transportation landscape will only continue to change.
Raifman, who's researching sustainable transportation related to climate change, supports increased T subsidies, noting that if more people use public transportation, more people will demand system improvements.
"Have the bad parts of commuting gotten so bad that drivers will consider other options?" he asks. "I think we are in a moment."