BU Comedy Improv Troupe Liquid Fun Heads to National Championship
One of 12 college groups competing in Chicago Saturday
For more than 20 years, Liquid Fun has been earning laughs for its inventive—and very funny—long- and short-form improvised comedy. The troupe has gone on to compete—and win—countless competitions, the latest this year's College Improv Tournament Northeastern Regional, snagging the title of funniest college improv group in New England.
This weekend, members head to Chicago to compete in the College Improv Tournament's 12th annual national championship. It's not just a chance to earn national bragging rights, members say, but an opportunity to see what other college improv groups are doing.
"People always say, 'How do you judge comedy?' And that's a valid question. I don't have the answer," says senior Lilah Schneeberger (COM), Liquid Fun president. "But the reason Liquid Fun does these competitions is to get to know other groups who share the same passion. It's so interesting to see how other groups approach improv, and we get inspired by them to try new things."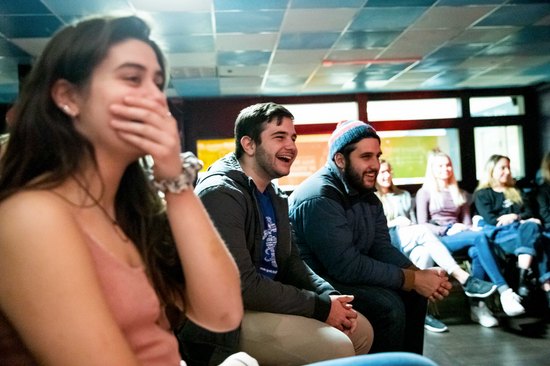 This year, the the College Improv Tournament is partnering with Chicago's Annoyance Theatre and CSz Theater Chicago to bring the 12 regional winners together for the chance to become the newest CIT champion on Saturday, April 6.
Preliminary matches will be held throughout the day at the Annoyance Theater, with the finals championship match scheduled for Saturday evening at CSz Theater Chicago. Liquid Fun will be competing in the preliminary East Super Regional at 1 pm against the Loaf from Shenandoah University and Off Center from the Stevens Institute of Technology. If the BU troupe wins, next is a face-off against the winners from the three other preliminary regionals at 10 pm at the CSz Theater Chicago.
Improv comedy varies between short-form and long-form acts and Liquid Fun, which bills itself as BU's "premier comedy improvisation group," excels at both formats. The troupe gives free monthly performances on campus (titles are announced about two weeks before a performance) and travels almost weekly to regional colleges, theaters, and even bar and bat mitzvahs, where members perform. The group also holds open practices each Sunday night at 7 pm in the College of Arts & Sciences building. All are welcome, even novices. Practices focus on scene work, character-building, and listening games. When Liquid Fun members return from Chicago, they'll be preparing for their next campus gig, The Book of Marmon, on Friday, April 12, at BU Central. Find more details for that event here.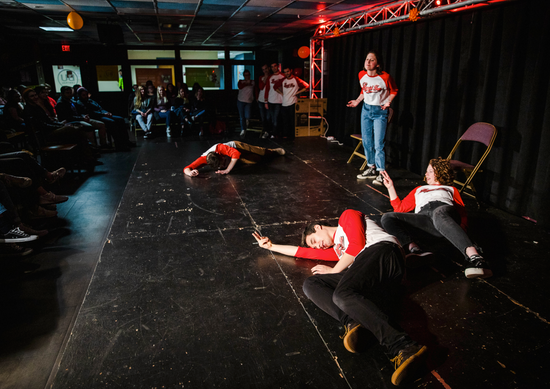 Liquid Fun competes at the College Improv Tournament National Championship Saturday, April 6, 2019, in Chicago, at the Annoyance Theatre, 851 W. Belmont Ave., and the CSz Theater Chicago, 929 W. Belmont Ave. Find a complete schedule here. Tickets for the preliminary round are $15 for students and $20 for adults and are available at the door. Tickets for the finals match are $15 for students and $25 for adults and can be purchased online here.
Liquid Fun Presents: The Book of Marmon, Friday, April 12, at 7 pm, at BU Central, in the George Sherman Union basement, 775 Commonwealth Ave. Admission is free.
Find out how to get involved with Liquid Fun here.
Senior Alex Pena (COM) can be reached at alexgp97@bu.edu.