And a Tony Award Goes to…How Many BU Alums?
A Terrier actor, sound designer, and producer are nominated for theater's top honor Sunday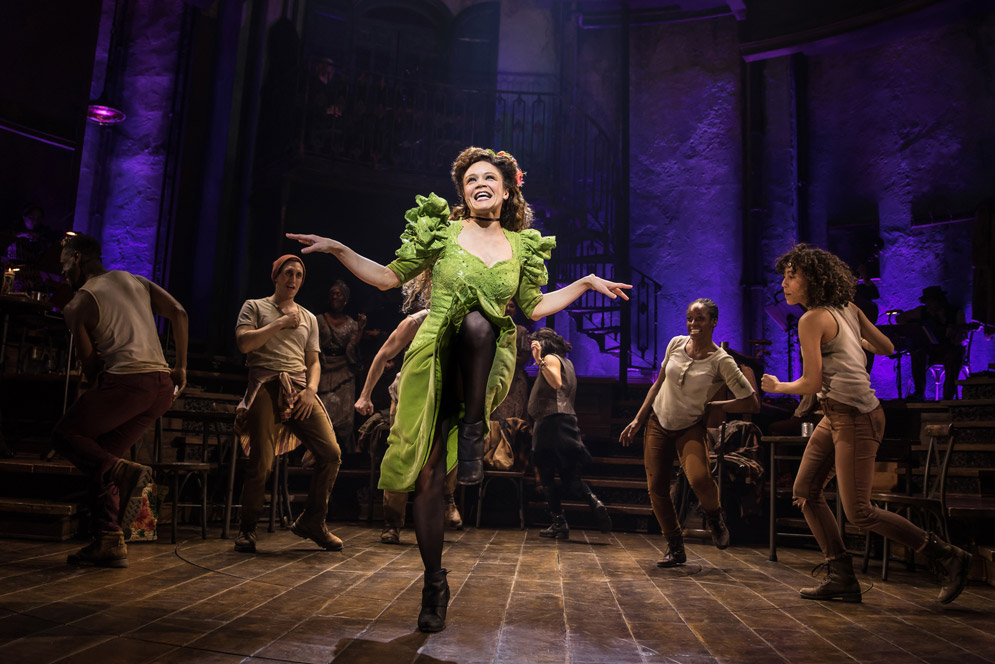 Editor's Note: Lauren Stevens won a Tony Award Sunday night for best play for The Ferryman. Ms. Stevens (CFA'75) served as co-producer of the show.
On Sunday night, New York City's Radio City Music Hall will roll out the red carpet as the American Theatre Wing presents the annual Tony Awards, Broadway's highest honor. Millions of Americans will tune in to see live numbers from this year's Broadway musicals and find out who will take home the prizes for acting, best play, best musical, scenic, costume, and sound design, and more. Among this year's Tony nominees are three BU alums—none of whom have won before.
The actor
Amber Gray grew up an Army brat, moving every two or three years, which was hard for her socially. "Doing the school play was the easiest way to make friends in each new town because theater kids were always very welcoming to all the freaks and geeks, no questions asked," she says. She really fell in love with theater while attending high school in Wayland, Mass., where she had a theater teacher "who believed you gave the weakest link a lead." Gray (CFA'04) was cast as the lead in several shows and upperclassmen stayed after rehearsals to work with her.
Fast-forward two decades. Gray has been nominated for her first Tony, for best featured actress in a musical, for her performance as Persephone in Anaïs Mitchell's Hadestown, a spellbinding folk/jazz-inflected retelling of two of the most famous Greek myths: Eurydice and Orpheus, and Hades and Persephone.
The musical, 13 years in the making, began as a concept album. Gray has been part of the project since 2016 and has participated in six workshops and several productions, including one in Canada and in London, as the show wound its way to Broadway. She was drawn to the project both by the score and the lyrics ("It is some of the most gorgeous and haunting music I have ever heard," she says) and because it offered a chance to team up again with director Rachel Chavkin. Gray had collaborated with Chavkin on her 2016 Broadway debut, Natasha, Pierre, and the Great Comet. Hadestown marks their sixth time working together.
"I am turned on by the type of art she is drawn to," Gray says of the director. "She chooses new works with politics and soul. And as an actor, she knows me so well and can push me to places I don't even know I can go yet."
Gray's mesmerizing performance as Persephone, the wife of Hades, earned some of the season's most impressive reviews. In a New York Times review, critic Jesse Green writes: "Ms. Gray, never better, makes something quite brilliant out of Persephone: a free spirit, a loose cannon, a first-lady co-opted by wealth yet emotionally subversive. When, as part of the curtain call, she sings the score's loveliest number—'I Raise My Cup'—you at last wish the show would slow down so you could live in the glowy moment forever."
Reflecting back on her time as a College of Fine Arts School of Theatre student, Gray says that she was attracted to BU because "it had one of the best BFA acting programs in the country." What she recalls most about those years, she says, are "my fabulous teachers—Paula Langton, Judy Braha, Eve Muson, and Elaine Vaan Hogue."
After graduating, Gray went on to New York University for an MFA. Noted for her versatility, she has played such roles as Lady Plymdale in Oscar Wilde's Lady Windemere's Fan at Williamstown Theatre Festival, Zoe in An Octoroon off-Broadway, a drama that explored America's slave history and present racism, and Laurie in an earlier production of Daniel Fish's revival of Oklahoma! now on Broadway.
Gray, who has already won the Outer Critics Circle Award for her performance in Hadestown, says she'd be "over the moon" to win the Tony Award. "The Tony is one of the highest honors from one's peers, and it's a title that sticks with you for life."
Watch scenes from Hadestown here. Video courtesy of Hadestown
The sound designer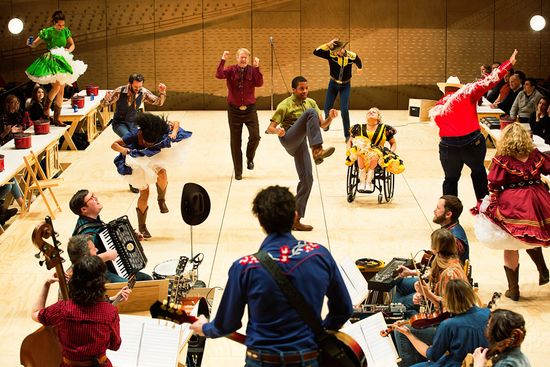 Drew Levy says he became interested in sound design "kind of by accident." He first started working in lighting during junior high, but gravitated toward technical production. During his freshman year of college, he took a sound design class before dropping out. He found himself doing sound work off-Broadway before returning to college at the CFA School of Theatre, where he studied sound design. "I quickly figured out that sound design tickled both sides of my brain: it can be highly creative, but also requires a good deal of technical understanding and engineering."
A veteran of numerous Broadway productions, working as both a sound designer and an associate sound designer (his credits include the musicals Spongebob Square Pants, Waitress, and a recent revival of Pippin and the dramas The Winslow Boy, Lucky Guy, and Cymbeline), Levy (CFA'03,'04) is nominated for his first Tony Award, in the category Best Sound Design of a Musical, for the current Broadway revival of Oklahoma! He landed the job after the show's orchestrator, Dan Kluger, introduced him to director Daniel Fish.
"Daniel was after a very particular sound for the show and Kluger thought I would be a good fit, given my experience," Levy says. Like Hadestown, the Oklahoma! revival has gone through years of workshops and productions. Levy first joined the show in 2015, when it developed into a professional production. He says he was attracted to the project by Fish's concept, "centered around the notion that we are all in this room together—the audience isn't separate," and that "led to the idea that the sound should be imperceptible. The challenge in allowing the entire audience to hear the show while remaining completely invisible," he says, "has always been alluring."
Working on the show was "thrilling, engaging, nerve-wracking, frustrating, and ultimately, fulfilling," Levy says. From the outset, the production "had a very ambitious aesthetic when it came to sound. There is a fair amount of technology that we had to wrangle in order to achieve what we have."
Looking back on his years at BU, Levy credits the School of Theatre with giving him both the tools and the freedom to pursue his craft. "I found BU to be a great place to try and fail in a safe and supportive environment," he says. "That ability to experiment as a budding artist was invaluable." At the time, BU was aligned with Boston's Huntington Theatre Company, and that provided numerous opportunities to meet and work with visiting designers. "That kind of professional experience and the connections I made then are what propelled my career after college," he says.
A previous Drama Desk Award winner, Levy says he was "shocked and a little bewildered" when he learned he'd been nominated for a Tony. "This is a very different type of show from the others that were nominated, so it is gratifying to be recognized," he says.
Has he prepared an acceptance speech ahead of time? He's been putting it off, he says. "Winning feels like such a long shot, though I know that I should at least have a list of people to thank. Just in case."
The producer
Lauren Stevens is a Tony veteran. She has been nominated four times previously as a coproducer: the hit musical Come from Away (2017), Catch Me If You Can (2011), a revival of Ragtime (2010), and the Broadway premiere of Radio Golf (2007), by August Wilson (Hon.'06), her first foray on the Great White Way. Stevens has garnered her fifth nomination this year as a coproducer on The Ferryman, nominated for Best Play.
A sweeping three-hour drama about a rural Irish family set against the Northern Ireland conflict known as the Troubles, The Ferryman has been attracting standing-room only crowds since it opened last fall and has gotten some of the strongest reviews of the 2018-2019 season. Stevens was spellbound when she first saw the show during its London run in 2017, she says, and "knew I had to be involved" when it came to the United States. The chance came when one of her partners on Come from Away put her in touch with a lead producer on The Ferryman.
"It's an Irish story, but that family could be you," Stevens says. "Every family could be this family—our circumstances may be different, but our emotional life is the same… You come out the other side of this shared experience knowing we are all connected and you are not alone."
Stevens fell in love with acting as a child. When she was seven, her family stayed at the famous Brown's Hotel in the Catskills for Christmas and New Year's, and the hotel ran a day camp for kids, where they mounted condensed versions of Broadway musicals. Stevens was cast as the lead in Annie Get Your Gun that year and was hooked. She attended the American Academy of Dramatic Arts in Manhattan as a teenager before entering the CFA School of Theatre. "The knowledge I gained there stays with me to this day," she says of her college experience.
After graduation, Stevens didn't pursue a career in the theater, but became a producer of commercials, then was a partner in a film company. She returned to theater decades later.
"I was intrigued by the Broadway business and had several contacts who encouraged me to get involved by doing," she says. She was associate producer of an off-Broadway production and at the same time was accepted into the Commercial Theater Institute's seminar program. Networking from those opportunities led to her first Broadway coproducing gig, on Radio Golf.
Stevens says that what she loves most about theater is the live experience: "It will never be replaced by any other art form… It brings us together and has the ability to change lives. It is life-affirming and inspiring, something we could all use in today's world climate. To be in a theater, big or small, with live performers—that shared one-time-only, unique experience—will never happen again in the exact same way, and there is nothing like it."
The Ferryman is anticipated to take home the top prize, Best Play, at the Tony Awards Sunday night. Stevens says she can't think of a more perfect production to represent the Tonys: "It deserves the honor."
The 73rd annual Tony Awards will be broadcast Sunday, June 9, on CBS at 8 pm. Find a list of this year's nominees here.