No Restaurant Reservations for BU's Busiest Weekend? No Problem
Seven local eateries where you can show up last minute
It's Commencement weekend and you've got relatives and friends in town to help celebrate the big day. There's only one problem: you forgot to make a dinner reservation. Don't panic. We've got you covered. We've selected seven great dining spots in and around Boston that don't take reservations. While you'll likely have to wait for a table, chances are good you'll find a seat at one of the places below.
Voted Boston magazine's 2017 Best Neighborhood Bar in Allston, Hopewell is more than just a bar. This casual gastropub has become well-known for serving up delicious entrées. From pizza and burgers to oysters and even gnocchi, the restaurant has something to satisfy everyone in your party. If you have to wait for a table, Hopewell has ample entertainment to help you pass the time—pool tables, pinball machines, indoor shuffleboard, and classic video games.
Some must-trys: tuna nachos, with ponzu-marinated tuna, wakame seaweed salad, pickled ginger, sriracha crema, and togarashi-dusted wontons; Hopewell burger, a house-ground patty on a black pepper brioche, topped with smoked bacon, horseradish cheddar, and a sweet red onion jam; shrimp risotto, with sweet corn, peas, heirloom cherry tomatoes, and a secret cheese blend.

*Vegan options available
If you go to Bab, get ready to feast like royalty. This Coolidge Corner spot has an extensive menu, heavy on Korean staples like bibimbap, barbecue, and tofu soup, as well as Chinese-Korean fare like tangsu (crispy pork, beef, or chicken in a sweet and sour sauce), all served in generous portions. Meals are accompanied by traditional side dishes called banchan, and include kimchi, pickled radish, sesame broccoli, and soybean sprouts. And just so you end your meal on a sweet note, waiters bring complimentary glazed fried dough balls with the check.
Some must-trys: jjajang myeon, a Chinese-Korean dish of chewy noodles topped with a rich sauce made with black bean paste, vegetables, and pork; galbi dolsot bibim bab, rice in a sizzling hot stone bowl topped with vegetables, an egg, and short rib; and seafood soondubu jjigae, a spicy soup made with soft tofu and assorted seafood.
3. Prairie Fire
242 Harvard St., Brookline
For a relaxing spot with easy access to campus, head over to Prairie Fire in Coolidge Corner, known for its wood-fired oven and cool cocktails. The eclectic menu features lots of tasty, shareable foods—oysters, salads, pizzas, pastas, and roasted vegetables. You can't go wrong with any of the wood-fired pizzas. The crust has a mild sourdough tang that complements all of the topping options. Linger awhile at one of the laquered wood tables and try one of Prairie Fire's unusual desserts (then you can you say you've tried mushroom ice cream, for instance).
Some must-trys: wood-roasted oysters, with scampi butter, lemon, and breadcrumbs; white pizza, with tuscan kale and smoked mozzarella; squid ink campanelle, with lobster, spicy arrabiata sauce, green onion, and crispy garlic.

*Gluten-free options available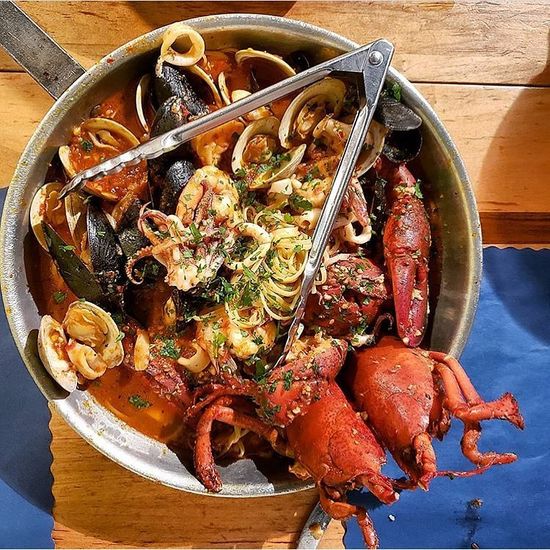 4. The Daily Catch
441 Harvard St., Brookline (another location in the North End)
Step through the curtain-covered doors of this tiny Italian eatery for some of the best seafood in town. Diners can choose from an array of mouthwatering Italian dishes with fish the star ingredient. Linguine dishes are served right in the pan, sauteed with a garlic clam sauce or a flavorful red sauce and your choice of seafood. The place is big enough for only about 10 tables, so be prepared to wait. And if you happen to be in the North End during Commencement weekend, you'll find a second location there.
Some must-trys: stuffed calamari, with a Sicilian stuffing made with pine nuts and raisins, topped with red sauce; monkfish marsala, monkfish medallions with white mushrooms in a marsala wine and butter sauce; linguine with scallops in an olive oil and garlic clam sauce.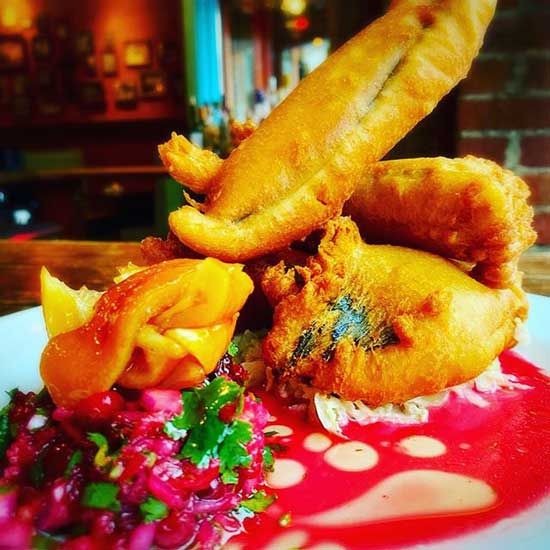 5. Orinoco
22 Harvard St., Brookline (other locations in the South End and Harvard Square)
This popular Venezuelan restaurant boasts an array of authentic Latin dishes. There are plenty of delicious options for vegetarians, too (the jardinera arepa, corn pancakes stuffed with creamy Guayanés cheese, sweet plantains, and an avocado salsa called guasacaca, is outstanding). This is definitely a restaurant where you want to save room for dessert—the torta fluida, a molten chocolate cake filled with Venezuelan dark chocolate, is sinfully rich and ideal for sharing.
Some must-trys: datiles, bacon-wrapped dates stuffed with almonds; parilla caraqueña, a grill plate with a four-ounce strip steak, a marinated quarter chicken, grilled chorizo, guasacaca, and yuca fries with mojo sauce; cordero tradicional, lamb chops crusted with pistachio, panela, and plantain with mint mojo and a side salad of arugula and cabrales cheese (a Spanish blue cheese).

*Gluten-free options available
6. Parish Cafe
361 Boylston St., Boston
Parish Cafe is known for a menu focused on indulgent sandwiches created by some of Boston's most renowned chefs, among them Joanne Chang, Lydia Shire, and Jamie Bissonnette. You won't find your standard cold-cut sub here. Instead, choose from delicious options like steak tenderloin, a sashimi yellowfin tuna patty, or cilantro infused Mexican meatballs. If you're not in the mood for a sandwich, there are a few entrée choices as well.
Some must-trys: eggplant milanesa sandwich, with thin-sliced pan-fried eggplant, avocado, black bean spread, chipotle aioli, and oaxaca cheese on a sesame torta roll, served with chipotle Mexican slaw; hot & dirty pig burger, a double decker pork burger with crispy bacon, American cheese, fresno chiles, hot cherry peppers, red onion, bibb lettuce, and white BBQ sauce on a burger bun, served with coleslaw; smokeshop tofu sandwich, with crispy salt and pepper tofu, barbecue glaze, and garden slaw on a vegan roll, served with potato chips.
*Vegan options available
Anyone who has been to this small restaurant in Chinatown will tell you the same thing: get the soup dumplings (and also learn the correct way to eat them). These succulent broth- and meat-filled pouches come two ways—filled with pork or pork and crabmeat—and you can't go wrong with either. There are plenty of other awesome items on the huge menu. If you go, be ready to play a game of seating Tetris. This place gets busy, but they will try to seat you as quickly as possible. That means your party might wind up sharing a table with strangers—but that's all part of Gourmet Dumpling's charm. And the soup dumplings are worth it.
Some must-trys: mini juicy dumplings, with pork and crabmeat, what are traditionally called xiaolongbao, or soup dumplings; scallion pancake roll, filled with beef and vegetables; szechuan wontons with chili oil, topped with julienned cucumbers and carrots and cilantro; szechuan-style fish in a spicy broth with scallions and hot peppers.