Passionate about Public Health? Here's a Chance to Get Involved
Student Health Services seeking student health ambassadors: info sessions this week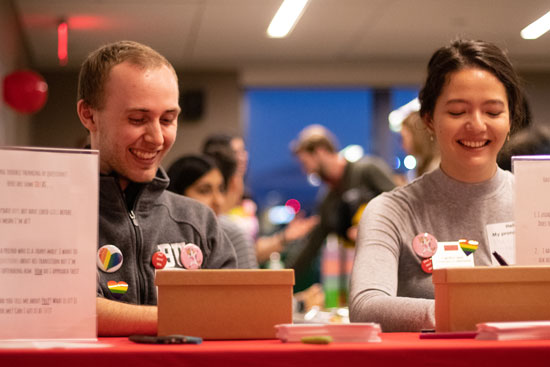 Are you passionate about public health? Are you interested in helping promote student wellness on campus? Would you like to develop leadership skills and gain experience in the field of public health? If so, consider applying to become a BU student health ambassador (SHA).
The ambassadors work closely with Wellness & Prevention Services to serve as liaisons between Student Health Services and the BU student body and play a vital role in the University community, says junior Therese Clover (CGS, Sargent), one of this year's 15 ambassadors. "As students ourselves, we have an inside perspective as to what health-related needs are—and are not—being met on campus. And due to our connection with SHS, we are able to discuss these successes and inadequacies with the people who have the resources and authority to make a difference."
The program, which launched more than a decade ago, is looking for rising sophomores and juniors interested in peer health education. Applicants do not need to have a health background; previous ambassadors have had majors ranging from engineering and communications to business and liberal arts. Volunteers are required to commit up to 10 hours per week during a semester; duties include attending weekly meetings, making presentations to peers about topics like handling stress and developing resiliency, creating free health kits, planning events, and assisting the Wellness office.
Current freshmen and sophomores can find out more about this program at one of two information sessions this week, on Wednesday, March 20, and Thursday, March 21, both at 6:30 pm.
"Peer educators, like the SHAs, are so important to communicating about and promoting health and wellness among our students," says Erica Schonman, Wellness & Prevention program coordinator. "Peer educators can help promote wellness in ways that professional staff can't: people, including college students, often make changes based on a combination of what they know and the behavior of their peers. Thus, peer educators can help to make sure that students have accurate information about resources on campus, raise awareness, and set an example by engaging actively with wellness."
Student health ambassadors help plan and execute health-related programs for undergraduates across the University. They host events like Sex in the Dark, a popular annual Q&A panel featuring sexual health experts, and its queer-focused offshoot, LGBTQ&A. SHAs also support events run by other departments, including the College of Arts & Sciences Midnight Breakfast and therapy dogs at Mugar Memorial Library during finals week, and lead outreach at well-being events on campus, like the annual Sustainability Fair. In addition, they assemble and distribute more than 1,000 kits each year, among them finals survival guides (filled with study tips, pencils, and Post-its) and flu buddy kits (tissues, thermometers, and hand sanitizer). And they are the driving force behind Wellness & Prevention's most popular service, Condom Fairy, which discreetly distributes contraceptives like internal and external condoms and lube to about 5,000 students annually.
To support their professional development, student health ambassadors work closely with SHS professionals and have the opportunity to attend conferences and meetings, like the annual regional BACCHUS Initiatives of NASPA—a conference specifically for peer education groups, held each spring in New England. Over the past two years, SHAs have won two regional awards: In 2018, BU's SHAs were named Outstanding Peer Education Group, and their inaugural LGBTQ&A event won the BACCHUS National Outstanding Peer Education Program. This year, the group's leader, senior Christian Espino (Sargent), was named Outstanding Peer Educator.
"My favorite part of being an SHA is definitely the learning experience that comes with this role," says junior Gayatri Bajaj (Sargent). "Every time we have a meeting, I walk out learning something new—whether that be in the realm of public health, professional development, or even a fun fact about my fellow SHAs, I'm always learning."
Becoming a student health ambassador is a competitive process. This year, the program has openings for just five or six new ambassadors. (Most of those accepted remain involved with the program until graduation.) The deadline for applying for next year is March 28 at 9 am. Applications can be filled out online here.
"Though we are not experts by any means, we strive to create a culture of wellness around campus in a way that is designed by and for students to really make an impact, which I think makes a big difference in creating a healthy environment at BU," says Bajaj.
"Personally, the SHA group was an opportunity for me to find a niche of health-minded students, where I could further develop my passions for public health and take an initiative to see some change on my campus," says Espino. "Having the SHA group helped me find people who had the same passions as I did and find a home away from home."
Information sessions will be held Wednesday, March 20, at 6:30 pm in the Wellness & Prevention Services Conference Room, 930 Comm Ave, and Thursday, March 21, at 6:30 pm in CAS Room 132, 725 Comm Ave.
Graduate student Madeleine O'Keefe (CAS'18, COM'19) can be reached at mokeefe@bu.edu; follow her on Twitter @OKeefeMadeleine.