Baby Yoda Gets the BU Treatment
Arts & Culture
Baby Yoda Gets the BU Treatment
Two students collaborate to draw The Mandalorian figure posed outside Warren Towers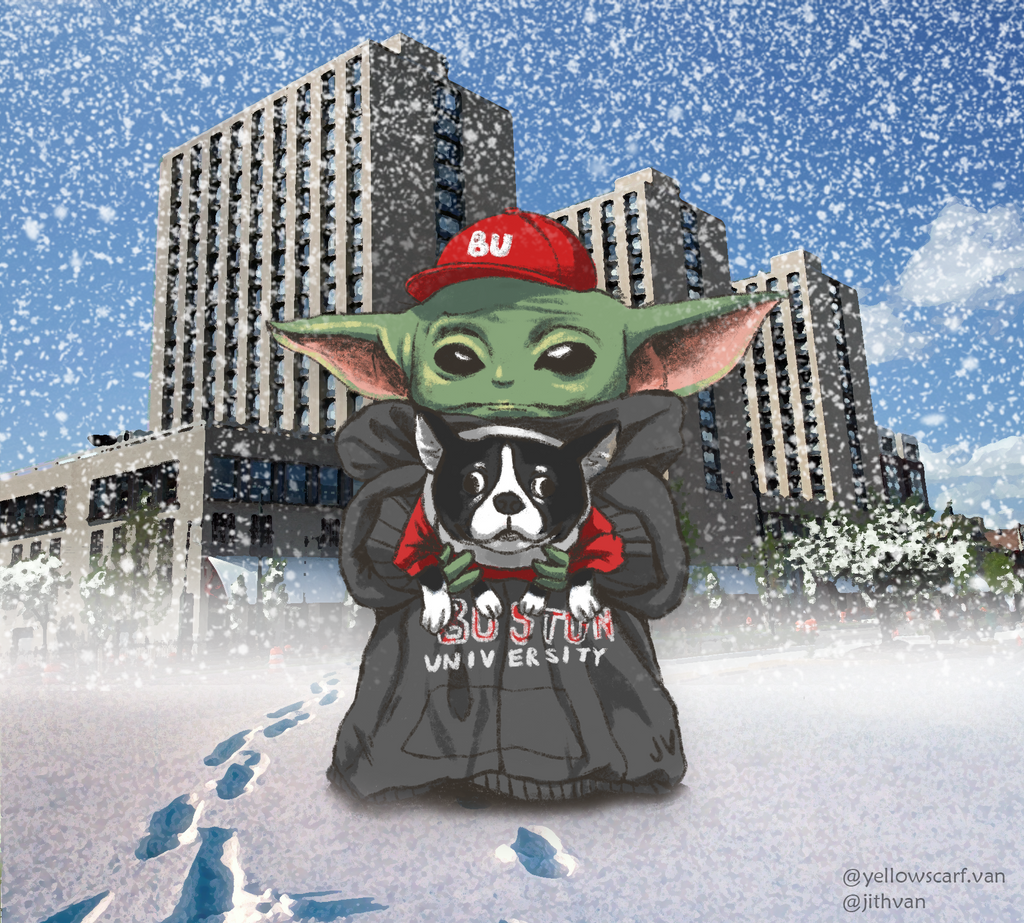 So cute, Baby Yoda is.

The wide-eyed, innocent infant star of the new Disney Plus flagship Star Wars series The Mandalorian is adorable. The character, officially called "The Child" (aka Baby Yoda), has inspired a wave of soon-to-be-released merchandise, including apparel, accessories, and toys, to say nothing of the memes that have sprung up virtually everywhere. Riding the Baby Yoda craze, friends Julia Van (CFA'22) and Jithvan Ariyaratne (CAS'21) just collaborated on a unique treatment for Baby Yoda, dressed in a BU sweatshirt and snuggling school mascot Rhett, standing in a snowstorm in front of Warren Towers.
Van says she made the art over Thanksgiving weekend, when the power temporarily went out in parts of Central and East Campus, while she was hanging with Ariyaratne. She had never seen The Mandalorian, but Ariyaratne is a big fan, and he inspired her to create the graphic.
Using her iPad—luckily, she had charged it before the power outage—Van sketched out Baby Yoda using the digital painting app Procreate. She had the thought of adding a BU angle, hence the gear and Rhett's appearance, in an effort to make it appeal to students. Meanwhile, Ariyaratne worked on the background design of Warren Towers and snow.
Since releasing the art, it's racked up about 300 likes across Facebook, Instagram, and the BU Reddit page (it goes by the name Rhett-It—get it?), where it's accompanied by the caption: "BU Students walking to classes today after they thought they'd get a snow day." Van says she's been so surprised by the reception that she's decided to put the design on stickers and sell them.
Van and Ariyaratne are among the thousands of artists who have put their own spin on the adorable alien, no doubt fueled by fans' fervent love of the character. News outlets have reported that Disney specifically didn't produce Baby Yoda merchandise before The Mandalorian premiered, and that they wanted him to remain a surprise. Hasbro, the official maker of Star Wars toys, has announced that it won't start selling items until early 2020. 
As for why the internet has gone gaga over the character, series creator and showrunner Jon Favreau perhaps summed it up best in a recent interview with the Hollywood Reporter.

"Yoda proper…was always shrouded in mystery, and that was what made him so archetypal and so mythic," he said. "We know who he is based on his behavior and what he stands for, but we don't know a lot of details about where he comes from or his species. I think that's why people are so curious about this little one of the same species."