Reliving the Highlights, Records, Titles, from BU's 2018-2019 Athletics Season
Here are 11 moments to remember from this past year
The 2018-2019 BU Athletics season in a nutshell: highs, lows, new records, championships, turnarounds, and yes, some disappointments along the way. Here are 11 memorable highlights of the year in sports for Boston University:
August 27—Men's soccer's Matt McDonnell nets a hat trick against Boston College
It's always a feat when you score a hat trick—three goals in a single game—in soccer. You also get bonus points for accomplishing it against your archrival. But junior Matt McDonnell (Questrom) scored that third goal against BC and what made it all the more remarkable was that it was the first Terrier hat trick since Shaun Taylor (Sargent'10) did it in 2008.
November 4—BU women dominate conference in two sports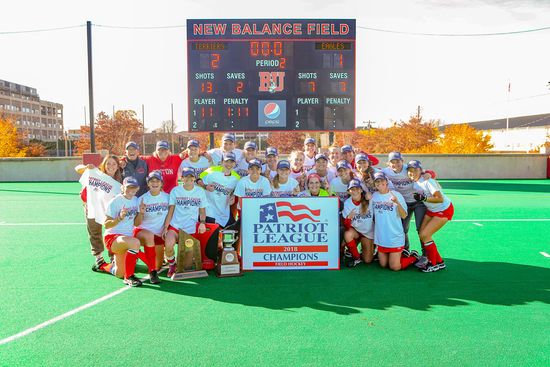 Winning a championship is a great accomplishment, but when a school claims two on a single day? That's a whole new level of impressive. That's exactly what the Terriers did on November 4, when BU's field hockey and women's soccer teams won their Patriot League titles just hours apart.
December 1—Sarah Cicchetti breaks 31-year-old weight throw record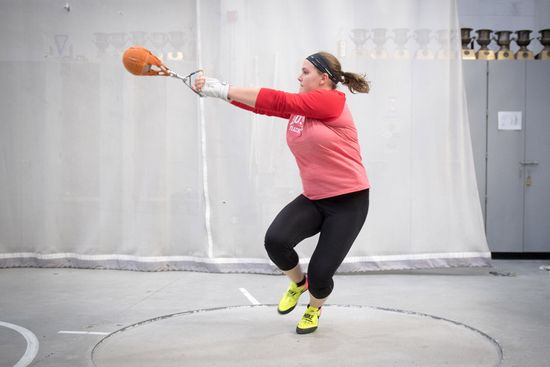 When you break a 31-year-old school record, you've done something right. Women's track and field's Sarah Cicchetti (Questrom'19) threw for 17.27 meters in December to break the record of 16.54 meters. She's beaten her own record twice more since, with the latest record standing at 17.97 meters. Read BU Today's Q&A with Cicchetti here.
February 12—BU claims the Women's Beanpot title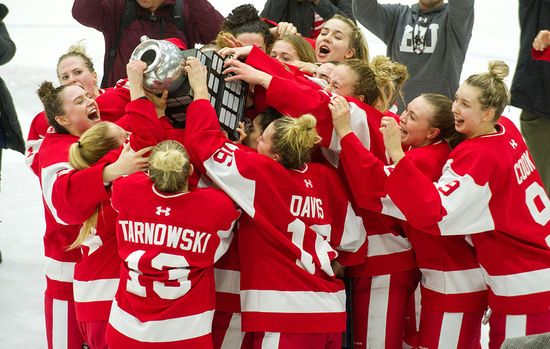 After 38 years of waiting, the BU women's ice hockey team finally reclaimed the Beanpot trophy. It marks the Terriers' first Beanpot win as a varsity program and only their second title ever. BU had to overcome Northeastern, then the third-ranked team in the country, and host team Harvard along the way. BU Today's photo essay captured the emotion and excitement.
February 23—Swimmer Erin Nabney breaks three school records at Patriot League Championships
Approaching the final meet of her collegiate swimming career, Erin Nabney (COM'19) told BU Today that her goal in the conference championships was to break a school record. Well, she broke three of them: 200 IM (2:01.22), 100 breast (1:02.74), and 400 free relays (3:22.26).
April 12—Men's ice hockey's Joel Farabee named national Rookie of the Year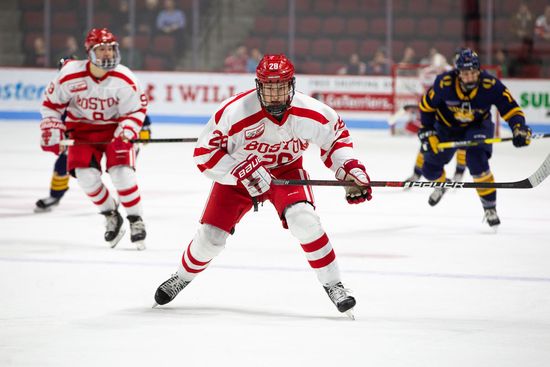 Freshman Joel Farabee (CGS) became the third Terrier in five years to win the Tim Taylor Award, given to the best freshman in the country. When your name is in the same group as Clayton Keller (2017) and Hoby Baker winner Jack Eichel (2015), you're doing something right. Before departing to join the Philadelphia Flyers, Farabee led the Terriers with 36 points.
April 13—Men's lacrosse upsets No. 2 Loyola, 18-11
The BU men's lacrosse team enjoyed a strong season that was upended in a narrow 10-9 loss to Lehigh in the conference semifinals. But along the way, the team saw some spectacular moments, among them a blowout of second-seeded Loyola Maryland. Led by James Burr (Questrom'19), who scored a career-high nine points (five goals, four assists) and broke the program's career goals record, the Terriers claimed their first top-five win in program history.
April 21—Hanako Kawasaki becomes first rookie to win Patriot League Golfer of the Year
Freshman Hanako Kawasaki (Questrom) is on a mission to become the greatest golfer in BU history, and she might just finish as the greatest ever in Patriot League history. In a season that saw her set new 36-hole and 54-hole program records, Kawasaki became the first rookie ever to win the Patriot League Championship, and she was named both Rookie of the Year and Player of the Year. Along with Kawasaki's individual conference title, BU also won the Patriot League Championship as a team.
April 30—Larosse's Chris Gray scores his 100th point of the season
Speaking of becoming a sports program's greatest, men's lacrosse's sophomore Chris Gray (CGS) also seems to be bound for that spot. The attacker finished the season with a best-in-the-nation 111 points on 49 goals and 62 assists. Gray's 100th point of the season in the Patriot League Tournament quarterfinals made him the first player in conference history to reach that mark and the 18th ever in NCAA history.
May 5—Lightweight rowing wins Eastern Sprints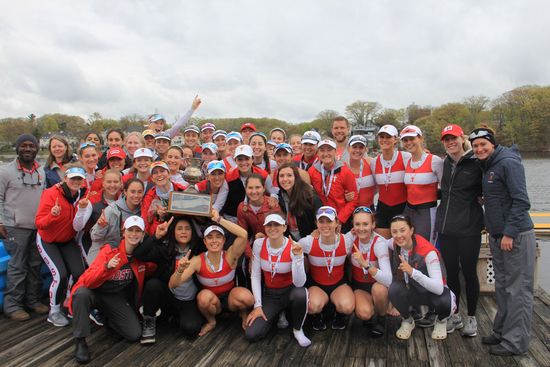 The BU women's lightweight rowers are ranked the third-best team in the country—an impressive feat on its own. But facing a tough field that included several nationally ranked teams, the Terriers needed their best efforts to claim the regatta win. BU ultimately edged second-ranked Princeton University to claim its second-ever Eastern Sprints title.
May 11—Record-breaking softball team defends Patriot League title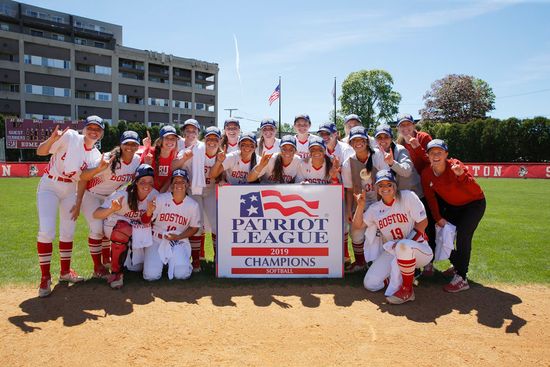 Last season, the BU softball team swept the Patriot League awards. The Terriers weren't able to repeat that feat this season, but in equally impressive fashion, 10 Terriers landed on an All-Conference Team: 7 on the First Team and another 3 on the Second Team. That talent helped the Terriers win back-to-back conference championships, their third in four years, and catapulted them into the NCAA tournament. The softball Terriers lost 3-0 to No. 5 Florida in the first tournament game May 17 and the next day bowed to Stanford 13-2.
Jonathan Chang (COM'19) can be reached at jchang19@bu.edu; follow him on Twitter at @jonathanychang.