Are ICE Detention Centers Concentration Camps?
BU's Elie Wiesel Center director on whether alum Rep. Alexandria Ocasio-Cortez' comparison went too far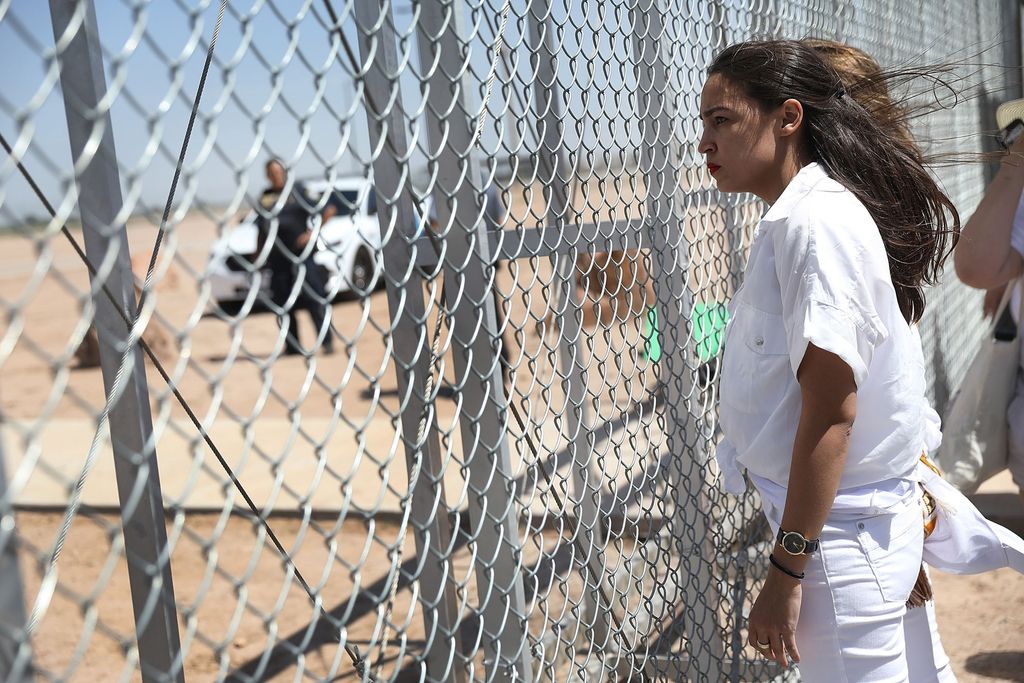 The moment US Rep. Alexandria Ocasio-Cortez released an Instagram live video on Monday, June 17, where she said the government was "running concentration camps on our southern border," it was only a matter of time—minutes really—before critics pounced.
All last week, those critics said Ocasio-Cortez (CAS'11), the freshman congresswoman from New York, was demeaning Holocaust victims by comparing concentration camps to the Immigration and Customs Enforcement (ICE) detention centers. They said she needed to go back and study up on history. Chuck Todd, moderator of NBC's Meet the Press, said the immigration detention centers and concentration camps are "not at all comparable in the slightest."
So are they? Ocasio-Cortez (AOC) wouldn't back down, tweeting two days after her video: "Kids are dying and I'm not here to make people feel comfortable about that."
For context, we reached out to Michael Zank, a College of Arts & Sciences professor of religion and of Jewish studies and director of BU's Elie Wiesel Center for Jewish Studies. A Holocaust survivor and a member of the BU faculty for 40 years, Wiesel (Hon.'74), who died in 2016, won the 1986 Nobel Peace Prize, and the BU center has become a voice for compassion and human rights.
BU Today: According to Alexandria Ocasio Cortez: "They are concentration camps. I want to talk to the people that are concerned enough with humanity to say that 'never again' means something. The fact that concentration camps are now an institutionalized practice in the 'home of the free' is extraordinarily disturbing and we need to do something about it." Your reaction?
Zank: The phrase "never again" cannot just mean "never again the Holocaust." The past does not repeat itself, but it can be investigated and learned from. That, and only that, is the point of historiography. Holocaust, or Shoah, refers to the extermination of six million Jews by the Germans and their many henchmen in many European countries, during the war of 1939 to 1945. But the Holocaust did not begin with extermination camps. It began with the German state consolidating all power and sources of influence under the control of a single party organization, with the elimination of freedom of the press, and with the establishment of concentration camps for political opponents. In the beginning, when Dachau was established as the first of these camps, as early as 1933, the local police registered complaints against unlawful killings having taken place there. The report was repressed, which emboldened the SS in what they could do without the public raising a fuss. Whenever the public objected, such as when a courageous Catholic priest raised his voice against the state-ordered euthanasia of mentally ill and physically handicapped people, the state immediately stopped these killings. The Holocaust was possible because people didn't care about the fate of the Jews, because they were taught to see them as enemies, and because most people never witnessed the actual killings. As Elie Wiesel pointed out, worse than hatred is indifference. Indifference allowed Jews to be systematically deprived of their rights, deported, dehumanized, enslaved, and mass-exterminated. Indifference is the issue.
A better slogan, instead of "never again," is the German "Wehret den Anfängen," which means: "Resist the beginnings." How can we be indifferent when we see thousands of innocent civilians, fleeing murder and abuse in their countries of origin, rounded up and placed in detention centers, abused, families separated, people placed in cages, children dying? We need to stop dehumanizing migrants and brutalizing our law-enforcement agents. We need to reunite the families that were separated at the border instead of keeping them apart. We need better policies at the border, and we need to change US policies that have led to many of the conditions in the countries these people are trying to escape. We need to take care of the roots of poverty and crime in the countries of origin that have led to this wave of migration in the first place.
Do you see any comparison or similarity between the detention facilities at the southern border and the German camps or the US camps for Japanese during World War II?
Rep. Ocasio-Cortez is right to pierce our general indifference to this humanitarian disaster unfolding at our southern border by using strong language. By referring to the caging of asylum seekers as "concentration camps," she managed to get our attention. The analogy is correct, as many scholars have confirmed.
Ocasio-Cortez critic Rep. Liz Cheney (R-Wyo.) said AOC's comments "demean the memory of the six million Jews exterminated in the Holocaust." And she quoted from Israeli Holocaust research center Yad Vashem and included a link to its web page on Nazi concentration camps. Do you think AOC demeaned the memory of the victims?
If someone is dragging the Holocaust into US politics, it is Rep. Cheney, not Rep. Ocasio-Cortez. Ms. Cheney is trying to deflect Ms. Ocasio Cortez's intervention on behalf of the victims of the harsh US border policies in order to defend the immigration policies of the current administration.
Do any of Elie Wiesel's words come to mind about the dialogue happening today? Would he have been a helpful voice in the current heated debate?
It would be presumptuous of me to claim that I know what Elie Wiesel might have said or done, were he alive today. I can only say that Elie Wiesel has left us a mandate to speak truth to power, to be unafraid to call out injustice and human rights violations anywhere we see them. I am proud that BU alumna Alexandria Ocasio-Cortez is doing exactly that.