12 Places to Go for $10 with the MBTA Weekend Pass
T's bargain program now permanent, so take advantage and get outta town
Responding to the popularity of its $10 Commuter Rail weekend pass, the MBTA has made the deal permanent, allowing commuters unlimited travel in all zones on Saturdays and Sundays. Now there is no excuse to stick around town on a beautiful New England weekend. You just have to know where to go and how to get there.
The program saw 180,000 weekend passes sold in its first six months and has been especially popular for people heading south. Zone 8, travel to the South Shore on the Kingston-Plymouth Line and ending right on the water near beautiful Gray's Beach Park, was the most popular for those taking advantage of the pass.
The $10 weekend ticket is available on the mTicket mobile app and at North Station, South Station, and Back Bay Station. Find information on purchasing the pass here.
We've compiled a list of 12 day trips that are accessible by commuter rail. Be sure to check the commuter rail schedules for specific rails and times.
Everyone knows Salem is famous for the late 17th-century Salem Witch Trials, but there's much more to see here than just witches. Take, for example, the Peabody Essex Museum, renowned for its Asian art and artifacts, including a centuries-old Qing-era Chinese house. And Salem has great eats, like the aptly named Witch's Brew Cafe, shops, and festivals. And of course, there's the Salem Witch Museum. October is a popular time to visit, but this Halloween town is fun to visit year-round.
Salem is a half hour from Boston. Take a Newburyport/Rockport Line train four stops from North Station to the Salem station.
Spring is an ideal time to take a day trip to beautiful Rockport on Cape Ann, a town full of beaches, shops, and culture. The picturesque Halibut Point State Park, a sprawling landscape of rocky trails leading to the Atlantic, is a must. There's also the Straitsmouth Island Lighthouse, built in 1835 and still maintained. While you're out by the coast, stop by popular Roy Moore Lobster Co. for your fill of seafood. Grab a sweater and some hiking boots and go.
Rockport is an hour and 15 minutes from Boston. Take a Newburyport/Rockport Line train 11 stops from North Station to the Rockport station.
Whether your bent is art, music, or just exploring a new tourist town (and another great college town), you'll want to check out Providence, R.I., just an hour south of Boston. From the Rhode Island School of Design Museum of Art to the Providence Performing Arts Center, there's something for everyone. Take a stroll down bustling Thayer Street. When you get hungry, head over to the popular, and cheap, East Side Pockets for some Mediterranean fare—falafel, kebabs, gyros, and more. Plus, here's an ideal opportunity to visit friends at Brown, Providence College, or RISD for a weekend.
Providence is about an hour from Boston. Take a Providence/Stoughton Line train eight stops from South Station to the Providence station.
On the coast southeast of Boston, visit the spot where the Pilgrims landed and Massachusetts, and New England for that matter, began. Nearing its 400th anniversary, Plymouth is home to a wealth of colonial history, from Plymouth Rock and the Mayflower II (currently being restored at the Mystic Seaport) to Plimoth Plantation. There are also plenty of other museums, monuments, and historical societies to visit. For lunch, consider Dillon's Local, a family-operated food joint with traditional American food. Plus, there's the Americana Theatre Company, popular breweries and wineries, and countless other spots to explore.
Plymouth is an hour and 15 minutes from Boston. Take a Kingston/Plymouth Line train eight stops from South Station to the Plymouth station.
If you're looking to escape city life and enjoy nature for the day, check out the Middlesex Fells Reservation for hiking, fishing, boating, and other outdoor activities. Spanning more than 2,200 acres spread out across Malden, Medford, Melrose, Stoneham, and Winchester, the Fells offers visitors over 100 miles of mixed-use trails, mountain bike trails, fishing, kayak and canoe rentals, and on- and off-leash areas for those with canine companions. There are a few restaurants bordering the Fells, like J.J. Grimsby & Co., but we recommend fully immersing in nature and bringing a picnic meal.
Middlesex Fells Reservation is a half hour from Boston. Take a Haverhill Line train two stops from North Station to the Wyoming Hill station, then walk about 15 minutes to the Fells.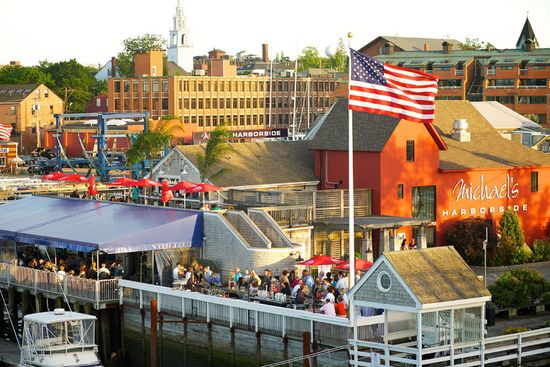 At the tip of the North Shore, visit Newburyport, a lovely coastal town with beaches, tourist attractions, and a rich history. Newburyport is the birthplace of the US Coast Guard, so head to the Custom House Maritime Museum to learn more. If you're looking for an excellent picnic spot or a walk along the water, go to Waterfront Park, a boardwalk that runs along the Merrimack River. Enjoy the town's abundance of shops, galleries, and restaurants as well. For a less casual sit-down meal, check out Michael's Harborside, with views overlooking the water.
Newburyport is about an hour from Boston. Take a Newburyport/Rockport Line train 10 stops from North Station to the Newburyport station.
Just 40 miles up the coast, Gloucester is America's oldest seaport and the oldest working art colony in North America. Take a stroll down Main Street for a variety of shops, boutiques, and restaurants, like Italian bakery and deli Virgilio's, or head over to the Cape Ann Museum for an immersive history lesson. If you're an interior design buff, or just like big, fancy houses, you'll want to check out Beauport, the Sleeper-McCann House, the gorgeous early-20th-century summer home of one of America's first professional interior designers. And of course, Gloucester has beaches, lighthouses, and whale watching.
Gloucester is an hour from Boston. Take a Newburyport/Rockport Line train 10 stops from North Station to the Gloucester station.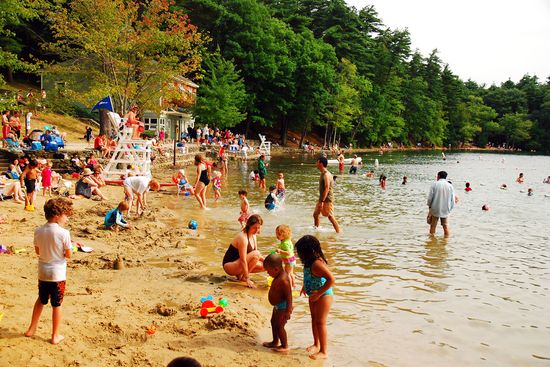 If you're looking for a Transcendental trip back to the 1800s, Concord's Walden Pond State Reservation is a must-see. Visit the pond where legendary writers and philosophers Henry David Thoreau and Ralph Waldo Emerson got their inspiration. You can swim, hike, picnic, boat, or just sit and ponder life's great questions. You can even see furniture from Thoreau's original cabin in the nearby Concord Museum. There are no restaurants near the reservation, so if you're hungry, look out for a pair of pizza shops next to the commuter rail station.
Concord is about 40 minutes from Boston. Take a Fitchburg Line train seven stops from North Station to the Concord station. The Walden Pond State Reservation and Concord Museum are each just a few minutes' drive or 20- to 30-minute walk from the station.
To see the setting of the Oscar-winning film Manchester by the Sea, head to—you guessed it, Manchester-by-the-Sea, a small town on the North Shore. You can relax on the half-mile-wide Singing Beach, hike through scenic Coolidge Reservation, or visit the town's local shops, like Manchester By the Book, a bookstore with rare collections, including a 40-volume complete works of Shakespeare and local maps of 19th-century Gloucester and Rockport. Head over to Allie's Beach Street Cafe for some coffee, tea, or a full menu of soups, salads, sandwiches, and more.
Manchester-by-the-Sea is less than an hour from Boston. Take a Newbury/Rockport Line train eight stops from North Station to the Manchester station.
Worcester, just 50 miles west of Boston, is the second largest city in New England, and there's something for everyone. For those who enjoy art, there's the Worcester Art Museum and the Hanover Theatre and Conservatory for the Performing Arts. Just a five-minute walk from the art museum is Lucky's Cafe, a breakfast and lunch spot with live music on weekends. Worcester is also officially the future home of the Worcester Red Sox, a Triple A affiliate of the Boston Red Sox. Plus, with several colleges in the area, you can visit your friends at Clark University, the College of the Holy Cross, Worcester Polytechnic Institute, Worcester State University, and others.
Worcester is an hour and a half from Boston. Take a Framingham/Worcester Line train 16 stops from South Station to the Worcester station.
Having trouble deciding between a historic old town feel versus something more beachy? Well, now you don't have to decide, because Ipswich has both. This North Shore town is home to the magnificent Castle Hill, a lavish English-style mansion with beautiful gardens and a huge lawn sloping down to the seashore. The catch is it's a few miles from the rail station, so hop on an easy bus to get you back and forth. Once you're done there, you can take a few steps over to Crane Beach, a 1,234-acre conservation and recreational beach. This four-mile-long beach also features sandy dunes and a beautiful maritime pitch pine forest.
Ipswich is an hour from Boston. Take a Newburyport/Rockport Line train eight stops from North Station to the Ipswich station.
This quintessential historic New England town has roots that go back to the Revolutionary War. Just northwest of Boston, it's famous for much more than Walden Pond. You'll find Minute Man National Historical Park, which marks the site of the opening battle of the American Revolution. Close by, the Old North Bridge, part of that opening skirmish, is commemorated by Daniel Chester French's Minute Man statue. But Concord has more than just Revolutionary War history. Besides Emerson and Thoreau, American writers Nathaniel Hawthorne and Louisa May Alcott also called it home. Walden Pond was the subject of Thoreau's most famous work, Walden. Transcendentalist Emerson drafted his essay "Nature" at the Old Manse, now a museum open to the public.
Concord is 40 minutes from Boston. Take a Fitchburg Line train seven stops from North Station to the Concord station.