10 Dos and Don'ts for Surviving Finals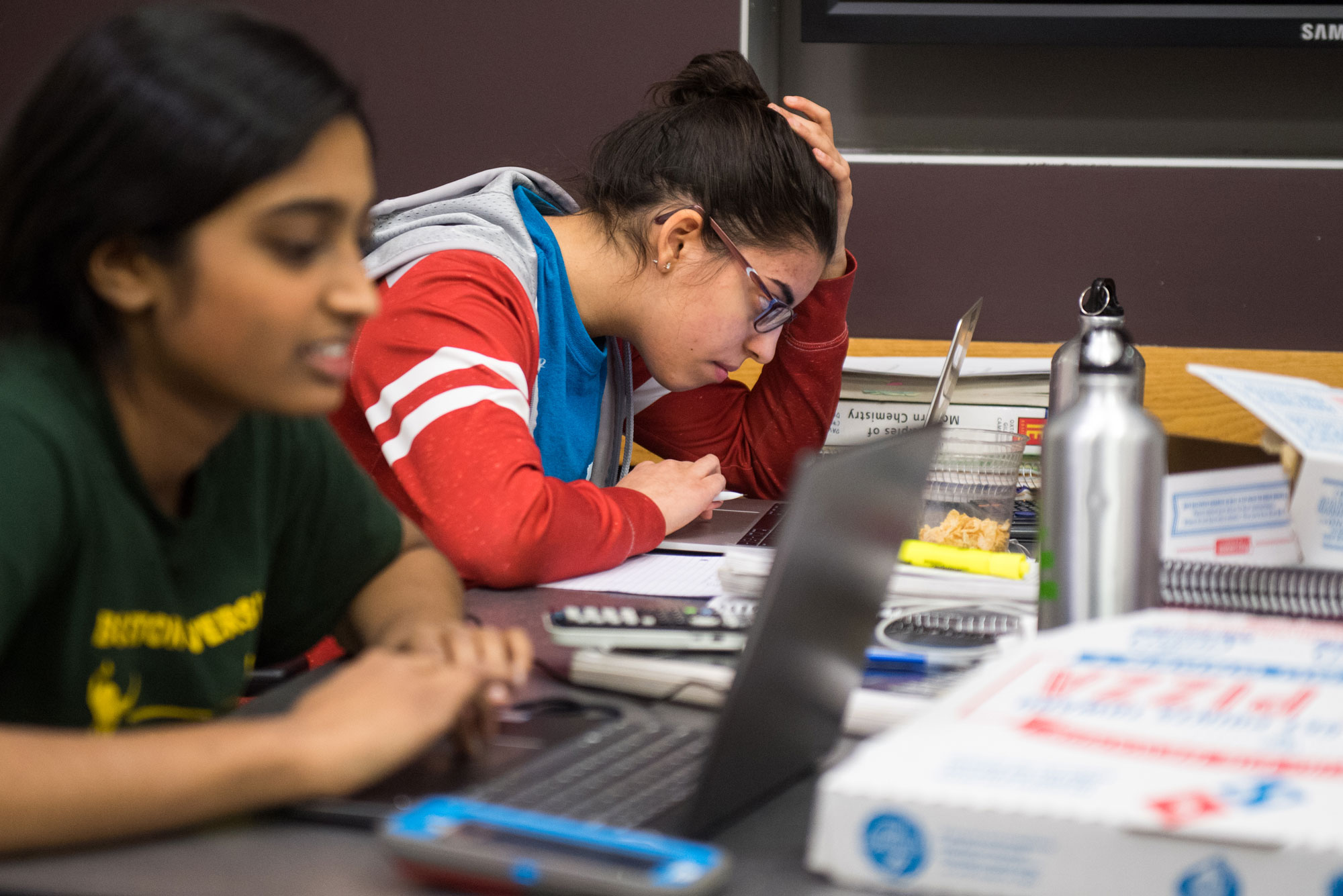 Student Life
10 Dos and Don'ts for Surviving Finals
Experts from across campus offer tips for navigating semester's end 
Wednesday is the final day of classes for the semester, followed by study days Thursday and Friday and final exams next week. In other words, we've hit crunch time, marked by too much caffeine, too little sleep, and a whole lot of stress. To help you navigate the end of the semester, we reached out to a team of experts, including folks at the Educational Resource Center, the Center for Career Development, and Wellness & Prevention, and asked them for some tips.
1. Pace yourself during this period and take breaks
Make time to eat, sleep, and exercise. When you study, do it in 30-to-45-minute increments, and then take a short break. Doing so will improve your cognition.

2. Cramming doesn't work—the best way to study is what's called distributed practice
Experts say that most of what you learn during cramming doesn't stay in your memory long-term. Better to follow a distributed practice model, where you space your studying out over several days and weeks. This allows your brain to learn the information more deeply and retain it better. Of course, if you've got an exam tomorrow and you haven't been studying all along, you've got no choice but to cram.
3. Healthfully hydrate
Consider water or low-caffeine or no-caffeine beverages to stay hydrated during finals. If you do need a caffeine pick-me-up, BU Dining Services has special late-night hours, with free coffee, soda, and hot chocolate. 

4. Snack smart
Chances are, you'll be snacking a lot over the next couple of weeks. Take a look at the Sargent Choice Build You Own Snack chart for healthy snacking. The list includes whole-grain Goldfish crackers, fruit, hummus, and nuts.

5. Change up your study environment
Check here for our updated list of the best study spots around campus. Mixing up the places you study improves retention, according to a New York Times story on study habits.

6. Procrastination is a slippery slope
Procrastination happens because a task is giving you anxiety, but it makes the underlying problem worse. If you find yourself procrastinating (by reading this BU Today story about Baby Yoda or weighing in on the Peloton commercial debacle), take a few deep breaths, acknowledge the underlying feeling of anxiety, and steer yourself back to the assignment at hand.

7. Remember these study strategies
Predict questions that might be on the exam.
After you create your questions, quiz yourself.
If possible, review past quizzes/exams to see how your professor framed questions. It's also helpful to ask yourself: did I have trouble remembering material I studied? Did I misunderstand a question? Did I forget to review certain material?

8. It's go time
When you first get the exam, read it through completely, including the directions. Then budget your time according to the weight of each question. For example, if you have an essay question that's worth 30 points, spend more time on it than on a multiple-choice question that's worth only 2 points.

9. Breathe
If you find yourself feeling anxious, focus on your breathing: breathe in through your nose, hold it, breathe out through your mouth. Start incorporating breathing exercises into your routine now so that it feels more natural on test day.

10. Be kind to yourself
Finals period is a long, exhausting week. Try to incorporate "self-talk" that's kind and supportive, like: "You are studying so hard! You've got this."