A Vacation with a Mission
BU students travel the globe, serving and learning, over spring break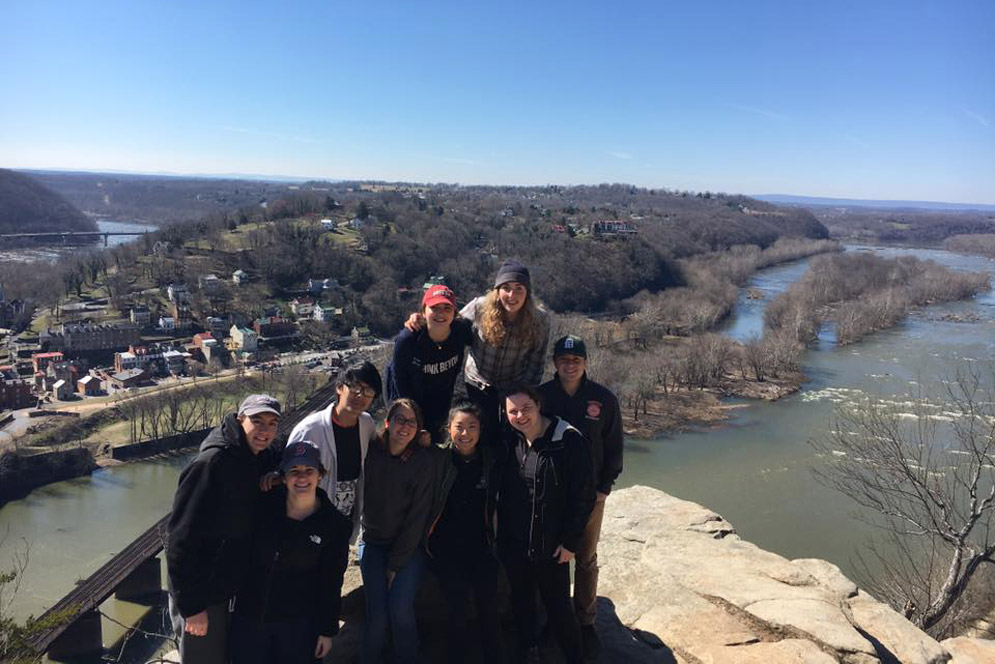 For many students, spring break is a chance to head to a tropical climate for some rest and relaxation. But a lot of Terriers take the opportunity to give back or to enhance their course work with fieldwork and travel.
This past Saturday, 275 students and many chaperones participating in this year's Alternative Service Breaks (ASB) program traveled by plane, bus, and van to 29 locations across the United States and Canada to volunteer with various nonprofits in areas like public health, environmental reform, and immigrant and refugee services.
Brand-new this year is a trip to St. Louis, Mo., where students will work with two community partners: LifeBridge Partnership, which helps people with disabilities develop skills for living independently, and Almost Home, an organization that helps young mothers on the path out of poverty to self-sufficiency. They'll coordinate social events at LifeBridge and help with painting and groundskeeping at Almost Home.
St. Louis trip coordinator Alex Navarro (CAS'19) says ASB has been an important part of his BU experience since he first went on a trip as a freshman. "Going on ASB that first year was especially transformative since it was one of the first major steps I took to get outside of my bubble. I was put into new situations, learned about new ideas, and discussed important issues with people I had barely known. It sounds uncomfortable and intimidating, and at times it definitely was, but it was overall a very rewarding experience and I loved every second of it. I want to enable others to enjoy and grow from this program like I have."
Three dozen School of Law students are spending the week performing pro bono legal work at sites from Maine to Michigan to Puerto Rico, partnering with local legal assistance organizations. For many, the decision to use their vacation to give back is personal.
Mario Paredes (LAW'18) is among those working with the Southern Poverty Law Center Southeast Immigrant Freedom Initiative at the LaSalle Detention Center in Jena, La., providing legal representation to detained immigrants.
"Our role as law students will be to meet with detained immigrants, draft legal documents in support of their deportation defense claims, and interpret for attorneys," says Paredes. "Our ultimate goal is to help protect the due process rights of detained immigrants, especially in light of recent and anticipated immigration enforcement actions by the federal government. This work is personal for me because I have many family members and friends who are directly affected by our immigration system and constantly fear for their safety and well-being. My parents originally came to the United States as undocumented immigrants from Guatemala, so I feel a deep sense of personal and communal obligation to use my privilege for the greater good."
Similarly, for Chloe Sugino (LAW'20) personal connections are the reason she's returning to her native Puerto Rico. She'll be working with the nonprofit Ayuda Legal Huracán María, helping victims of Hurricane Maria file FEMA appeals.
"Puerto Rico is my home. I was born and raised on the island. Many of my friends and family members are still on the island, and they were all seriously affected after the hurricane," she says. "This kind of pro bono work is important to me because, especially in this case, volunteer work fills in the gaps where government programs have fallen short or lacked the resources to provide services."
Back by popular demand
And back by popular demand, the Questrom School of Business is again offering a variety of global experience courses for MBA students over spring break: Asia Field Seminar in Hanoi, Vietnam; Innovation Ecosystems in Israel; a Europe Field Seminar in Paris, France; and Digital Transformation: Immersive Interactions and Insights at Silicon Valley, in Palo Alto, Calif.
Students in the Asia Field Seminar, guided by Questrom senior lecturer Yoo-Taek Lee, are visiting companies throughout the region and examining the dramatic transformation of Vietnam's economy in the last 30 years.
Led by Joseph LiPuma, a Questrom senior lecturer, students in the Israel program will examine how the young country, often referred to as the "Start-Up Nation," gained its status as a global powerhouse in entrepreneurship. They'll visit a number of tech start-ups and speak with the venture capitalists and entrepreneurs who built them.
Students taking part in the Paris seminar, overseen by Frederic Brunel, a Questrom associate professor of marketing, will home in on France's luxury goods industry, focusing on businesses serving niche industries, like private jets, high-end cosmetics, wine, and more. During the trip, they'll visit a number of firms and meet with high-level executives.
Those enrolled in the Digital Transformation seminar, led by N. Venkatraman, Questrom's David J. McGrath, Jr., Professor of Management, will visit major companies in Silicon Valley and meet with entrepreneurs and venture capitalists to learn about the growing influence of information technologies in business, and the rapid digital transformation of businesses.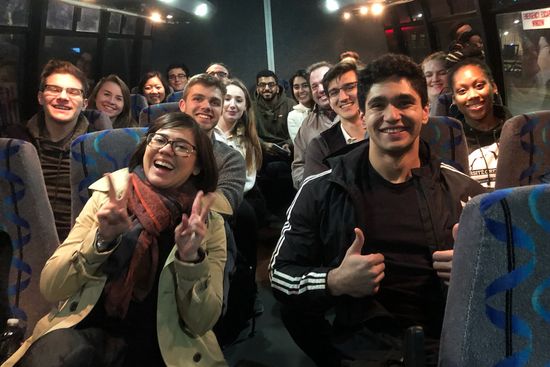 For the third consecutive year, Gregory Stoller, a Questrom senior lecturer in strategy and innovation, is leading a group of undergrads from across the University to Asia as part of the course Global Management Experience. The course goal, he says, "is to give students a boots-on-the-ground experiential learning opportunity to see how business is actually practiced in Asia." Each year, he changes the countries, cities, and companies to keep the curriculum fresh. This year, students are visiting Shanghai and Bangkok.
"We have 10 company visits scheduled, which are a combination of entrepreneurial start-ups, US multinationals, and native publicly traded and privately held corporations, as well as BU alumni events in both cities," Stoller says. Another trip goal is to leverage the company visits to create summer internships and permanent job opportunities.
Also again this year, Sargent College lecturer Adrian Wright-Fitzgerald is leading 13 undergraduate and graduate students on a nine-day service-learning trip to Guatemala. They will partner with Origins of Food, on an agroecology project addressing the social, environmental, and economic factors at play behind the country's high malnutrition rate, traveling through Antigua, San Juan La Laguna, San Lucas Toliman, and Guatemala City. Among the trip highlights are tours of a food market and an organic farm in Antigua.
The opportunity to be part of trips that provide hands-on experience can be invaluable, says Willis Wang, associate provost for global programs.
"Not all students are able to participate in a traditional semester-long study abroad program," Wang notes. "A well-planned short-term experiential opportunity, especially one that engages students in critical thinking, problem-solving, or decision-making, could spark a greater sense of curiosity about a culture or location, strengthen an individual's passion to learn more about a particular topic, expose one to different views, encourage a student to study abroad, or enhance a feeling of independence and confidence—and these all would be wonderful results."
BU Today would like to hear how you're spending spring break. Email a photo to today@bu.edu, by Friday, March 9, and it could appear as a BU Today "Close-Up" the following week. Be sure to include your name, the school you're enrolled in and graduation year, and a short caption to run with your photo; you should also identify any students (name, school enrolled in, and anticipated graduation year) or faculty (school and position) in your photo.
Mara Sassoon can be reached at msassoon@bu.edu.