Track & Field Star Sarah Cicchetti on Breaking a 31-Year-Old Record
Senior Terrier smashes BU's long-held mark in the weight throw
When Boston University track and field's Sarah Cicchetti spun and threw a 20 pound metal ball more than 56 feet in the season's first meet, it was more than an impressive toss: it broke a 31-year-old school record in the weight throw. Cicchetti threw the record-breaker at home, at the Track and Tennis Center, at BU's Sharon Colyear-Danville Season Opener, and the new record (56'8″) shattered the 54'1/2″ set by Lauren Andrews (Sargent'87).
Records that stand that long don't get broken every day, so BU Today caught up with Cicchetti (Questrom'19) to talk about her sport, her performance, and what's next for her.
BU Today: Before we get started, what's the difference between the hammer throw and the weight throw?
Sarah Cicchetti: The hammer throw is outdoors. This event is the weight throw. They're technically different events, but the positions are the same when you're throwing it.
Do you actually throw a hammer for hammer throw?
No, it's an 8.8-pound ball on a three-foot wire and a handle. I get that question a lot.
How often do people ask?
I'd say probably weekly I'll have to explain to somebody what hammer throw is.
I don't think this is a sport familiar to most people. How did you get introduced to the weight throw?
The hammer throw isn't legal in Connecticut at the high school level, so I actually started hammer throw when I got to college. I knew what it was, but when I was going to schools and talking to coaches, everyone would ask me, "Are you interested in learning hammer?" And I'd be like, "Absolutely, yes, because it's supercool." That's how that happened.
So, did you get recruited to college?
Not for hammer. I got recruited for shot put, which was my best event in high school.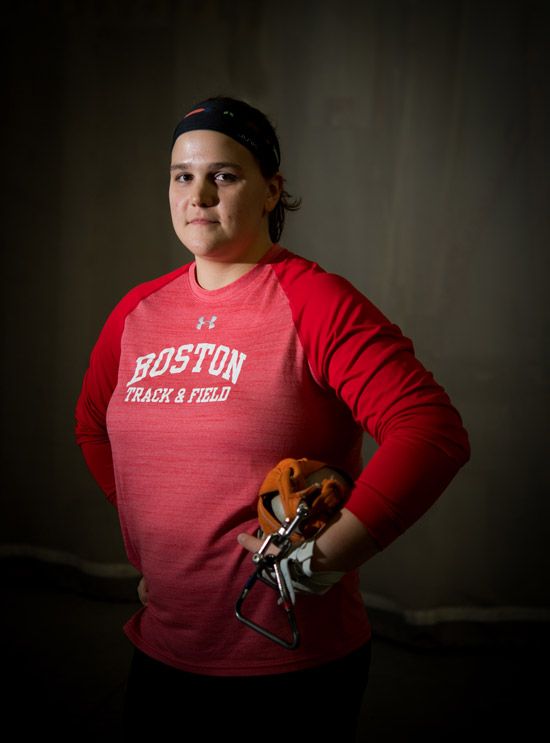 What was that transition like?
I still throw shot put, but it's not my best event anymore. It was a lot of learning. The footwork for hammer and weight is so different from any of the other events that it was just a lot of learning, watching other people do it, and trying to learn it as quickly as possible because I only have four years.
You just broke a 31-year-old record. How does that feel?
I mean, everybody comes to a new sport and thinks, I want to do really well. I want to do awesome. But actually being able to do it was crazy.
Did you think this was something you could accomplish?
Initially, I don't really know, because I came in not ever having done the event, not knowing anything about it. I picked it up the first day, and I threw like 35 feet. And one of the seniors who was here—Reuben Horace (CGS'14, Sargent'16)—he was practicing with me the first time I ever picked up a weight and said, "You're gonna be so good at this," and I was like, "Yeah, I don't believe you," because I threw 35 feet, which is not very far. And he was right, I think. I don't know if that's okay to say.
When you break the record, I think you're allowed to say that.
I think so.
What is it about throwing that you enjoy so much?
When you know you executed the throw well, letting it go and seeing it go that far—the hammer in outdoors goes a lot farther—is just a really satisfying feeling, like oh, I just launched that ball like 150 feet, no problem.
Did you know that it was the record once you made the throw?
Oh, absolutely. There is the solid white line and the little line—we call it the "ghost line"—that I know is three and a half feet back from the solid 30, 40, 60 rounded numbers, and it hit just over the second ghost line, and I was like, that's farther than 54 feet.
Given your success in indoor season, are you expecting something big for the outdoor season already?
I think my goal is to just improve a lot. I haven't really wrapped my head around that yet just because it's so far away, and I'm so focused on the indoor season.
Jonathan Chang can be reached at jchang19@bu.edu; follow him on Twitter at @jonathanychang.