Outdoor Track and Field Teams Shooting for Conference Title
Terriers compete in Pepsi Florida Relays tomorrow through Saturday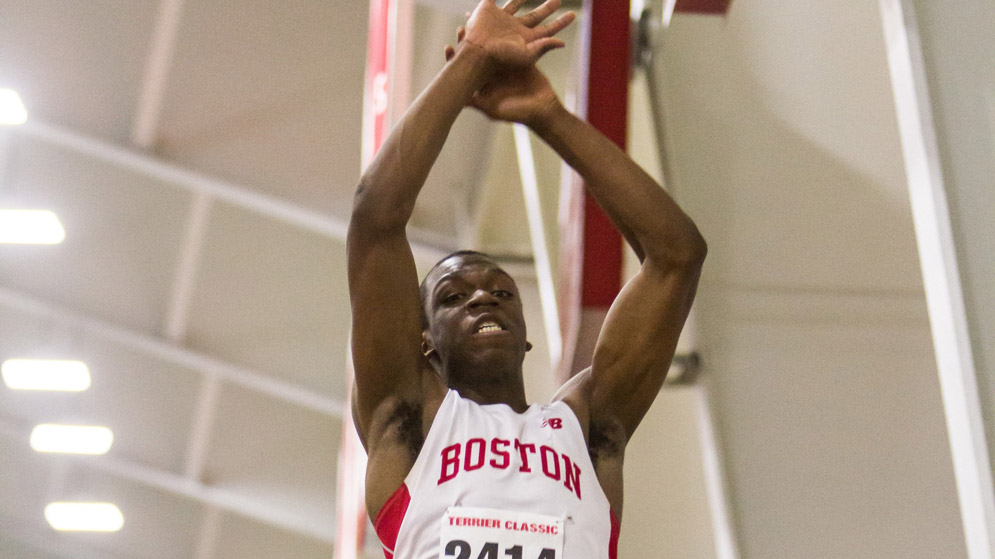 • BU's track and field teams saw a disappointing ending to the indoor season
• Among several returning Terrier grad students is record-holder David Oluwadara (ENG'17, Questrom'18)
• Outdoor season competition continues tomorrow at the Florida Relays
---
When BU's track and field athletes enter their second meet of the 2018 outdoor season tomorrow at the Pepsi Florida Relays, David Oluwadara will represent the Terriers for the first time since last May, when he competed in the NCAA East Prelims. Eligibility issues kept grad student Oluwadara (ENG'17, Questrom'18) from competition during the 2017–2018 indoor season, and hamstrings kept him off the field at the mid-March Hurricane Invitational.
"It was definitely weird," Oluwadara says. "Every meet that passed by, I was excited because it was one week closer until I can put on a Boston University uniform for the last time and actually compete."
Oluwadara currently holds the school's indoor triple jump record, which he first broke during his junior season, then broke again a year later. But to the winner of last year's BU Mickey Cochrane Award—given to the University's best male athlete—a single school record isn't enough.
Oluwadara says he has two goals this season: first, to reach the NCAA outdoor championships and become an All-American, and second, to break the school's 33-year-old record for the outdoor triple jump. His 53 feet, 1.5 inch jump at the 2017 Texas Relays would have set a new record, but the wind measured at five m/s (meters per second), and it was deemed a wind-aided jump and therefore illegal.
"I know I definitely have that in me—and actually much more—to do much better this year," he says.
Does he prefer competing indoors or outdoors? Oluwadara is quick to answer: "Outdoors all the way. Outdoors, oh man," he says. "Nothing compares to having the sun on you. Nothing compares to having the wind at your back sometimes, and it's just a different feeling you can't ever get indoors. I like the open feel and the natural feel of just being outdoors."
Women's hurdler Tehya Noell (CGS'16, Sargent'18) feels the same. For a hurdler, the outdoor season means that the track distance will be 100 meters rather than 60 meters—a difference that allows her to really get going and speed up, she says, which adds to the excitement of the competition.
The senior impressed during the indoor season: despite the team's disappointing finish at the Patriot League championships, she claimed gold medals in both the long jump and the 60m hurdles. She hopes to improve on her strong indoor performance during the outdoor season.
Noell says she's categorized her goals: in the long jump, she'll aim to surpass six meters—and preferably a qualifying mark for regionals—and in hurdles, finish under 13 seconds, although a 13.00 time will do just fine. To maximize her performance, she says, she needs to enter competitions with a calm outlook and a clear mind. "If I'm stressed it usually doesn't end well," she says. "I can run under any circumstances, but my ideal would be to be happy and just relaxed."
Robyne Johnson, director of BU track and field and cross country, says the Terriers' chances of success are bolstered by strong senior leadership and returning grad students, and the teams should be able to move past the disappointing indoor season. "Hopefully there're no carryovers except for lessons learned: never to underestimate opponents, or anyone for that matter, and to just really work hard constantly and think about being positive."
The team is also aided by new coaching staff. With Rosa Moriello (CGS'12, Questrom'15) and Toria Levy (CGS'15, COM'17), the Terriers added two of BU's most decorated female track and field stars to the coaching staff. Alastair Prenn (CGS'16, CAS'18) and University of Texas alum Connor Oropeza also joined the program as volunteer coaches.
But among the newcomers, no one must fill bigger shoes than Paul Spangler, who replaces the legendary Bruce Lehane as an assistant track and field coach and head cross country coach. Lehane, a BU Hall of Famer, coached the Terriers for 35 years until his death last September after a long struggle with ALS.
"Bruce was such a major part of Boston University, and my life and a lot of our kids' lives, so we really miss Bruce," Johnson says. "There's no one who can replace Bruce Lehane, but Paul has done an excellent job at coaching our kids."
While Johnson believes her athletes can achieve great individual success, she says the teams' main goal is to win the conference championship. And to achieve that, she says, the Terriers will have to maintain the strong performances they've delivered in the past.
"Do your job," she tells them. "Do what you did to qualify for the NCAAs or be at the top of the conference at the conference meet, and we will be successful."
The BU track and field teams compete at the Pepsi Florida Relays tomorrow, Thursday, March 29, through Saturday, March 31, at the James G. Pressly Stadium Percy Beard Track, 325 Woodlawn Dr., Gainesville, Fla. Tomorrow's events begin at 2 pm, Friday's at 9:30 am, and Saturday's at 9 am. The Friday and Saturday events will be streamed on the SEC Network Plus.
Jonathan Chang can be reached at jchang19@bu.edu.